Nothing would work great, but these crochet lion amigurumi patterns if you need to promote the bravery in your kids and toddlers! The lion stuffed toys would make the perfect yarn friends just like the crochet teddy bear plush toys and hence can also be given as a sweet handmade gift to someone special on any occasion! If you are willing to crochet some perfect stuffed toys for your baby's play nursery then these 10 Free Crochet Lion Amigurumi Patterns would make an ideal choice and would be super quick and easy to crochet at home!
Just like in other crochet amigurumi patterns, you have to work in rounds and also in increasing and decreasing manner to crochet these fabulous lion plush toys! On the other hand, the lions are also the scariest type wild, so these lion plushies would also be a way to show the lions cute to your kids hence removing all the bad thoughts and fear from your kids' brains they are having for the lion!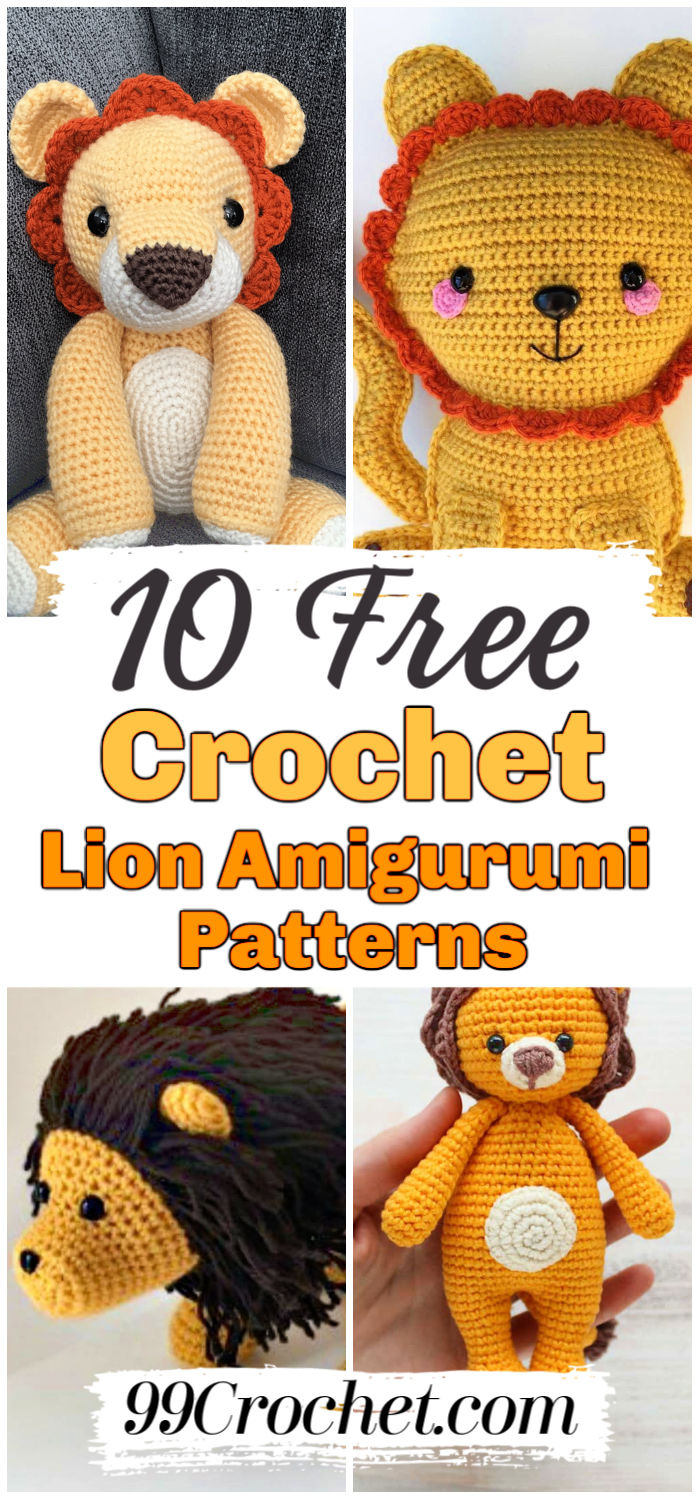 Crochet the Laurence lion amigurumi at home would make the perfect cute stuffed toy for a kid to hug in spare time! Provide a soft, huggable friend to your baby by crocheting a baby lion stuffed toy and crochet a ragdoll lion amigurumi, would make an epic handmade gift to a toy loving baby! Looking for a perfect cuddle me up toy for the kids play and bedrooms?
Free Crochet Lion Amigurumi Patterns:
Then also make the mini yarn lion plushies that will make an ideal choice in this case, take a look at the given one that is cute and your kids can hold them in a single hand! Make your kids more happy by giving them the Raa Raa noisy lion plushie and also boost the fun of your kids by giving them the big feet lion stuffed toys, will also make the perfect cute, cuddly toy for the kid's nurseries!
Crochet also the mini lion amigurumi that will make the perfect decor for your accent shelves, tables, and decorative mantles and also boost the baby's entertainments by crocheting stuffed lion rattles! Check out some more amazing lion plushies in the given below in the list and do hit the attached links to grab full free crochet patterns with easy to follow tutorials!
1. Free Crochet Laurence Lion Amigurumi Pattern
This lovely lion pattern is an excellent way to decorate your baby's room. Begin choosing some different color yarns such as white, orange, beige, and some other you surely will need. Begin creating a magic ring in the middle and keep working all the way around. Click here for more details: jesshuff
2. Easy Crochet Amigurumi Lion – Free Pattern
This pattern over here seems to be smaller than the mentioned above. Select a light yellow yarn as the main color for this design. It can be an incredible toy for him. Click below and check all the steps you need to make. knittingday
3. How to Crochet Ragdoll Lion
This ragdoll lion consists of making a bigger head than the body. Use the color yarn of your preference and begin to crochet. Select other powerful yarns to make notable some parts such as the tail and the hair he has in the front part. Check how to make it here: nayarncrochet
4. Cute Crochet Cuddle Me Lion Amigurumi Pattern
This cute pattern is perfect for a baby's toy. It's small, fascinating, and captivating. It's a perfect toy to carry with it when you and your kid are going out to keep him entertained. Choose the right supplies to make it and click here for more information: amigurumi
5. Simple to Crochet Raa Raa Noisy Lion Pattern
There are many designs you can make to crochet a lion pattern. It depends on the use you will give it for, it can be a lovely piece as a decoration, or just to have it as a toy. Select a yarn in four colors and a crochet hook to begin the work. The steps are here on the link below ravelry
6. How to Make Bigfoot Lion – Free Crochet Pattern
Here you have other design which seems to be enchanting and fun to make. To create this, you just need to look for the supplies you will need, such as cotton yarn color, a crochet hook, a tapestry needle, and scissors. Use small black buttons to use them as the eyes. Click below to see more details about it: amigurumitogo
7. Quick Crochet Boris Tiny Lion Amigurumi Pattern
This cute tiny lion consists of creating a circle in the middle and of starting working around it in spirals until you reach the size you want. Select almost the same color yarns than the other designs. The big difference is the size of the hook and the way to create the pattern. However, check how to make it by clicking here: lucyravenscar
8. Free Crochet Lion Amigurumi Pattern
For this pattern, you just need to look for black and brown color yarn. Create this design using a single and double pattern. Also, select a cotton yarn to create the abundant hair this pattern has. The instructions are explained in the link below. hellostitch
9. Awesome Crochet Lion Baby Rattle Pattern
Making a lion rattle is a lovely way to innovate your baby's toy designs easily. To create it, begin making a circle crochet pattern, add some stuffing inside to make it more comfortable and softer. Click below to see more: amigurumi
10. How To Crochet Lion Amigurumi
Here you have interesting and big lion patterns, which consist of creating the pattern using special stitches, which will be explained on the link. Create this awesome pattern and innovate all the decorations of your baby's room. Check here to see more instructions: daisyandstorm