Bring the fantastic fashion pop to your personality this winter by wearing the crochet poncho patterns over your winter dress up! This will add an extra layer to make you winter-protected, but the style you will gain will be outstanding and will be appreciated by all! The ponchos mostly come with unsewn sides or arms but come with a big hole so you can wear it around your neck, covering your torso and shoulders warm! The good news is that you easily crochet some super fashion-worthy ponchos at home using your favorite yarn weights and a crochet hook!
If you need some latest crochet poncho, then do browse this collection of 35 Free Crochet Poncho Patterns that are all fab, and you can wear them all the year long in any season! You will also see different styles and designs of the crochet ponchos in this collection that are popular all around the web, and you can also clone them for your winter fashion wardrobe!
Crochet the elegant but straightforward ponchos with the tassels that would definitely give a boost to your winter style, a great example, in this case, is the given crochet first wave ruana poncho! Crochet super lacey and colorful ponchos that will rock your summer fashion, and if you are willing to try something new this winter, then do duplicate the given men's classic poncho that has been done with the granny stripe crochet technique! Celebrate the spring flower colors by wearing the spring flower ponchos, would be super easy to crochet!
Free Crochet Poncho Patterns for Beginners:
Turn your little girl into a princess by making her wear the groovy poncho and also satisfy your lust for bohemian fashion by crocheting the boho ponchos at home that you can crochet even with the minimal crochet skills! Crochet also some fab animal-inspired ponchos that are sure to make you look funky, get inspired by the given kitty cat poncho! Check out dozens of more unique and elegant crochet poncho patterns by taking a 2-minute tour of this entire collection and hit the attached links once to open complete free patterns and tutorials!
1. Pretty Crochet First Wave Ruana – Free Pattern
Protect yourself from the morning chill with this beautiful First wave ruana. This is an intermediate level free crochet pattern and it not so hard to make and this one can be done in time (depending on how fast you crochet). In the link below you will find a step by step guide (with pictures) on how to make this beautiful ruana. hopefulhoney
2. Free Crochet Summer Poncho Pattern
This cool and colorful crochet summer poncho is super easy to make and this project won't take much of your time. With this bright colors poncho, you will freshen up any summer outfit. To make this one, you will need yarn in as many colors you like and 2.00 mm crochet hook. Length of this poncho is 37cm, and width is 42cm. beautifulcroch
3. Free Crochet Men's Classic Poncho Pattern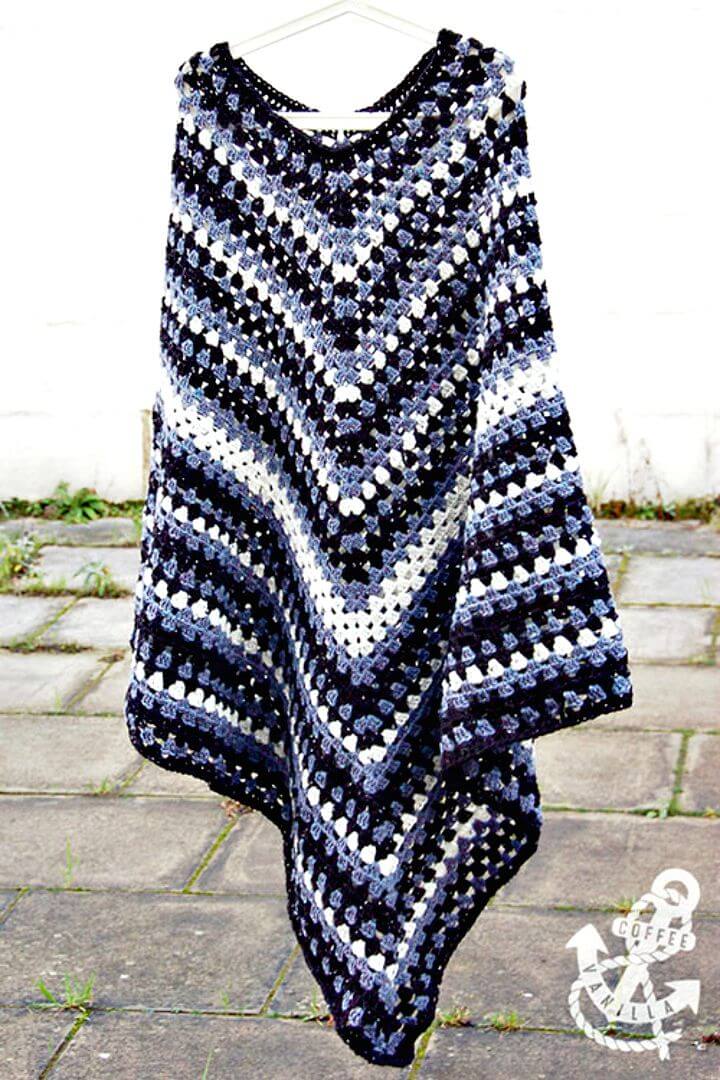 I know that this is a men's poncho, but I really like this color scheme so you must give a try to this one. Materials needed for this one are about 450 – 500 g DK yarn in any three colors that your man likes, 4.00 mm crochet hook, and a crochet marker or plastic safety pin. coffeeandvanilla
4. How to Crochet Spring Flowers Poncho – Free Pattern

This one is perfect for your teenage girl or for your nieces. Its cool, stylish and pink with flowers. This lightweight Spring Flowers Poncho crochet pattern is perfect for those milder days and the pattern in the link below is super easy to follow and includes instructions to make 3 child sizes of the poncho and 2 flowers sizes. petalstopicots
5. Super Groovy Crochet Groovy Poncho – Free Pattern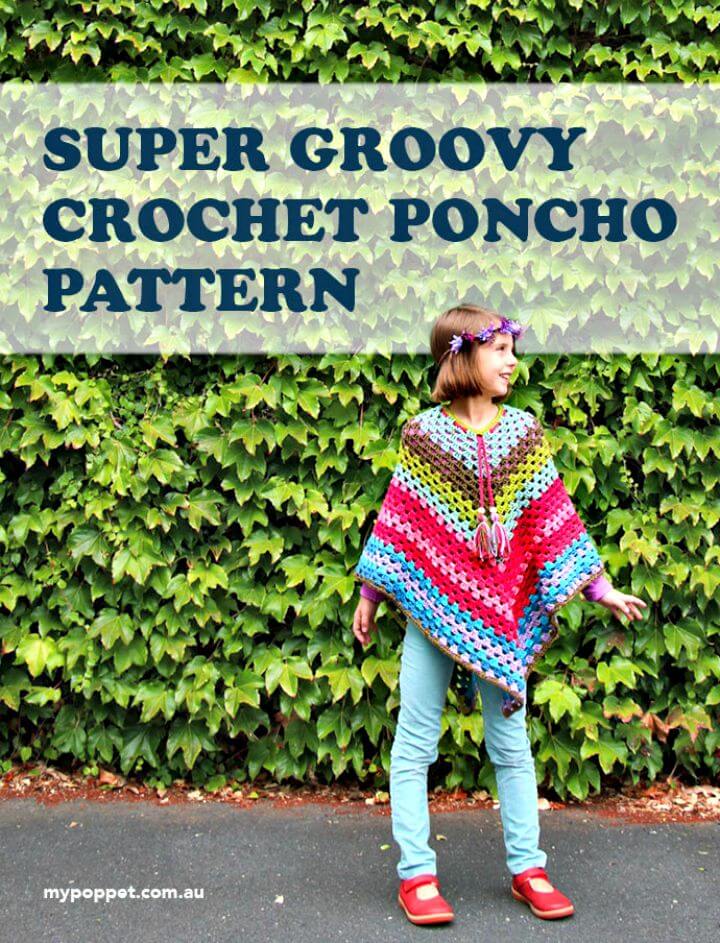 This 70's Style Super Groovy Crochet Poncho is awesome and it is super easy to make. I really love this groove design. You can wear this one with blue jeans and a simple white t-shirt. If you want to make this one for yourself or for your little girl visit the link below: mypoppet
6. How to Crochet Timeless Boho Poncho – Free Pattern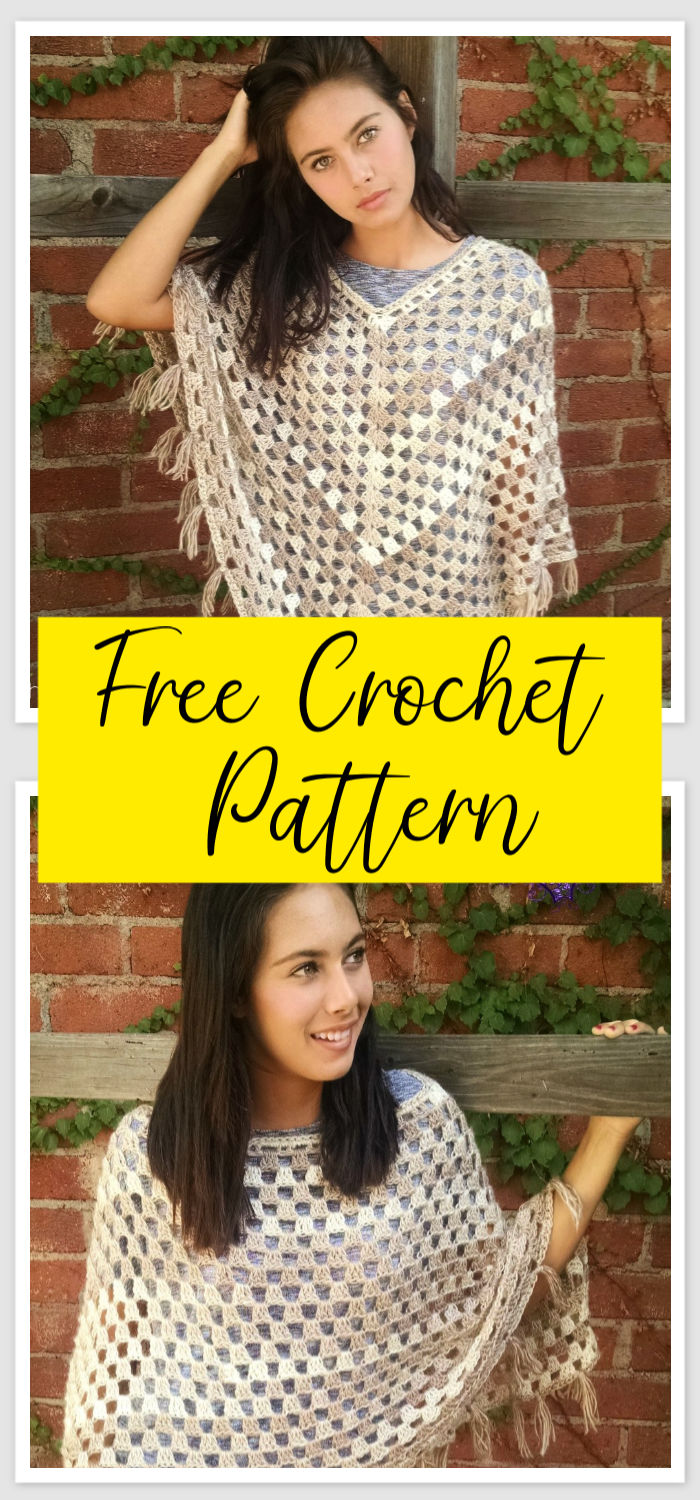 All the boho girls brace yourself. Here we have a super easy and simple to make pattern for an adorable timeless boho poncho. This one is beginner friendly and can be done in no time. In the link below you will find a pattern in two sizes, one for adults and one for the teens. thepurpleponcho
7. Free Crochet Montana Poncho Pattern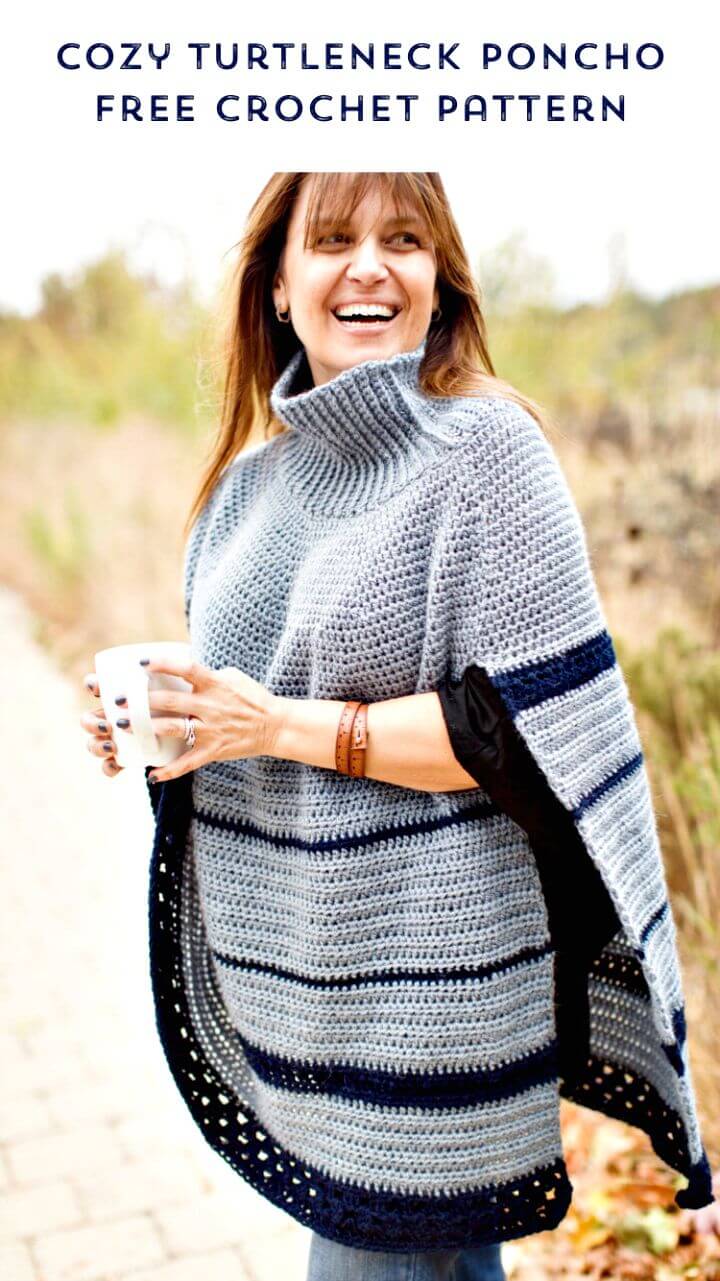 This is one beautiful poncho, and I just love this turtleneck design and his classic and natural shape. To make this beautiful Montana Poncho by yourself you will need supplies. Yarn in dusty blue and navy, size I-9 crochet hook, tapestry needle to wave ends, tape measure, and fasteners or safety pins. stitchandhustle
8. Crochet Kids Poncho with Caron X Pantone Yarn – Free Pattern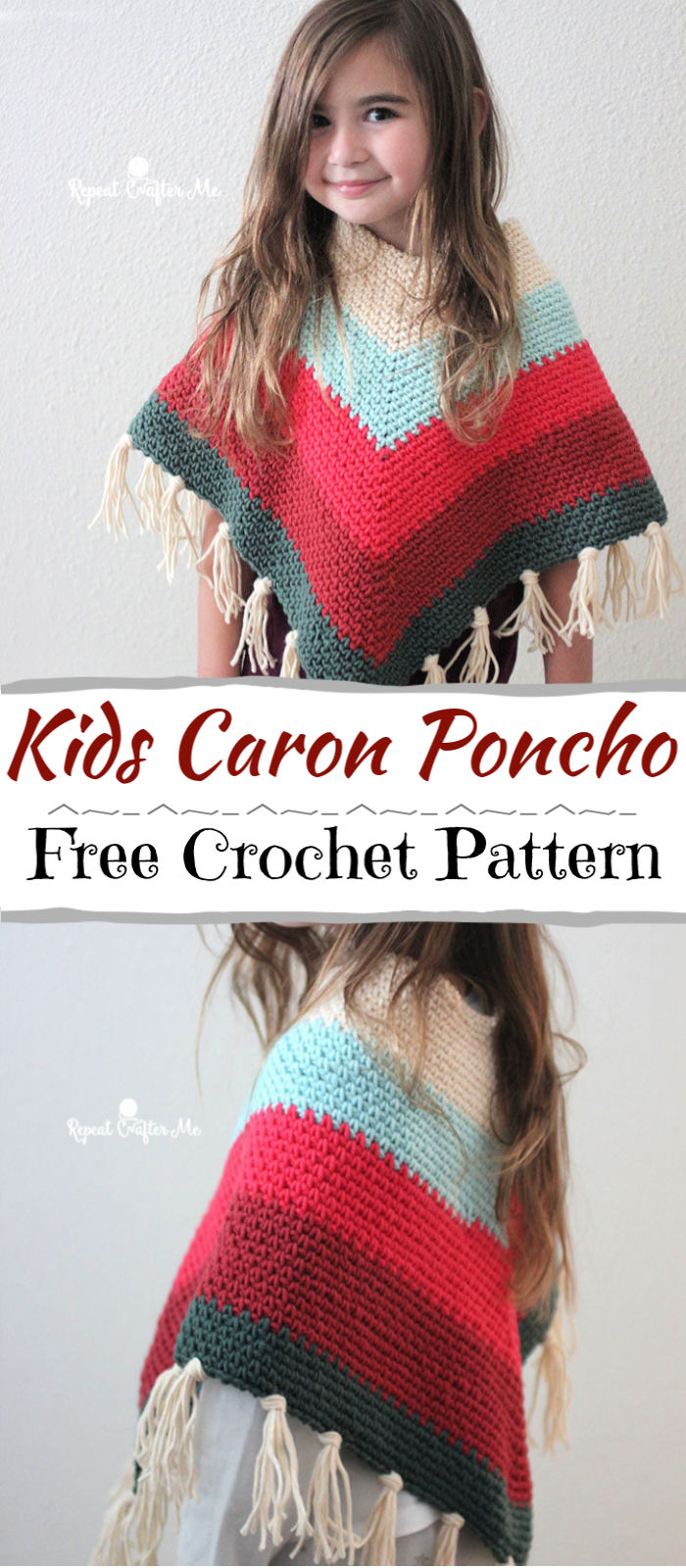 This one is really adorable and lucky for me, this is a simple pattern and size can be easily adjusted. To make this beautiful Kids Poncho you will need about 4-5 (if you are making this one for a 3-4-year-old girl) yarn skeins in any color that you like, size H crochet hook, and tapestry needle. repeatcrafterme
9. Free Crochet Kitty Cat Poncho Pattern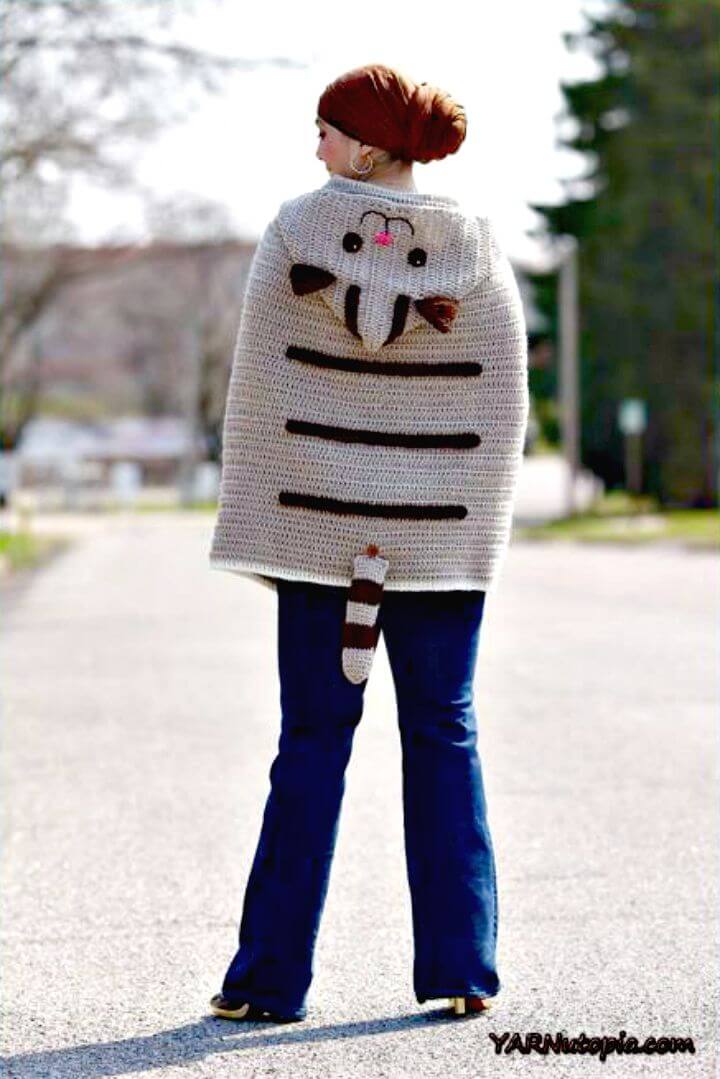 This awesome Kitty Cat Crochet Poncho is the "Purr-fect" way to start your weekend. It is fun, easy and quick to make and it just looks so good. To make this one you will need yarn in oatmeal, coffee, soft white, and pink color, 5.50 mm crochet hook, polyfill to stuff the tail, stitch markers, yarn needle, and scissors. yarnutopia
10. Free Crochet Ava Fringed Poncho Pattern
This poncho is so delicate and romantic and, I assume, super soft (smiley face) plus it is super easy and simple to make. This design is the perfect mix of bohemian comfort and chic, fashion-forward style. To make this lovingly poncho you will need cotton yarn in any color you like, size J 6mm crochet hook, and stitch markers. sewrella
11. How to Crochet Chic Moves Poncho – Free Pattern
The Chic Moves Poncho has cool stripes, an easy diagonal stitch pattern, pockets, and a hood. What more could a woman want? A free pattern? No problem, the full pattern is hiding in the link below. Before you start with this project better be sure you gathered all the materials needed, K hook, yarn, and gauge. All set? Let`s crochet! moogly
12. Crochet Cheerful Poncho for Kids – Free Pattern
Here we have an awesome crochet poncho for kids that you can borrow from time to time, I'm sure that your kid wouldn't mind. This cool poncho can be worn over a jacket or shirt and is perfect for cold winter days. This colorful poncho is made of 100% Morino wool and is super soft and warm. yarnplaza
13. Crochet Drops Poncho with Lace – Free Pattern
This romantic poncho with the lace pattern is perfect for the spring/summer season. It`s very shick and makes a great fit for almost every outfit. To make this beautiful lace poncho you will need some yarn (in any color you like), crochet hook, and tapestry needle. It is pretty simple and quick to make. garnstudio
14. Free Crochet Azul V-mesh Poncho Pattern
This light and breezy Azul V-Mesh Poncho is great for the fall, spring and summer seasons and it is super easy to make. It's stylish, short and pretty unique that people won't believe that you made this one by yourself. Before you start working on this pattern make sure that you are ready to rock this cool poncho. mamainastitch
15. How to Crochet Abby's Poncho – Free Pattern
This one was made in colors that honor Valentine's day and was inspired by the lovely young lady in the picture above. If you are not a fan of colorful clothes I'm positive that this poncho would look good in solid color too. This lacy design is a simple three-row repeat and can be done in no time. pattern paradise
16. Beautiful Crochet Alsace Poncho – Free Pattern
Elevate any outfit with this beautiful and luxurious Alsace Poncho. Because of its unique diamond design, this poncho is beginner friendly and it won't take much of your time. Before you start on this one make sure that you gathered all the materials needed, 7 mm crochet hook, 1700 yds Aran yarn in any color you want, and tapestry needle. hopefulhoney
17. Free Crochet Children's Shell Poncho Pattern
This simple pattern is also beginner friendly and can be done in no time. This stylish, fun and colorful poncho is perfect for the summer nights and it makes a great addition to any outfit. Also is suitable for the spring and fall seasons. This pattern comes in S-M and L-XL sizes. ravelry
18. Crochet Daisy Granny Square Poncho – Free Pattern
A good poncho never gets old. Its always trendy and good addition for almost any outfit. This pattern is easy and quick to do and can be done in no time. To make this beautiful poncho by yourself you will need three shades of yarn in your favorite color – a dark, medium and light tone, and a crochet hook. mylittleshopof
19. Free Crochet Denim Patchwork Poncho Pattern
I really like this color scheme, the orange border fits perfect with the blues and gray, but you can always choose another yarn colors to create something unique. To make this one you will need yarn in any colors you like, size J crochet hook, scissors, measuring tape, yarn needle, and stitch markers (optional). spoonsandhooks
20. Crochet Your Own Drops Poncho – Free Pattern
Here we have another beautiful and romantic lace poncho. This one is ideal for the long summer nights or for a night at the beach. Sizes included in this pattern are from S to XXXL so you can make a matching mother-daughter ponchos. This is super easy and quick to make poncho and you should definitely give it a try. garnstudio
21. Free Crochet Granite Poncho Pattern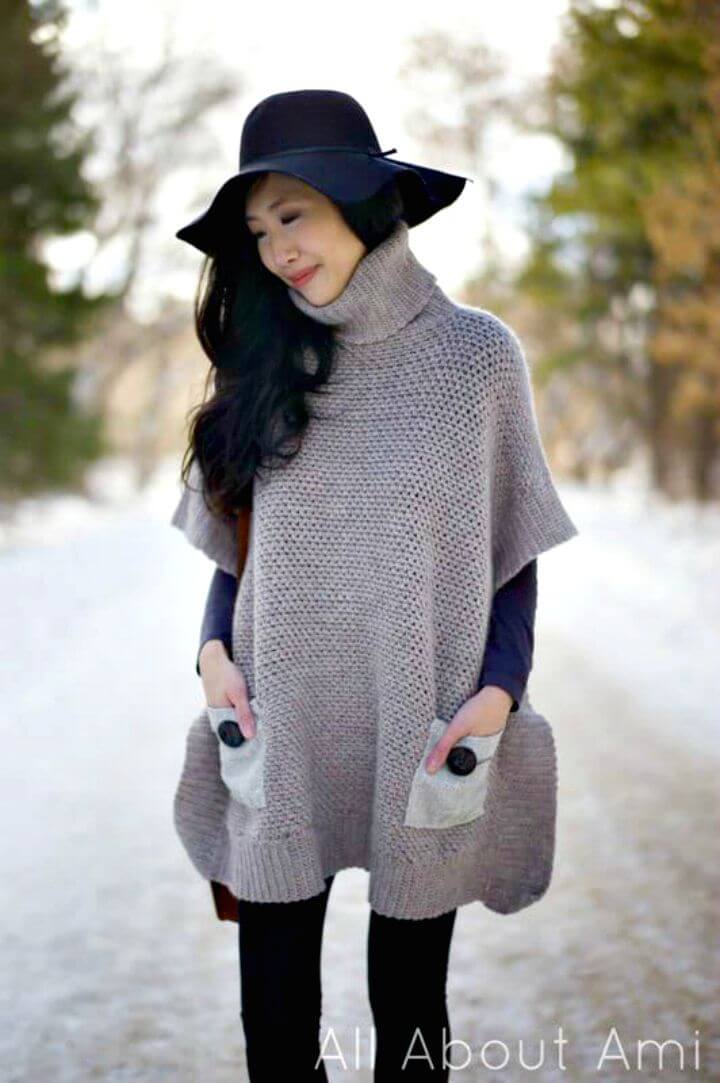 A stylish poncho like this one in the picture above can elevate any outfit. With the turtleneck, alpacha blend yarn and these chic fabric pokets this poncho is perfect for the transitional weather. To make this one by yourself you will need yarn in any color you like, crochet hook, yarn needle, fabric and two large buttons. allaboutami
22. How to Crochet Granny Square Poncho – Free Pattern
This granny square poncho is a great addition to any spring/summer outfit and quick and easy to make. Granny stitch was used for this design with a few chains in between the double crochet to make a nice open lace for the spring/summer season. It is a lightweight poncho so it`s easy to pack without taking up much space. crochetncrafts
23. Free Crochet Light Alpaca Poncho Pattern
This cozy, comfy and super easy to crochet poncho makes a great addition to any outfit. The poncho from the picture above is made up of two rectangles seamed together at the shoulders. This pattern uses half double crochet stitches. You will find the full tutorial in the link below (pictures included). mamainastitch
24. Free Bright Crochet Light and Lacy Poncho Pattern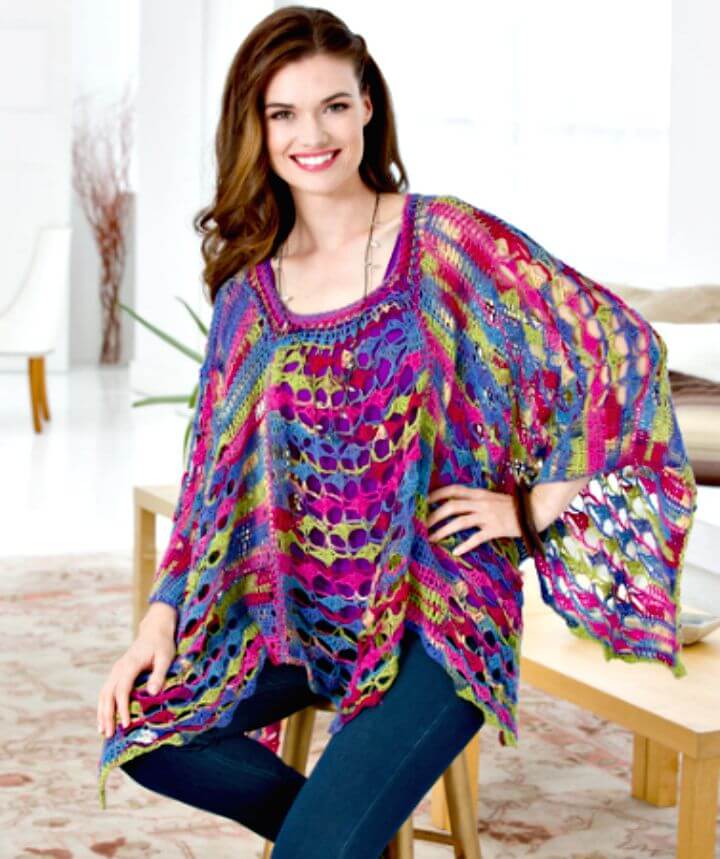 This cool, light and lacy poncho is super easy to make. This colorful poncho is all that you need to freshen up any outfit and to add some colors in your life. To make this one you will gonna need colorful yarn, 5.5 mm crochet hook, and a yarn needle. It doesn't get any easier than that! redheart
25. Free Crochet Lunar Crossings Poncho Pattern
Even a beginner crocheter can make this one with some yarn (in any color you like), size J crochet hook, yarn needle, and this super easy and quick pattern in the link below. This one is ideal for spring and fall season to wear over the jacket, blouse or shirt with a pair of blue jeans. crochetkim
26. Free Crochet Olivine Ruana Pattern
I really like this olivine crochet poncho, no one will believe me that I made this one by myself. If you share my opinion and love this one as much as I do you should definitely give it a try. You will need some bulky yarn in any color, 10.00 mm crochet hook, and a yarn needle. hopefulhoney
27. How to Crochet Perfect Fall Poncho – Free Pattern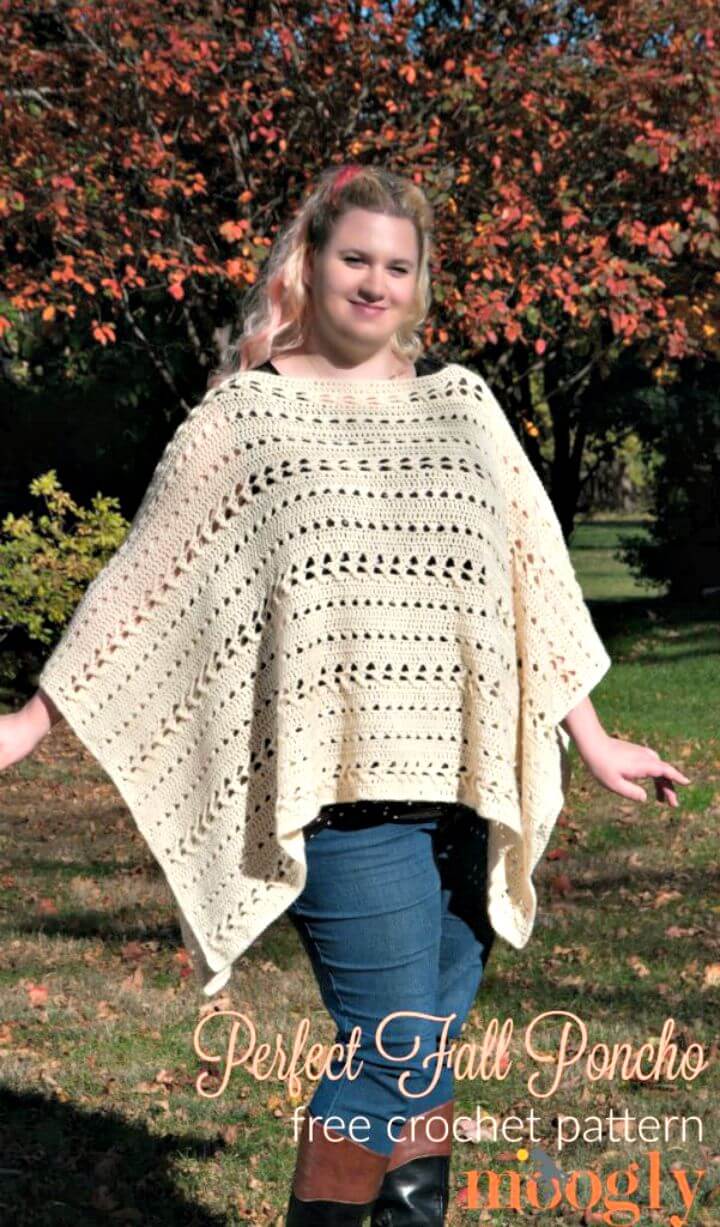 This one really is perfect for the fall season. This poncho features a simple cable-look pattern so it is super easy and quick to make, and this neutral color fits perfectly with any outfit, but you can always choose a different color of the yarn. Alongside yarn, you will also need J crochet hook, stitch marker, and a gauge. mooglyblog
28. Simple to Crochet Poncho – Free Pattern
This Popsicle poncho is ideal for the summer and it makes a great addition to any outfit. This one can be worn with the simple white shirt and blue jeans or with the all white outfit if you really want this one to stand out. This is also an easy pattern to make and can be done in no time. garnstudio
29. Free Crochet Seaside Ruana Pattern
This Seaside Ruana poncho is very simple to make, there is no increases or decreases, just a simple rectangle that splits in two and it's one size fits most. To make this beautiful Seaside Ruana poncho you will need 5.5 mm hook, 1400 yds of 100% acrylic yarn in any color you like, stitch marker, and a gauge. moogly
30. Free Crochet Spring Breeze Poncho Pattern
With this beautiful color scheme this spring breeze crochet poncho will definitely make your outfit super stylish, no matter what are you wearing under it. To make exactly the same poncho as the one in the picture above you will need 1,024 – 1,280 yards worsted weight (4) yarn in seafoam and grey , 5.5 mm hook, and a yarn needle. hookedonhome
31. Crochet Spring Poncho – Free Pattern
This poncho is a good choice for the spring season and makes a great addition to any outfit. It is beautiful, cozy and if you make it by yourself, super inexpensive. To make this poncho you will need 2 or 3 balls of yarn in any color, crochet hook H (5 mm), yarn needle, and stitch markers. highlandhills
32. Free Crochet Toddler Hooded Poncho Pattern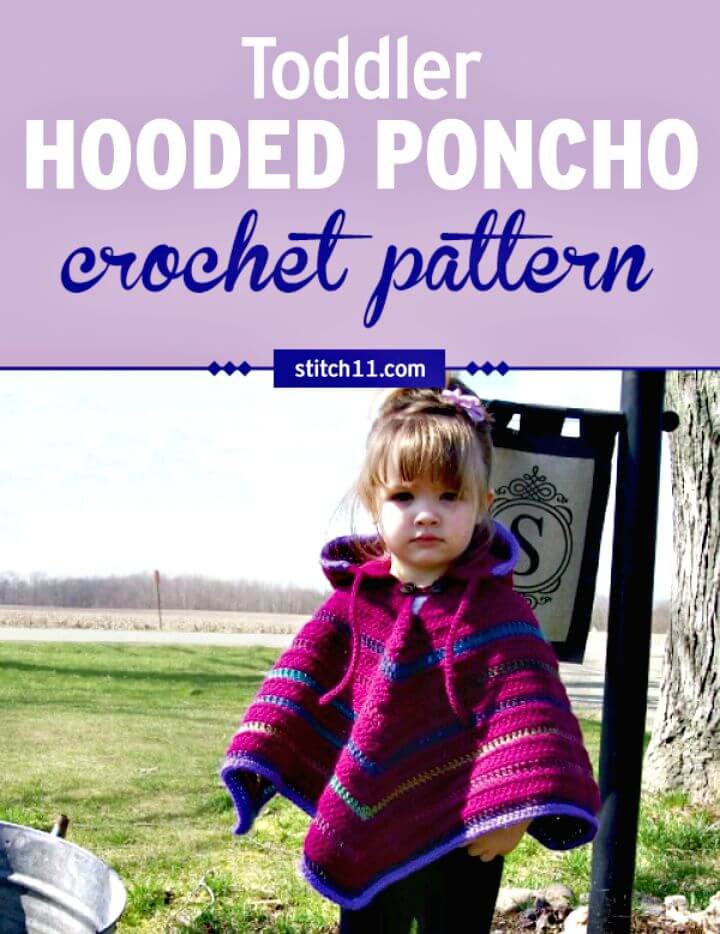 So far this one is the most adorable poncho. It is super cute, easy to make and it has this cool hoodie as well. To make this cute toddler poncho you will need about 2 skeins of yarn in any colors your toddler like, 5 mm crochet hook, and a yarn needle. You should definitely give it a try. stitch11
33. Modern Crochet Granny Winter Poncho – Free Pattern
With this pattern, design possibilities are endless. You can make exactly the same one as the one in the picture below, or choose other colors, make it in either a solid color or stripe it as you desire. If you are not a fan of a turtleneck you can simply leave off the collar and still have a beautiful winter poncho. thecrochetcrowd
34. Simple to Crochet Summer Poncho – Free Pattern
This Simple Summer crochet poncho works up very quickly due to the open stitch that is used and it's easy to adjust the size. This is a simple project and it's beginner friendly one that won't take much of your time. To make one you will need yarn in any colors you like, crochet hook, and a gauge. crochetncrafts
35. Free Crochet Poncho with Lace Pattern
This beautiful lacy poncho makes a great addition to any summer outfit and it is super easy and quick to make. For this crochet project, you will need yarn in any color you like and a crochet hook. To see how you can easily make this one visit the link below for the full tutorial. garnstudio