If you talk about the most loved crochet patterns around the globe, then the crochet newborn hat patterns are the most loved and popular ones as yarn hats are highly opted ones to cover warm the head of the newly born baby that is always sensitive to cold! If you are expecting a baby soon or of your friend is an about-to-be mother then you must crochet some newborn hats at home using your favorite yarn weights in your favorite colors! Need to check out some modern newborn hat ideas first? Then check out there these 35 free crochet newborn hat patterns that are all great, beautiful, new and unique ones and are sure to inspire your hook!
Here you will also learn that how you can mix up different crochet stitches to create fabulous design textures of the crochet newborn hats and you will also various inspirations about the perfect yarn color combinations with which you can go to crochet the best colorful newborn hats! Whether you are willing to crochet some perfectly cute animal inspired crochet hats or you willing to crochet that super beautiful fruit and sports-inspired crochet newborn hats, here you will find inspirations for all!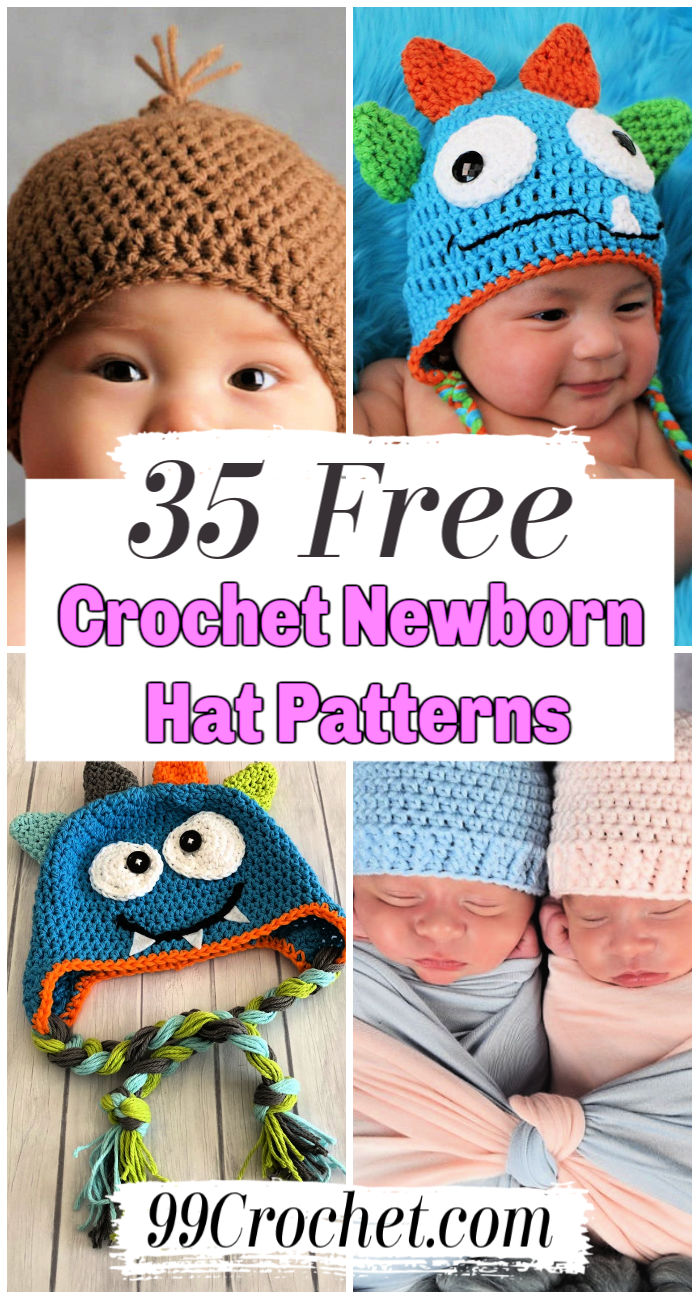 How to Crochet a Hat?
Make your newborn babywear ultimate winter head protection by making him/her wear the lovely acorn crochet hat, make the first photo shoot of your baby interesting and unforgettable with the monkey crochet hat, will also be super warm to wear and also crochet the super precious crochet football hats for your newborn football player, have a look at the given below sample! Create a super cute look of your baby by crocheting a cookie monster hat for him/her and also double up the cuteness of your hat with the crochet frog newborn hats!
Crochet the precious fox hats, turkey hats, bear hats, and various other animal-inspired hats and also embellish your crocheted hats with slouchy buttons, yarn flowers and with pom-poms, here you will also find details inspirations for that! Check the attached links to get full free crochet newborn hat patterns, detailed guides, and step-by-step instructions!
1. Crochet Newborn Baby Hat – Free Pattern
This incredible hat for babies is a lovely way to innovate your crochet techniques. Make sure to have the right size for your baby and create a special accessory for her. Also, you can add some embellishments in the front part such as flowers, buttons or ties, to make it look cuter. Click on the link below to see more details: midwesternmoms
2. Free Crochet Acorn Baby Hat Pattern
The most interesting part is that you can make any design you want in the hat. In this case, you are able to make an acorn baby pattern by choosing three different yarn colors, a crochet hook, and a tapestry needle. Also, add a button in one of the sides to personalize it. The steps you need to follow are in the description below: lakeviewcottagekids
3. How to Crochet Twin Baby Monkey Beanies
Kids love to have different designs on their clothes or accessories. They will love it even more if the item is personalized with one of their favorite's toys. In this case, twin monkey beanies are chosen to create something new and fun. Select the different worsted weight yarn color you must use and start to crochet. snappy tots
4. Free Crochet Football Earflap Baby Hat Pattern
There are many designs you can make to your baby boy as well. Create a soccer helmet hat to make him feel in a soccer club. For this item, select just two colors and a crochet hook, and with crochet stitches which are explained below, you will be able to have this lovely design on your baby's head. Enjoy it. repeatcrafterme
5. Easy Crochet Flower Hat Pattern
This type of hat is one of the easier ways to add something beautiful to your daughter outfits. It's really simple, you just need to take two different colors. One which will be the base color, and with the other one, make a lovely border on the sides. Also, selecting this pretty color, you can make a flower and attach it on it. 
6. Free Crochet Cookie Monster Inspired Baby Hat Pattern
Kids love to have a different design on each hat so you can create this one to renovate the classic hats' style. It seems to be complicated but actually, is really simple to make. Grab blue, white, and black yarns to start creating this pattern. Check the link below to see more of this. hopefulhoney
7. Free Crochet Basic DC Beanie Pattern
Here you have another interesting design to complement your outfits. Add a flower to create something cute and special. The size of the flower is up to you, but try to make it in an accord size. Also, add it in a different color yarn so that you can make a lovely contrast effect. oombawkadesign
8. Easy to Crochet Bulky Newborn Hat Pattern
These bulky newborn hats are the cutest on earth. Grab your favorite color and start to create the classic hat design. Finally, add a tiny ribbon to place it on the border of the hat. Your baby will look stunning and pretty just by using these unique design. allaboutami
9. Crochet Button Trapper Hat – Free Pattern
There are many hats where you can add earflaps to use it on winter season and select a variety of color to create the face of the toy. Also, add some buttons in the front part to make the eyes. However, you can change and personalize the main design if you don't feel comfortable with. Check the complete tutorial right below: whistleandivy
10. Free Crochet Darling Baby Hat Pattern
These type of accessories are commonly used on every hat design to make something new and beautiful. To create this pattern, it is important to make some adorns in other yarn colors to place them on the top of the hat. If you want to innovate and impress everyone with your new baby's style, read before you start to crochet and have fun! yarnspirations
11. Awesome Crochet Fox Baby Hat Pattern
This cute baby fox pattern consists of making the hat and the body part as well. I'm sure your baby will look captivating and cute. Take the right size and with some special stitches, you will be able to make your own style on your baby's outfits. Orange and white yarns are the perfect ones to create this amazing piece. crobypatterns
12. Free Crochet Herringbone Baby Hat Pattern 
This one over here seems to be pretty similar to other explained above. After making the classic design, choose a different one to create an incredible color effect. Also, if you want to add a different embellishment, grabs a yarn pom-pom and place it on the top making look original and unique. littlemonkeyscrochet
13. Free Crochet Little Turkey Hat Pattern
Here you have a wonderful idea to impress everyone else. Grab a dark color to make the base of the hat, and with other yarns colors to create the feathers. The colors that are commonly used are brown, orange, and white. This type of hat is perfect to wear it on Thanksgiving's Day making your baby being part of the meeting as well. littlebirdb
14. Crochet Malia Newborn Beanie – Free Pattern
This interesting design is one of the most perfectly made with worsted weight yarn. It consists of using chain, double and single crochet stitch to create this pattern. If you want to personalize it, add another type of adorn. However, you can place a pom-pom on the top to make it look more captivating. littlemonkeyscro
15. Free Crochet Michael Beanie Pattern
This cute pattern over here consists of using a crochet hook, a tapestry needle, and a brown color yarn so that you can create a new and interesting design. Try to choose powerful colors to make a good contrast effect. Check the steps you need to follow below on the link. mammathatmakes
16. Crochet Minnie Mouse Inspired Baby Hat Pattern
Little girls will love to have this amazing Minnie mouse hat. It's so easy to make, you just need to have the right colors. In the beginning, make the classic hat shape, then, make the ears by separated and attach them using a single stitch. Finally, using a different color, make a tie to place it on the top. Your baby girl will look stunning. hopefulhoney
17. Crochet Newborn Baby Boy Puff Stitch Hat Pattern
This colorful hat is made using a variety of yarns. Start making a magic ring with a single crochet, keep working around until you have at least 5 rows with the same color. Then, start to add the other ones to create this a colorful piece. Read the steps you need to follow to make this: mymerrymessylife
18. Simple to Crochet Newborn Baby Hat Pattern
Here you have a lovely hat for everyone. It's the easiest technique to make one. Just grab your favorite color yarn, a crochet hook, and a tapestry needle to begin to work. In the beginning, start to work around the center using special stitches, then, use another technique to make this cute effect. Check the instructions here: mariannaslazydais
19. Free Crochet Newborn Bear Hat Pattern
Making a newborn bear hat is simple and cute to do. Select a light color and a crochet hook to start creating this amazing piece of art. It is important to remember that the ears have to be made by separated and then assemble them to the hat using a single crochet. Click the link below to read the complete description. amkcrochet
20. Cute Crochet Newborn Bow Hat Pattern
This one over here is an easy way to innovate and create something new and interesting. To make this pattern, you just need to grab a two solid color to create a good contrast between them. In this case, gray and pink are the ones selected. Start working with the gray color and add the pink yarn to make just one row and the bow tie. renewedclaimed
21. Free Crochet Newborn Ribbed Beanie Pattern
Here you have another two different newborn types of hats which you can easily make by having the right supplies. You can add buttons on the hat to use them as an embellishment or maybe add some pom-pom on the top to make it look more fun and cute. Check the designs on the link below and start to make your favorite one. byjennidesigns
22. Cute Crochet Owl Hat Pattern
This pattern seems to be funny and captivating as well. Use the gray color to the base, and choose another color yarn to make a good contrast with the first one. Also, after having the hat shape, adds some eyes and a nose to create the lovely owl face. Personalize it by creating a different design every time. Check the steps here: repeatcrafterme
23. Free Crochet Preemie Hat Pattern
To create these preemie hats you just need a worsted weight yarn color and a crochet hook. The stitches you will need here are explained on the link below. However, you can personalize it by adding a different style or adding some adorns to make it more notable. Enjoy innovating your style by creating new patterns every time. cre8tioncrochet
24. Crochet Preemie Newborn Sleepy Owl Hat Pattern
This one is similar to other patterns that have been explained above. Select a base color that in this case will be the white one. Then, choose another solid color to create the rest of the hat. Use the last color to make two rounds to create the eyes. Attach them in the front part to make it look more real. Your kid will love it for sure. creamofthecropcrochet
25. Crochet Rudolph The Reindeer Hat Pattern
This Rudolph pattern will be one of the most incredible, beautiful, and captivating design you can make in this time. It is necessary to look for worsted weight yarn colors, a crochet hook, buttons, a tapestry needle, and a glue to create this lovely pattern. The instructions you need to follow are on the link below: repeatcrafterme
26. Free Crochet Textured Beanie Pattern
Beanies patterns are chosen for baby girls. In this case, you will add a ribbon which will be inserted in the hat. Make sure you select two light colors to make it more notable, cute, and enchanting. Have fun while doing it, I'm sure your kid will love it and you will see how worth it is. thestitchinmommy
27. Make a Toddler Puppy Love Hat – Free Crochet Pattern
This colorful hat consists of choosing a variety of yarn colors and to start working, create a magic ring. Then, work around it creating more rows every time. After being crocheting for a short time, start to add small designs in a different color. Also, add a pom-pom on the top to personalize it and make it more original. whistleandivy
28. How To Crochet Sweet Bunny Hat
Making your baby look like a bunny never was so easy. First, choose a light and a dark color. In this case, a pink color is a great option. Start crocheting using the light one, and work until you reach the size of your preference. Then, add the dark one to create a border on the sides and to make the inside part of the ears. Click below how to do it: yarnspirations
29. Simple to Crochet Double Hat Pattern
If you love to have the same outfits as your baby, creating a double crochet hat is a good idea. Select your favorite color, and start to crochet in a spiral way. Make sure to have the right size for your baby, and create another one a little bigger for you. Using a crochet hook and a tapestry needle are the key to create this lovely pattern. oombawkadesigncrochet
30. Free Double Crochet Bulky Hat Pattern
These bulky designs are a lovely way to improve and innovate your style. Creating something new is always a challenge. Select two different color yarns and with a crochet hook start to work around a magic ring. The stitches you will use here are explained below, make sure to know the basic techniques to start this job. oombawkadesigncrochet
31. Free Crochet Baby Chick Hat Pattern
These lovely designs need to be in your baby closet for sure. Use light color in this occasion, yellow or blue colors are perfect. After having the basic hat shape, add some buttons to make the eyes, and a small crochet piece to create the nose. This pattern seems to be pretty cute and fascinating for your kid. freecrochetpatterns
32. Crochet Bubble Gum Newborn Hat Pattern
The bubblegum design is soft, cute, chic, and captivating for any kid. It consists of creating the classic shape and add in the corners like pom-poms to personalize it and make it more incredible. For those pom-poms, you will need a thread pink and cut it to make this effect. Every effort will be worth it, your kid will look fascinating. makeithandmade
33. How to Crochet Chunky Cabled Heart Hat
In this case, you will need at least four tones in the same color. Start to work with the lightest and after having like 7 rows, change the tone for a darker one. At the end of the day, you will have this cool gradient color effect which everybody will love. If you want, you can add a pom-pom on the top as well to make it cuter. thestitchinmommy
34. Free Crochet Elephant Newborn Hat Pattern
Having different animals designs give you the opportunity to innovate and impress everyone with new patterns. In this case, you will learn how to make an elephant design by using two different colors. Choose always light colors for these designs so that it will look stunning and chic. Make the ears and the nose by separated. jennyandteddy
35. Crochet Inspired Baby Hat – Free Pattern
Here you have another baby hat using powerful colors. To create this pattern, it is necessary to have the instructions you need to follow which are explained on the link below. Also, you can add a pom-pom on the top or any other adorn to decorate the hat and make it look as cool as possible. hopefulhoney