If you intend to bring some holy angels to your home or to kids nurseries, then these crochet angle amigurumi patterns would be an ideal solution to do so. Crochet the mini stuffed angles and cherubs that can be used as a perfect shelf, accent table, and bookcase decors and will make your decided place look heavenly. To make your crochet the perfect angel plushies, we have shared these 10 Free Crochet Angel Amigurumi Patterns that are amazingly cute and beautiful and would make the perfect ever stuffed toys for your kids.
These mini angles are sure to remove the negative vibes from your home and will bring hope. Moreover, they will also make your think positive at a very first look. If you are concerned about giving some heart winning gifts, then these crochet angles would also make amazing gifts for Valentine's Day and other festivals. So, do crochet these mini sacred personages that are sure to be loved dearly by all.
Crochet the mini female angle would make the perfect cute, divine, and sacred personage, check out the given below sample that comes with mini but super adorable wings and it is also wearing a halo on the top of the head and hence looks like a mini saint. The white is a beautiful color, so to crochet some super cute crochet angel plushies using white yarn, have a look at the given below sample that comes in major white yarn color.
Crochet also the all-white mini crochet angel amigurumi patterns, would be the most loved toy for your kids and also crochet the angelic necklace pendant, stare at the given sample that is lacy and comes with a pearl head. Duplicate also the given angel boys and girls will make the super gift baby shower gifts and also crochet the angel dishcloths, would make a great housewarming gift. Check out more adorable and cute crochet angel amigurumi patterns in the given below list and grab full free patterns.
1. Awesome Crochet Lovely Angel – Free Pattern
This beautiful little angel can be a great adding to your home decor or a great handmade gift. To make this sweet little fellow angel, you will need semi-cotton yarn of desired colors, 1.75mm crochet hook, fiberfill, a pair of safety eyes, scissors, and a sewing needle. This is an easy project that won't take much of your time. amigurumi today
2. How to Crochet Angel – Free Pattern
Winter is almost here, and if you are looking for DIY decoration ideas, you are in the right place. In the link below, you will find a step by step guide on how to make this cute little angel all by yourself with some white and brown yarn, G crochet hook, sewing needle, thread, poly-pellets, yarn needle, and scissors. 5littlemonsters
3. Make Your Own an Angel – Free Crochet Pattern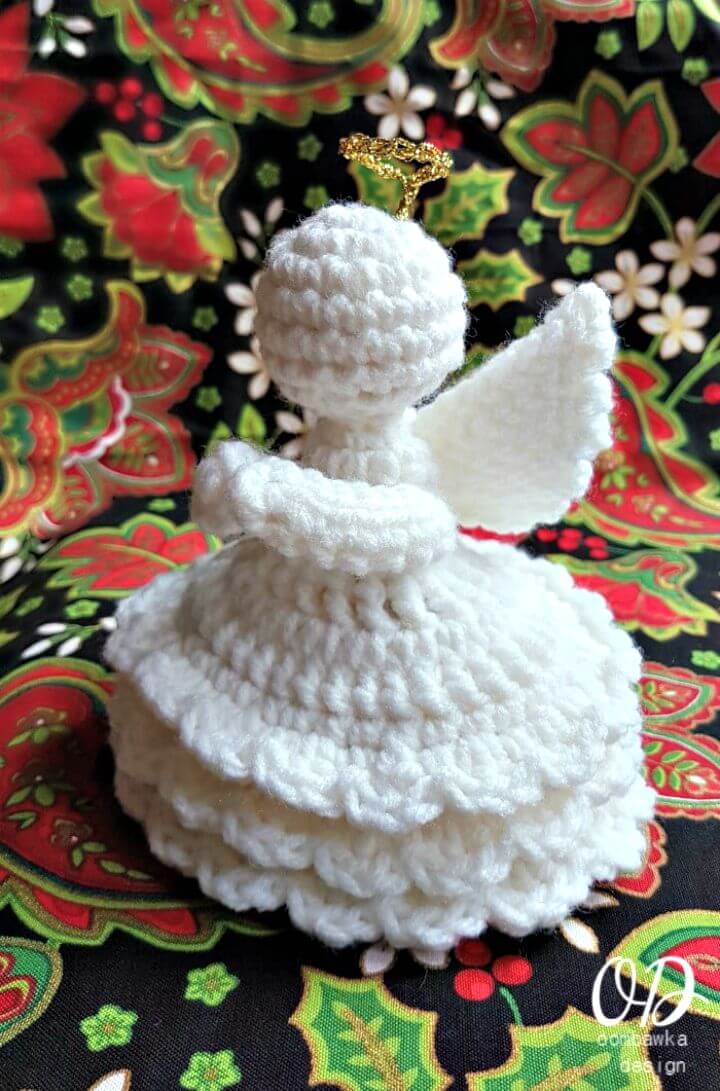 This little angel is just so adorable (heart eyes emoji). It is easy and quick to do a project that can be done in no time. Her halo is designed with a thin bow wire, so it holds its shape and stays in place easily. Make sure to use 100% acrylic medium (4) weight yarn to make this one. oombawkade
4. Crochet Sweet Angel – Free Pattern
Some people believe that the Angels are all around us and that they are here to protect us. Because of that, this little angel makes a great gift for someone you care about, that would be a lovely gesture so that certain people know how much you care about them. To see how to make this one visit the link below: naztazia
5. Quick Crochet Angel Bell – Free Pattern
This cute angel bell makes a great addition to your tree decor. Make a few of these to have a proper white. Before you give a try to this pattern, make sure that you have all the materials needed: small amount of white worsted weight yarn, fiberfill for stuffing, H crochet hook, and small craft bow. hubpages
6. Free Crochet Angels Boys and Girls Pattern
These cute little angels also make a great addition to your tree decor. But these cuties don't just have to be for special occasions, and these make the great everyday decor. They would look great in any nursery or placed around the house, and they make a great gift too. doubletreblet
7. Easy Crochet Guardian Angel Pattern
This beautiful Guardian Angel pattern is super easy and quick to make, and this project won't take much of your time, so you should definitely give it a try. This one also makes a great tree decor as you can see in the picture above. To see how to make this one by yourself visit the link below: crochetmillan
8. How to Crochet Robbie's Angel
This is a very beautiful angel ornament and super easy one to make. This little angel makes a great gift for your next baby shower, and you can replace the blue color with the pink to be more suitable for the girl. To see how you can make this one visit the link below for the full tutorial: heartmade
9. Cute Crochet Angel Amigurumi Pattern
This cute little amigurumi angel was made using a 2.5 mm crochet hook and the 100% cotton yarn. He is soft and baby safe. He is 7 cm tall with a wingspan of 12 cm. To make this beautiful angel, you will need yarn in white, gold and skin-colored, tapestry needle, scissors, polyfill, and 6 mm safety eyes. supergurumi
10. How to Crochet Angel Dishcloth
These colorful dishcloth angels will brighten up any kitchen, and if you are short on time and in need of a great handmade gift that this project is perfect for you. This is a beginner-friendly project, and you should give it a try. To see how easily you can make this one visit the link below: craftown