Willing to try out some amazingly easy crochet patterns? Then do try the crochet coasters pattern that will be super quick and easy to crochet! Moreover, do some fab crochet coasters would also be a way to put the useless yarn scraps to some good uses and the crochet coasters would also be loved dearly by as they would be color super soft to touch! You can crochet the coasters following any style of stitches and you can also select the yarn colors that will fit best to your party decors and to your party table style! Another plus point would be that yarn coasters will soak up the beverage spills very well so if you are also willing to crochet some party yarn coasters then these 40 Free Crochet Coasters Patterns are only for you, will let you know all the crochet hacks to crochet some best coasters of your life!
Here all you need is to crochet different popular motifs that will make directly the perfect crochet coasters like you can crochet a granny square in so many different styles that will make a perfect coaster and next you can also crochet the perfect circles and hexagons that will also make the eye-catching yarn coasters!
Crochet in rounds and gain the minicircles that will make the fascinating yarn decors and coasters to put on any party table! Also, rock your party tables by making some very beautiful fruit slice coasters, an interesting sample here is this given grapefruit slice crochet coaster that is actually a colorful crocheted circle motif! Crochet the jute hemp coasters that will be a big center of attention and also duplicate the Mexican sun mandala coasters that will be the main focus of attention on any party table!
Celebrate the summer by making gorgeous looking round watermelon coasters and also the apple crochet coasters that will be ready in no time also! Amaze also the audience by crocheting teacup shaped coasters, hexagonal coasters and also the cat butt coasters that will also work up super quickly! Next also make the very good looking donut coasters that will look much near to real! Checkout some more amazing crochet coasters pattern in the given below list and click once on the attached links to open complete free crochet patterns and tutorials!
1. Free
 

Crochet Coasters Pattern
So the winters are here and there would be more coffee on the coffee table and to make it safe from the stains you can make this really cute and useful set of the crochet coasters. Yes the coasters are so pretty and fun to make with white base and the colorful circles to look catchy and fun. creativejewish
2. Free Grapefruit Crochet Coasters
While working on some crochet projects the colors and the mixture of them really matters and for inspiration you can use anything just like a grape fruit. Yes this lovely coaster has been made out of totally inspiration from the grape fruit and has turned out to be so tempting and fun. makeandtakes
3. How to Crochet Jute Hemp Coasters
This colorful and cute set of the crochet coasters is too cute and beautiful to be drooled over and you can easily make some for your homey use too. So the twine used to shape up these lovely and cute coasters is the jute hemp rope twine in white hues for the base and the colorful ones for the rims. crochetforyou
4. Crochet Mexican Sun Mandala Coasters Pattern
Mandalas are so gorgeous and bring back so many traditional memories to us related to the crocheting. So revive the mandalas beauty in a really cool and fun way by creating this lovely sun mandala coaster to use over your tables and create a really colorful and chic look there too. jo creates
5. Free Crochet Green Apple Coaster Pattern
The only word that your guests would utter after seeing these gorgeous green apple coasters under the coffee or drinks is "WOW". The white and green color and simple stitch has really made this lovely apple coaster look so fantastic and fun and you can use a set of it as a great gift idea too. lakeviewcotta
6. Easy Crochet Watermelon Coasters
Summers are here and you would need a load of the coasters to use for your parties where there will be a lot of drinks served.  You do not need to buy a set of new coasters when you can crochet some on your own using the summer inspiration and these water melon coasters are just awesome for the purpose. midwestern
7. Quick Crochet Coasters Pattern
Here is the fun idea to use the small left out pieces of the yarn for your fun crochet projects and making the coasters is just so much fun and great. Yes you can make the lovely floral inspired coasters with a simple yarn as the center and for the top rims and edging you can use colorful piece and Tada! fiberflux
8. Free Crochet Cosy Coaster Pattern
These crochet coasters are so gorgeous and fun to look at that the guests would stare them for so long and would surely appreciate your choice and selection. So grab the lovely hues of your choice in the yarn and crochet these floral inspired set of the coasters to use around for coffees and drinks. merinoandto
9. Free Crochet Seed Stitch Coasters
There are so many stitches that you can use to form your favorite things and seed stitch is the best when you are upto some coasters. So use the favorite and bright color of the yarn to create these seed stitched crochet coasters for a really compact pattern to be adorned. mamainastitch
10. How to Crochet Apple Coasters
Fruity coasters are just so cute and pretty and they are super easy and fun to crochet yourself at home and that too in exciting shades and the shape of your favorite fruit. So here is this lovely and cute bunch of the apple coasters which are so much fun to create and use for your tables. annemaries
11. Free Crochet Bright Side Coasters
If there is a mathematician inside you then show your maths love in your crocheting work by creating some super chic and fun looking coasters of geometric shapes. Circular, square, hexagon and so much more are the options for you to work on and bring some chic and fun beauty to your spaces. garnstudio
12. Free
 

Crochet Candy Flower Coasters
You cannot remove your eyes from this lovely set of the candy flower coasters for being so bright in colors and super enchanting. So grab all the bright hues of the yarn and the white to create this lovely set of the candy flower coasters with sheer delicacy and love. Pattern with details here redagap
13. Free Crochet Cat Butt Coasters Pattern
You would have seen so many fun and quirky kind of coasters but these ones are the surely most unique and fun and you are going to fall in huge love with them.  So grab some cat colored yarn and create these cat butt coasters to let everybody feel so fun and crazy using them too. madesimplyby
14. Free
 

Crochet Circular Coasters
Here is how you can make a simple yet fun looking coaster on your own and use it on your tables to keep the coffees teas or the drinks on and make your table surfaces look so clean and tidy. These are the circular shaped coasters with swirling circles being formed up in the center for a more pretty and cute look. supergurumi
15. Crochet Coffee Coasters
You really need to make some fun and adorable looking coasters for your table when everybody has them in so much trendy designs and shapes. These cup shaped coasters are just the utter delight to create and use for the coffee mugs and tea cups on your coffee tables and more. repeatcrafterme
16. Crochet Daisy Granny Squares Coasters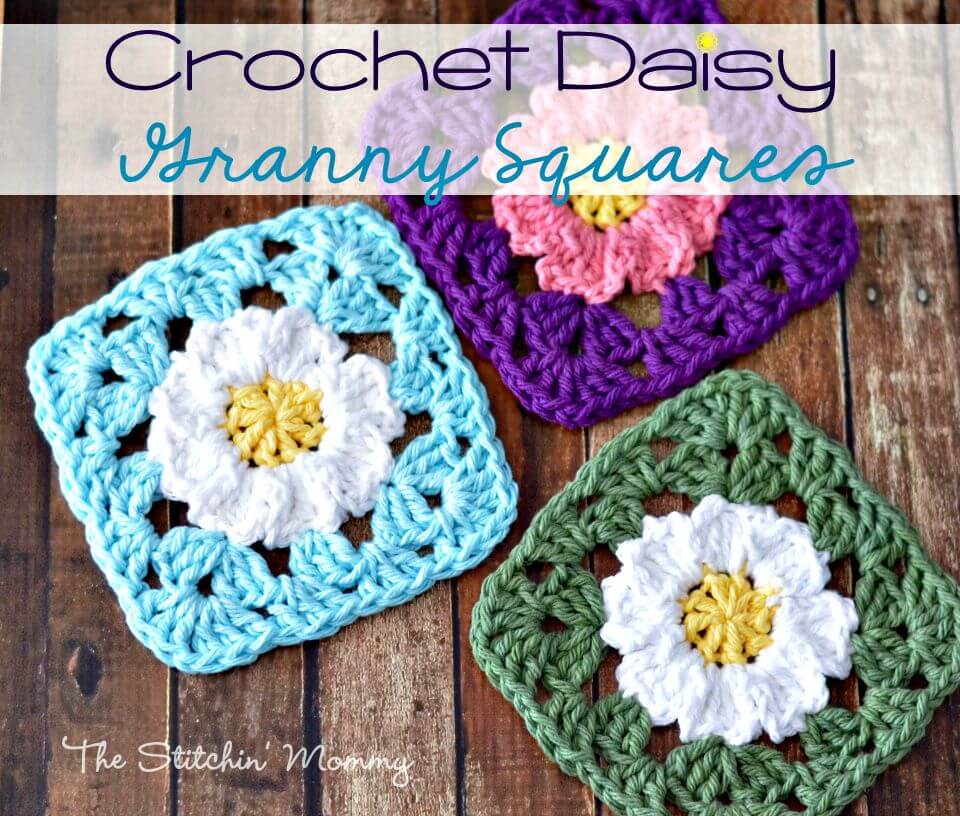 Granny squares one of the initial crochet projects that every crochet person gets his hands dirty with. So you can add so many pattern twists to the granny squares and make them look so beautiful and fun for your use and these floral crochet granny square coasters are the perfect example. thestitchinmommy
17. Crochet Doughnut Coasters 
Donut crafts are really getting popular on the internet for being so fun, chic and colorful so why not crochet some to have more fun with them. Yes you can make these super cute bunch of the crochet donut coasters to use them on the special occasions of your parties and dinners. crochetdreamz
18. How to Crochet Farmhouse Style Coasters
If you have done your dining room decor and furnishing with all rustic and farm house style then you should really have these gorgeous farm house styled coasters too. They are super cute shape up in lovely rounds of traditional stitches and that too in the skin and white color for a perfect look and possession. thepaintedhinge
19. Colorful Crochet Flip Flop Coasters
This is a mind blowing idea of the coasters that could rarely touch your mind as it's so unusual. Yes we are talking about these flip lop coasters to be made and enjoyed around the summer drink parties. So grab all the colors of the summer in yarn and start crocheting these coaster beauties. turtleweenies
20. Crochet Flower Coasters
When you are not in the mood to think of a new design or the pattern for your new crochet coaster project, the flowers are the great delights to get inspired from. Yes you can make these lovely and cute set of the coasters and that too all in the pleasant and bright shades of the yarns. molliemakes
21. Crochet Fruit Coasters
Fruits are so healthy and make us so happy when they are all around to delight our taste buds. To value them more you can use them as the fun inspiration for your crochet projects and making this cute bunch of the fruity coasters would be just awesome. So grab the colors of guava, peach, pear, orange, watermelon and start working up. repeatcrafterme
22. Awesome Crochet Roller Coasters
This set of the simple looking roller coasters are so fun and cheap to crochet yourself at home and use around as the lovely gifts for your favorite ladies. Yes you can make the simple brown circles for the coasters and then add the colorful swirl rounds to make it look super whimsy and fun. haakmaarraak
23. Free Crochet Single Square Pattern
Make the most out of your colorful yarn that has been creating a scrap and you are looking forward to use them for some fun projects. Yes you can shape up these really cute and adorable looking set of the square coasters and that too in double shades of the yarn hues. redheart
24. Free Crochet Slip Stitch Embroidery Coasters 
Here are these immensely cute and colorful set of the coasters that you can easily make at home and enjoy such a gorgeous and precious possession. Yes the coasters have been crocheted with some colorful embroidery work on the top that has resulted into sheer beauty and charm for the eyes. cutoutandkeep
25. Crochet Solid Granny Square Coasters
The winters are officially here and while you would be making a load of the crocheted warm stuff like the hats, gloves and scarves you should really be bringing some warmth in the decor. And for your table elegance and beauty this set of the cute and addable granny square coasters is just great. craftpassion
26. Crochet Spring Blooms Coasters
Summers and coming with lots of beverage and drink fun and that means your tables have more chances of getting stains. So to make them save from any of the rings of the drink glasses and more you really need some coasters and making these spring bloom coasters is just the right idea to work on. theunraveled
27. Simple to Crochet Square Coasters
Here is another fun and colorful set of the coasters to make and enjoy your drinks and coffee without any tension of getting your table surfaces getting stained. These crocheted square coasters in bright hues of the yarn and the cute circular crocheted appliques really make the coasters a huge hit. interweave
28. Crochet Summer Rose Coasters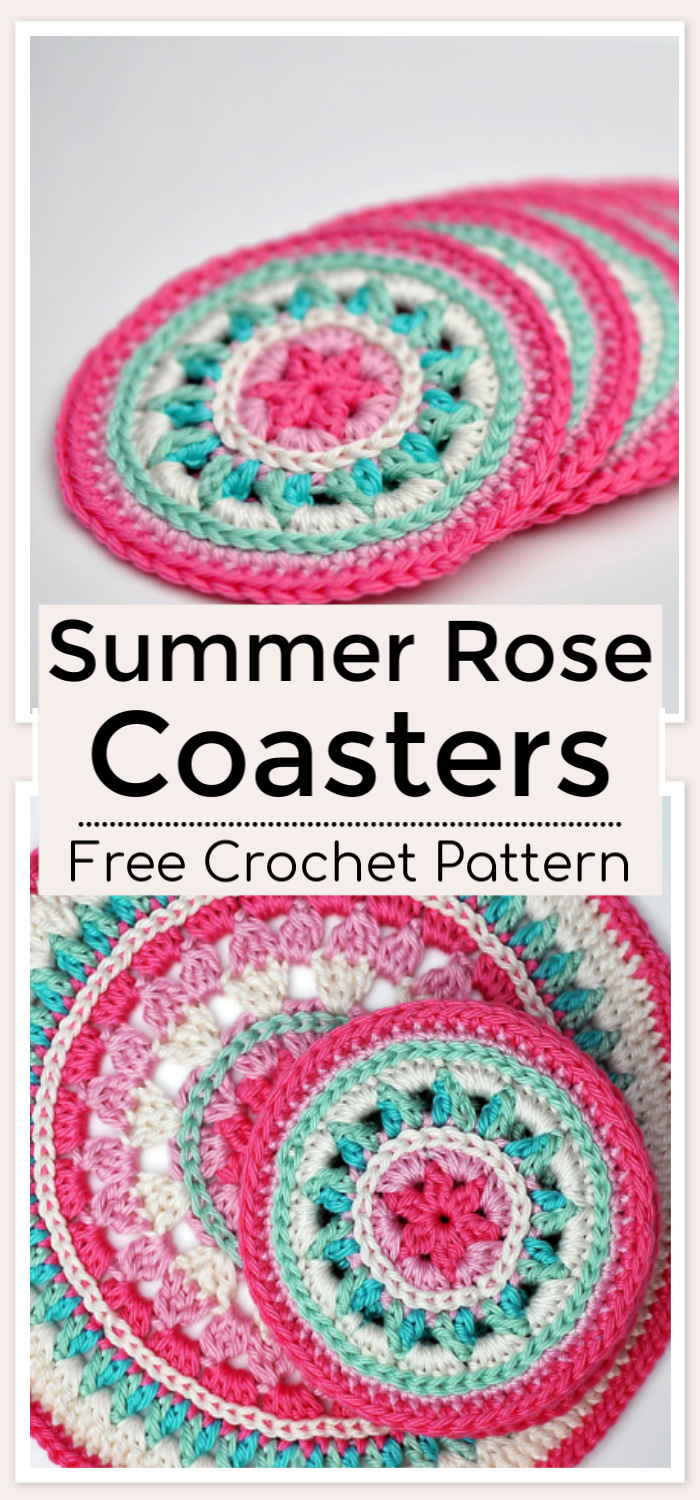 The crocheted coasters are so much fun to do yourself at home and give your tables something really custom and gorgeous to look so great while there is a beverage party is going on. These gorgeous rose patterned coasters are just a great yarn and crochet delight to work on this weekend. Details here aconversation
29. Free Crochet Summer Spiral Coasters Pattern
Make your morning coffee hours and evening tea times more fun and gorgeous with this lovely and cute bunch of the crocheted spiral coasters. The simple and cute coasters are so much easy and quick to make with simple round base and the pretty spirals in contrasted hues and you are done with a fun project. petalstopicots
30. Crochet Tea Cup Coasters
If you are making coasters for your tea cups and coffee mugs then here is the idea of creating the fun and totally custom looking cup or mug shaped crocheted coasters for the purpose. So grab a bunch of the bright colored crochet yarn and crochet this super cute coasters and tea bags hanging for a more quirky look. divinedebris
31. Crochet Tunisian Coasters
These Tunisian set of the coasters looks really gorgeous and fun for being so unique and colorful. The thing which makes it look a bit extra ordinary is the choice of the stitch being used for the purpose. It looks like a mess of the yarn but over all gives a really cool and fun feel. Details here petalstopicots
32. Free Crochet Turkey Coasters Pattern
Fall is here and you would be making so much fun crochet projects and here is another fun project to add in your to do list. So for your special table for the fall festive you can make this lovely turkey styled coasters to put your coffee cups, mugs and drink glasses on.  Here is the link for details craftpassion
33. Watermelon Coasters – Free Crochet Pattern
If you are making coasters for your summer use to put your drinks and beverages on then you should really be seeking inspiration from the summer delights and water melon is one of them. So here is the idea of creating a lovely water melon coaster set in green, red and white and enjoy so cute look of them. makeandtakes
34. Free Crochet Woven Stitch Coasters Pattern
Free Pattern here: hobbyiscrochet
35. How To Crochet Coasters
Imagine eating this lovely set of the pretty red hot coasters to be a part of your table setting for a special gathering of friends on a high tea party. The coasters are so much fun to make with complete red circle and white rims to add some more quirky and fun touch to it. Follow the details of the idea here mezzacraft
36. Free Crochet Flower Coasters Pattern
Summers and spring remind us all about the lovely and colorful blooms making us feel so much fresh and delightful and here is the idea of doing it in the form of the lovely set of coasters. So grab the complete bright shades of the spring in yarn and get your hands on your crochet hooks to shape up these pretty coasters. 1dogwoof
37. How to Crochet Pizza Coasters
The things we like really make us feel happy and fun and pizza is one of them and it can really be a super cool and fun inspiration for your next crochet project. Yes you can crochet this lovely bunch of the pizza coasters and enjoy so much fun time with your friends having your drinks on these lovely coasters. craftsbyamanda
38. Colorful  Crochet Watermelon Coasters
Water melon is not only tasty but so much beautiful as God has combined so lovely color combination of the red, green, white and black in its production. So if you are looking for some cool motivation for your crochet coasters these water melon coasters are just the right things to get your hands on. crochet365knittoo
39. Crochet Triangle Geometric Coasters
This gorgeous set of the modern coasters is so fun and chic to look at for so many reasons. First they are simple and cute. Then they are so refreshing in the pattern of a square taking two colored triangles to be made up. You can grab the complete project details here 5littlemonsters
40. Crochet Coasters for Beginners
Do not worry if you are a beginner but really want to crochet yourself a set of lovely coasters as we got these really simple yet so gorgeous and pretty looking coasters to work on. Just grab the yarn hues you want for your coasters and also your crochet hooks and get along this lovely project having all its details sustainmy