Wreaths make the very interesting front door decor, and several different types of wreaths are made to welcome different festivals, celebrations, and even the season! However, for each type of front door wreath, you can create a best crochet alternative wreath that will be more beautiful and durable and also comparatively cheap! We would like to inspire your hook with these 15 Free Crochet Wreath Patterns that are super easy to make and a perfect front door decor! Here these crochet wreaths come inspired by different things, festivals, and seasons like the list comes with perfect looking Halloween crochet wreaths, spring flower wreaths, fall pumpkin wreaths, farmhouse styled wreaths and also with the patriotic crochet wreaths!
In short, this shortlist of crochet wreaths will make you learn every type of crochet wreath at home beautifully! If you are looking for some perfect summer wreaths, then do clone the given beach wreath that comes with the beach tree crocheted on both sides, connected through a hanging hammock, and it also comes with beach yarn letters stitched on!
Free Crochet Home Decor Patterns:
Crochet the very special floral wreaths that will help celebrate the spring flowers and would be super eye-catching. And also, give a warm welcome to the Halloween by crocheting the lovely looking black and pumpkin-colored wreaths that will also come with the yarn spider embellishments, get inspired by the given sample! Given a very warm welcome to the fall by crocheting a very special fall pumpkin wreath, it would be super easy to crochet, and it also comes with pumpkin embellishments!
Next, you can also crochet the very special crochet fall berries wreath that will hang like a charm over your front door. Also, express your country love by making the 4th July patriotic wreaths at home, stare at the given below sample that is cute and adorable! Check out some more fantastic crochet wreath patterns in the given below list and do clone your favorite one at home! The free crochet wreath patterns will be available instantly if you crochet on the attached reference links!
1. Free Crochet "Life's a Beach" Summer Wreath Pattern
Creating a crochet wreath is an inexpensive and amazing way to innovate the decoration at home. To make this design, you will need a crochet hook, a Styrofoam wreath, a yarn needle, scissors, glue, and sewing pins. It's perfect for you if you have worked with crochet techniques before, click the link to see the steps: hookedonhom
2. How To Crochet Wreath – Free Pattern
To create this colorful wreath, you will need to wrap the crochet around the Styrofoam wreath. Then, create by separated some flowers and other lovely designs of your preferences in different colors. Finally, attach them to wreath in the front part. You will love how it looks on your door. justbehappylife
3. Free Crochet Along Came A Spider Yarn Wreath Pattern
This one is super easy and simple to make. Just grab black yarn, start crocheting around the wreath, and use an orange yarn to use it in a small part of the wreath. To make it creepier, add some spider shapes made with a black cardstock creating a lovely contrast. It can be a perfect decoration for Halloween. olives n okra
4. Free Crochet Fall Wreath Pattern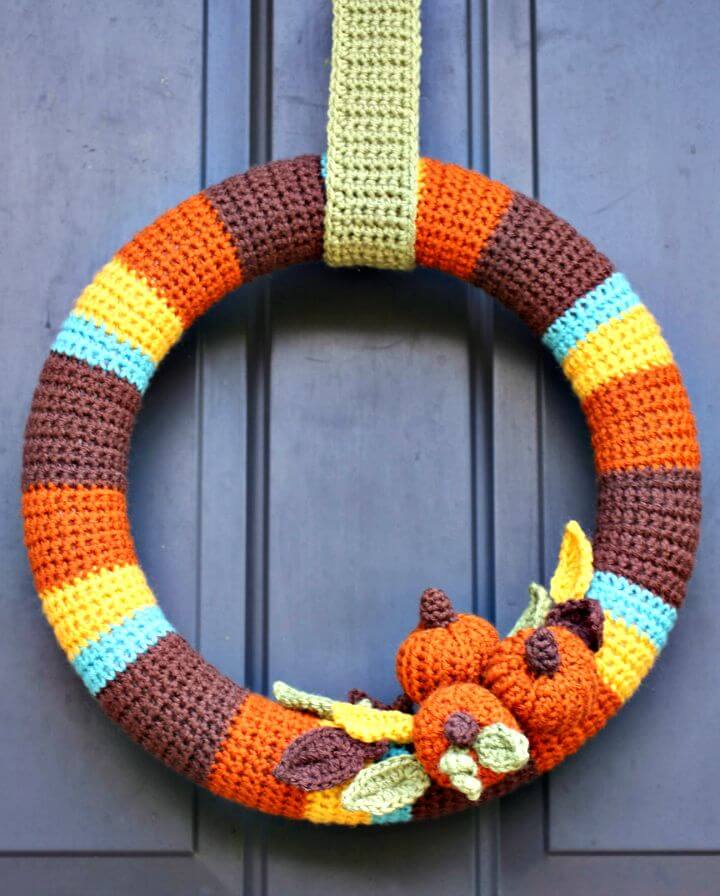 A fall wreath is an enchanting theme to make an original design. To create something fascinating, choose a warm color such as light orange, yellow, light blue, etc. You can also make some small pumpkins with orange yarn and attach them in the front part. Make a crochet rope to hang the wreath up on the wall or any other place. repeatcrafterme
5. How to Crochet Fabulous Fall Wreath
This fabulous fall wreath is kind of complicated, you will take more time to do it, but it is worth it. In this case, you have to do all the designs first, make some leaves and flowers in different colors, and then, assemble them in the Styrofoam wreath. If you want to know the instructions, click below: redheart
6. Free Crochet Farmhouse-inspired Jute Wreath Pattern
Using Jute material, you can make something different, unique, and captivating. It looks easy to do, and you just need to crochet the Jute material and wrap it around the base you will have. Also, make a tie in a different color and attach it with some branches around. You will love the result. It will look stunning. madewithlove
7. Easy Crochet Granny's Patriotic Wreath Pattern
If you want to change the regular theme in the decoration in your home, you can use this one to innovate the place. Making a patriotic wreath is a different and original design you can create. You will need just a small amount of worsted weight yarn, a crochet hook, a tapestry needle, hot glue gun and sticks, a Styrofoam wreath, and jewelry pliers. eyeloveknots
8. How to Crochet Springy Flower Wreath
Here you have a colorful wreath which is designed with green and blue yarn for the base. After attaching it to the wreath, you can make some flowers with different colors, and when they are done, assemble them to the wreath. The effort will be worth it. This design is unique and enchanting for your home. flythecoop
9. Free Crochet Flower Wreath Pattern
There's another colorful wreath. In this case, you need to make more flowers in different sizes and different colors. One of the differences with the above is the flowers' distribution. In this case, they predominate in the lowest part of the wreath. Click on the link if you want to follow the instructions: instructables
10. Crochet St. Patrick's Day Wreath with A Pot Of Gold – Free Pattern
Here you have a wonderful rainbow wreath. Choose as many color yarns as you want, try to be light colors so that it will look more elegant. Also, create a pot filled with gold using a dark and yellow yarn. Place the bowl in the lowest part of the wreath, and that's it. It will be captivating and incredibly enchanting. petalstopicots
11. Free Crochet Summer Sun Wreath Pattern
This summer, wreath looks fascinating by the way it is designed. You just need a big amount of yellow yarn and start to crochet around the Styrofoam wreath. Also, make some yellow leaves by separated and join them around the wreath. Click below to see more details: repeatcrafterme
12. Free Crochet Autumn Wreath Pattern
Let's change the theme to autumn designs. For this, use a light color to the base, grab some colorful yarns, and start to create some leaves in different colors and sizes. Attach them in the wreath and make them look stunning. It is a great option to decorate your door or any other part of the house. sewrella
13. Easy to Crochet Butterfly Wreath
This lovely crochet butterfly pattern can be a fascinating option for your baby girl if you have one. Place it in her room, and you will see how wonderful it looks. Take light and dark color tones to create a lovely degraded effect. Pink and purple are always chosen for this type of design. crochetier
14. Free Crochet Snowball Wreath Pattern
And of course, the winter season needs to have its own wreath design as well. In this case, you will need to look for white and light blue yarn to create this beautiful pattern. Start making small snowballs in different sizes and a snowman to place it in the wreath. It will look stunning and cute to decorate your front door or a wall. repeatcrafterme
15. Quick Crochet Tiny Wreath Pattern
This design consists of choosing your favorite color yarn and make small designs to put on it. Start to work creating a magic ring, use special stitches to make this pattern. Click below to see the complete instructions. lookatwhatimade