Handmade gifts are always more valuable and help earn more love and respect from the receiver that maybe a friend, neighbor or a family member! So, if you are thinking about making some perfect crochet gifts at home that will put a great smile on the face of your beloved ones then these 40 Free Crochet Gifts Patterns are only for you, all will make heart-winning and thanksgiving gifts! So, time to get busy with your crochet hook to crochet these gifts patterns that will be ready in no time and some also in less than an hour! Here you will also find the crochet gifts pattern that you can crochet even in the last 15-30 minutes!
The good news is that everything you can crochet from a winter fashion clothing to yarn home decor to a custom crochet fashion accessory will make a great handmade gift! Even if you are having an easy skill level, you can crochet most of these crochet gifts without getting a little puzzled!
Please a fashion-loving lady by giving her a reversible crochet scarf would be super easy to crochet! Spend some time with your crochet hook and crochet the precious yarn baby booties, will definitely win the heart of a mother-to-be for you if given as a gift! If you intending to crochet something unique to give as a gift then do clone the given crochet snowman cardholder, will be a matter of a minute to crochet! Filter your friend's negative dreams by giving crochet dream catchers to him/her as a gift, can be made just by crocheting some giant yarn circles!
Another interesting gift here is the given crochet houndstooth scarf that comes in red and white color stripes and hence would also make a great gift for the love day, Valentine's Day! Crochet also the drawstring crochet cowl to give to a fashion-loving teen as a sweet handmade gift and also earn extra respect of a newly became mother by giving her the frog baby booties and the fox hat and diaper set, would be super easy to crochet even for a beginner! Check out dozens of more crochet gifts by browsing the entire list of free crochet patterns and do click on the attached links for getting full project crochet patterns for free!
1. Free Crochet Aveline Reversible Scarf Pattern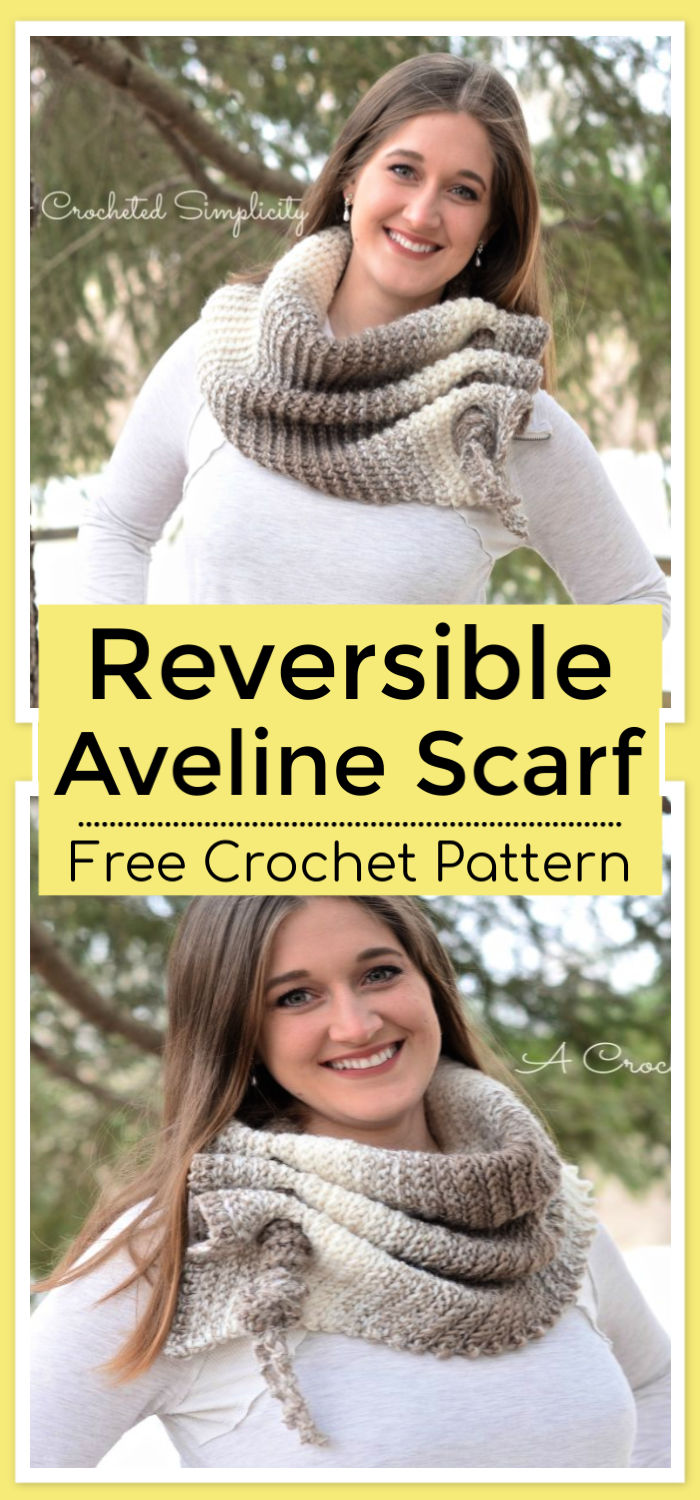 This reversible scarf is a wonderful crochet gifts for your mom or any other special woman. To make it, select solid colors and start crocheting using a chain stitch, a single crochet, double crochet, and slip stitches. Read the instructions below and make a lovely woman's accessory. acrochetedsimp
2. Crochet Loopy Love Children's Slippers
If you have a baby shower party or you have a baby birthday party, think about making crochet slippers for him. Select a palette color, it can be pink tones or blue tones. After having the correct materials, start to create them. Make sure you have the right size so that the baby can wear them immediately. moogly
3. Adorable Crochet Lizzie Slipper Pattern
These Lizzies slippers are a wonderful and original way to create your own shoes. They also can be an excellent crochet gifts for any occasion. In this case, select one powerful color and another lighter so that they will have a good contrast, and they will look fascinating. This blue theme seems to be perfect. goodknits
4. Free Crochet Snowman Gift Card Holder Pattern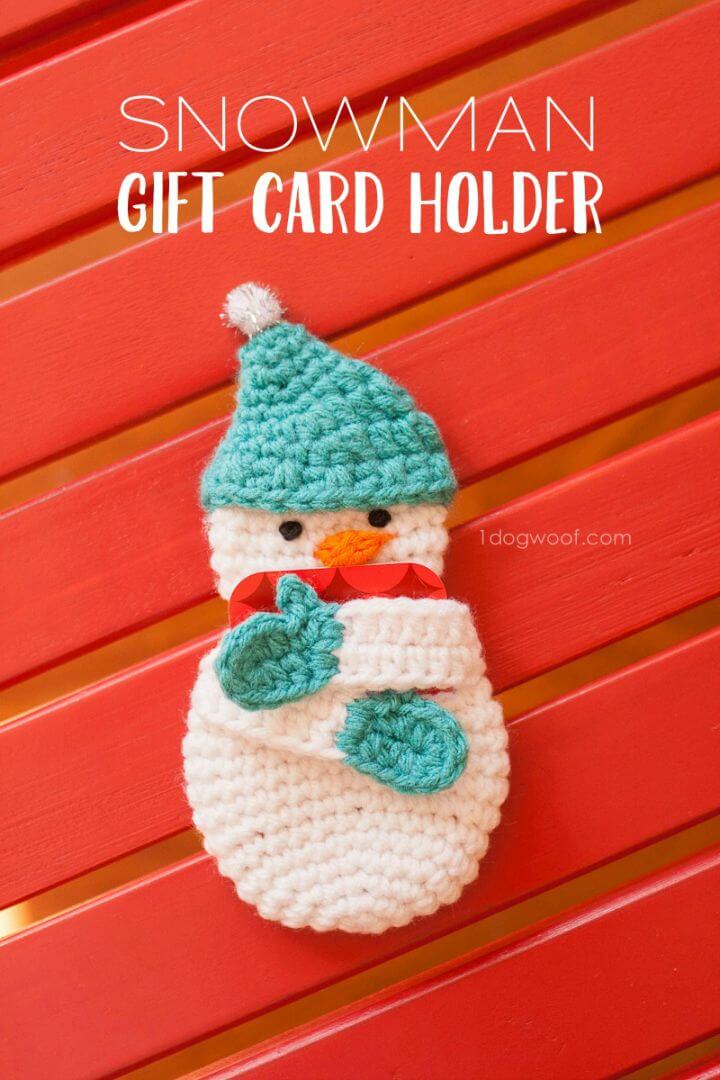 Sometimes a big and expensive gift cannot be affordable, that's why it is necessary to use other techniques to create something unique and special. Crocheting is one of those cool techniques, take some worsted weight white yarn and create a small snowman card holder. Use other implements to finish it and send it as a crochet gifts. 1dogwoof
5. Crochet Dream Catchers – Free Gift Pattern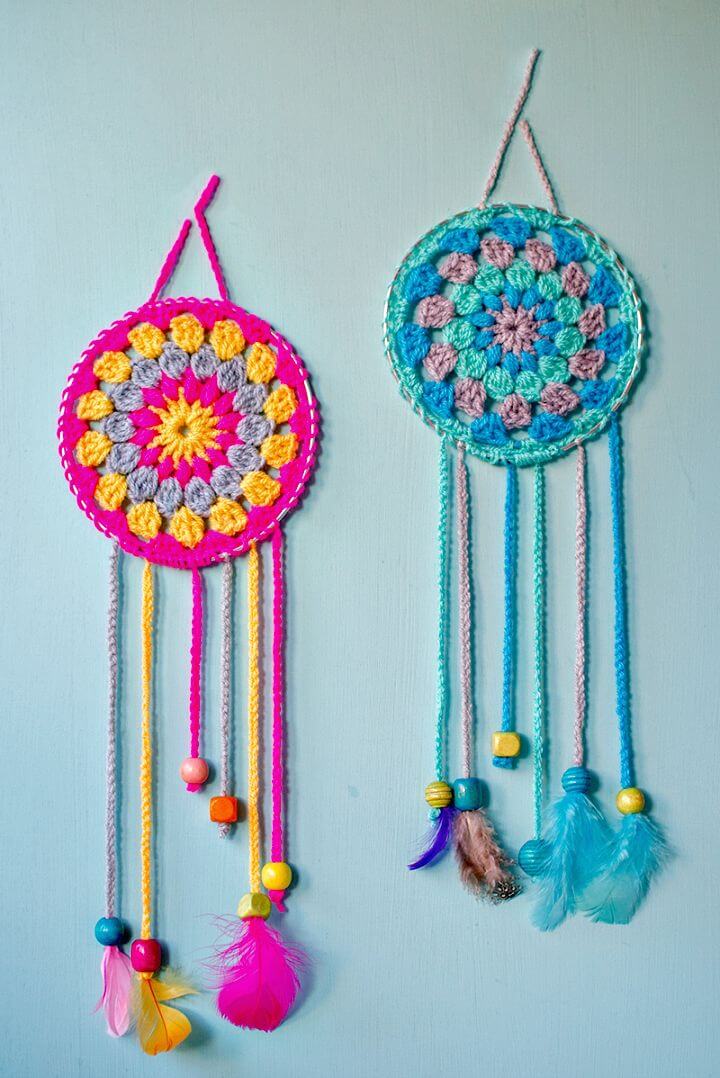 These lovely sleep catchers consist of using powerful color yarns and start working in the middle by using single crochet until you make a round. Work around it and start to add some different colors and designs to make it look enchanting. Hang it up on the wall and use it as a decoration. letsdosometh
6. Beautiful Crochet Dream Catchers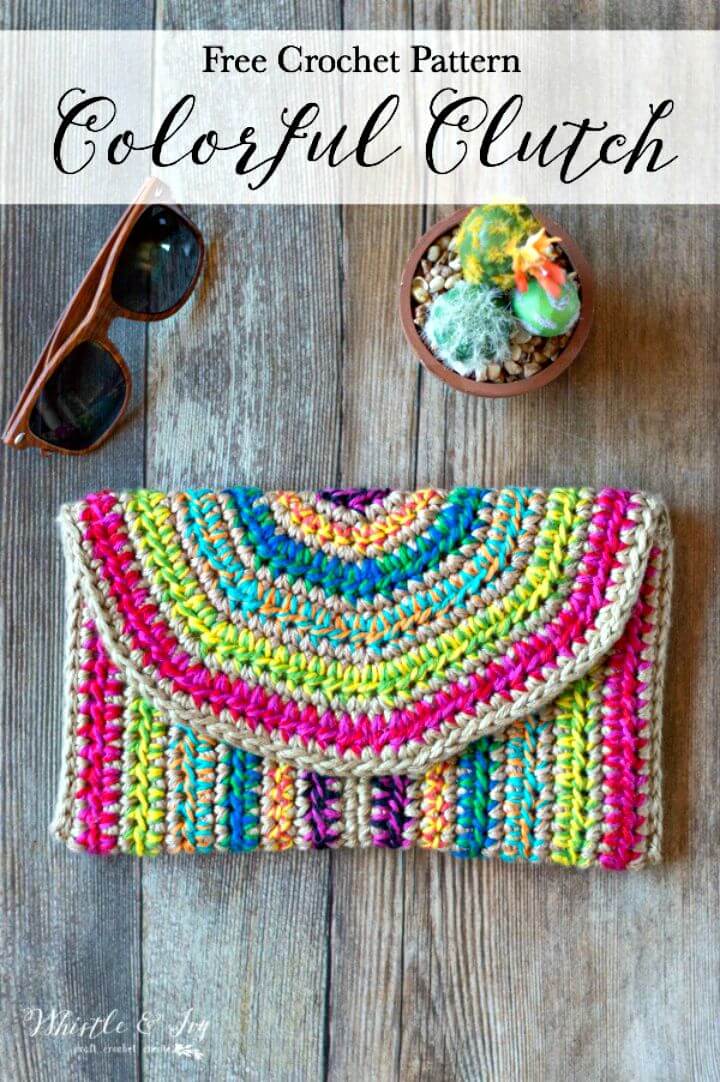 Here is another similar sleep catcher design, but this one is bigger and more colorful. This one can be used as a decoration or as a gift for a friend. Click the link below to read the complete instructions and have fun while doing it: whistleandivy
7. Free Crochet Peppermint Houndstooth Scarf Pattern
Scarfs are one of the most common accessory women can have. It looks pretty, stunning and elegant. In this case, you can select two cool colors and make sure those colors will combine to create a good and beautiful item. crochetfory
8. Crochet Bernat Drawstring Cowl
To create this elegant drawstring look for a pair of 5mm size double-pointed needles for the scarf and different yarn colors. Create your own design and personalize it by adding pom-poms in the end. Try to select them with the same color but in different tones so that you will the contrast they have. yarnspirations
9. Free Crochet Fox Baby Hat and Diaper Cover Pattern
If you have an interesting creativity and you know how to crochet then, it is a big advantage. Take some colorful yarns and start to make the complete set for your baby including the hat, and the pants. Make the ears by separated and attach them to the hat after you finish, click below to see more details: crobypatterns
10. Crochet Frog Baby Booties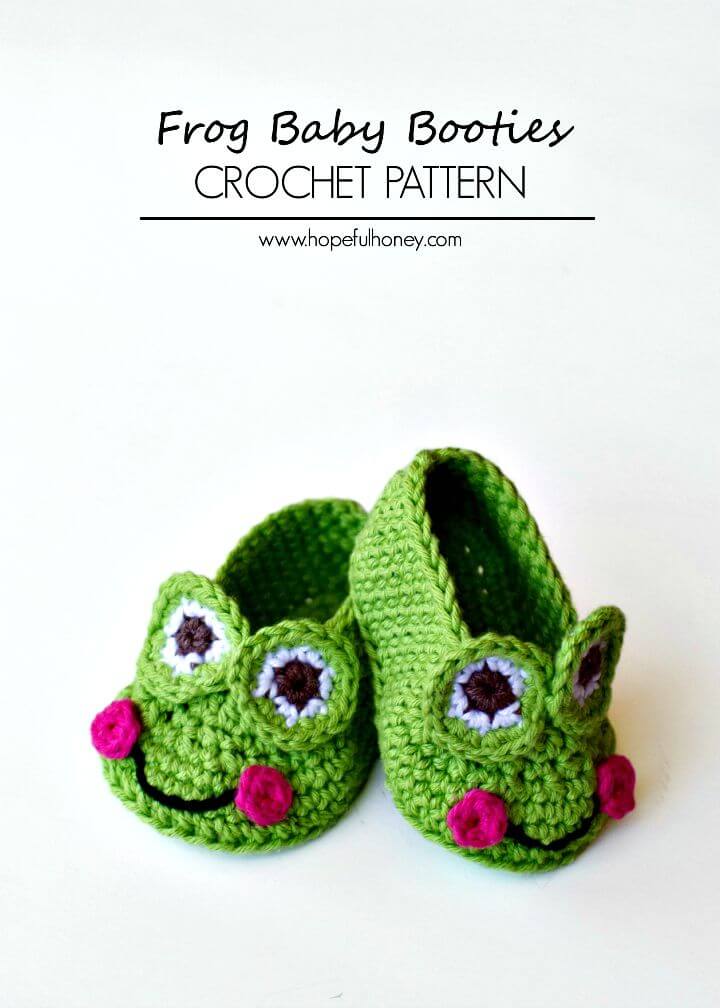 These cute baby booties are made with a green yarn, a crochet hook, and a tapestry needle. Add other colors to make the details such as the eyes, and the cheeks. They look pretty chic and original. hopefulhoney
11. How to Crochet Mont Blanc Fair Isle Hat
This adorable hat is made using a 10mm crochet hook, bulky yarn, and a tapestry needle. It's a perfect crochet gifts for your daughter or someone you love. Start working in rounds around it until you make a magic ring. Also, add some pom-pom in the top to make it look cuter and more original. hopefulhoney
12. Crochet Fish Scrubbie Washcloths
Fish patterns are the figure you can most use as a washcloth. It's simple and easy to do. Select some contrast color and start to crochet using single crochet, half and double crochet, and chain stitch. Make sure to read the steps before you start. Try it and decorate your kitchen as soon as possible. 1dogwoof
13. Crochet Huntley Gift Bag Pattern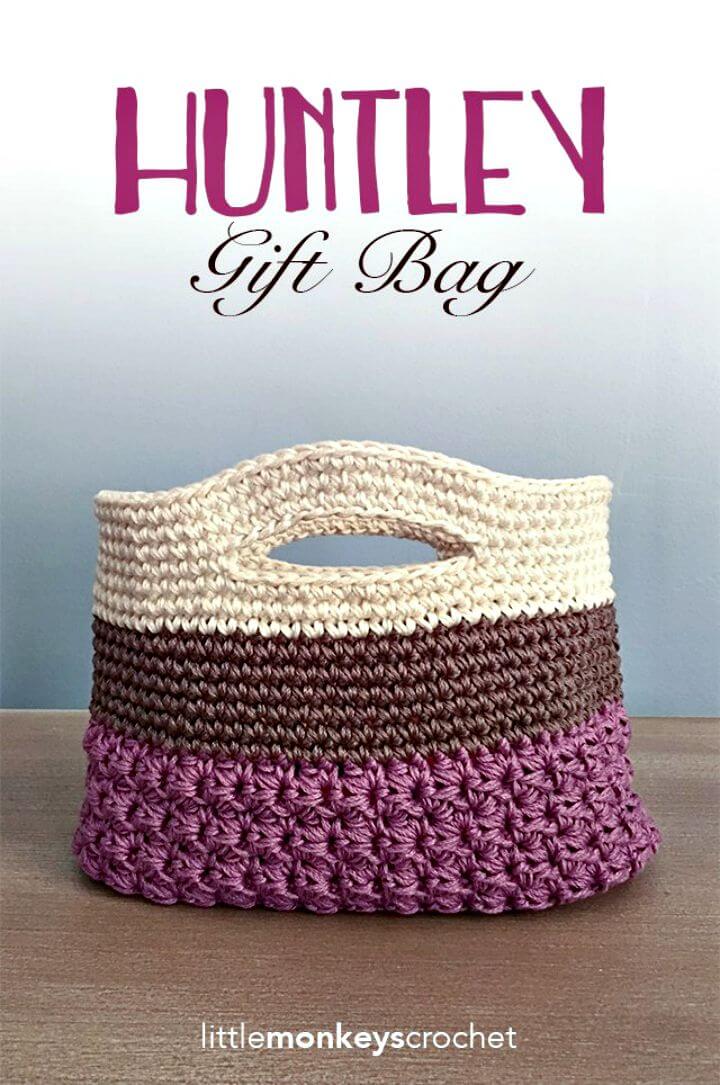 This awesome bag is a beautiful and stunning gift for any birthday occasion or just to change your style a little. Select three of your favorite colors and start to do it. Click on the link to see the complete instructions: littlemonkeys
14. Crochet Snowfall Mittens Pattern
If you live in a cold weather, you must have one of these. Mittens are commonly used in this season of the year. If you are tired of having the same pair of gloves, this is the opportunity to make a new one on your own and personalize it. Read the steps and start to crochet! whistleandivy
15. Crochet Honey Bird Triangle Scarf Pattern
Here you have another scarf to innovate and change your style. It is important to have a variety of designs and colors so that you won't use the same scarf over and over again. Choose different and powerful color to create something unique. Click below if you want to know the details: hopefulhoney
16. Easy Crochet Face Scrubbies Pattern
To create these lovely scrubbies grab some bulky yarn, a crochet hook, scissors, and a tapestry needle. Start working with a single crochet until you make a ring. Work around it until you reach the size you want. Make them in different colors to have a variety of them. thestitchinmo
17. How to Crochet "Suzette" Bag – Crochet Gifts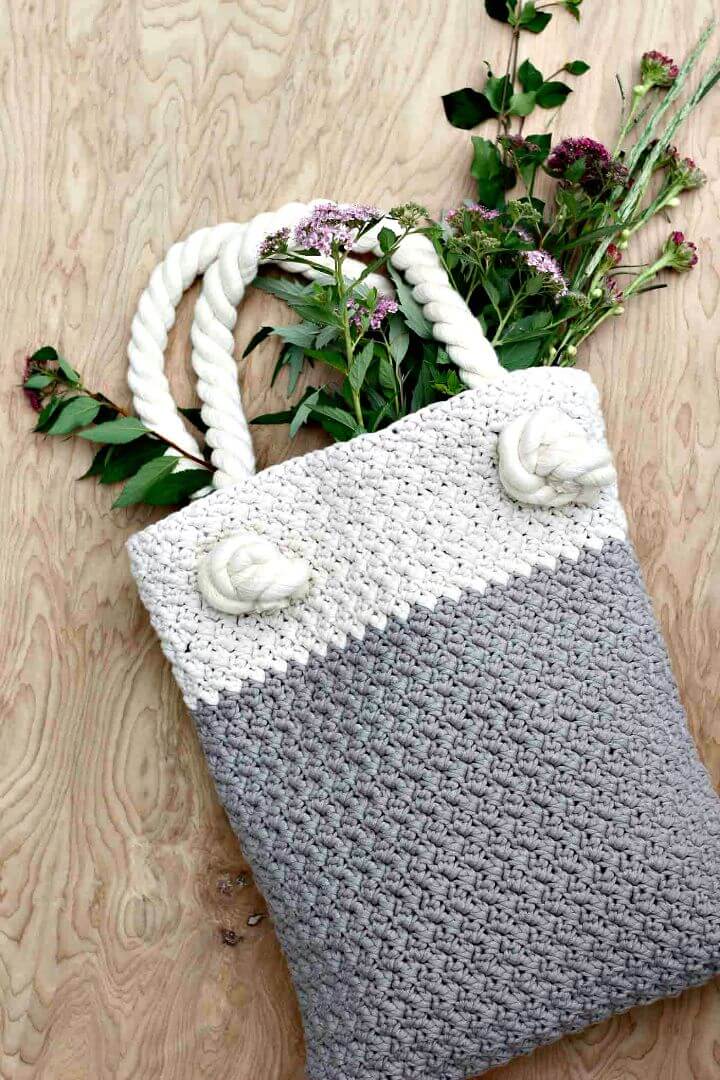 This cute item is a fascinating and a captivating crochet bag. To make it you will need a stitch marker, a crochet hook, thick home decor rope, sharp scissors, tape and measuring tape, washers from a hardware store, etc. Read the steps you have to follow to create this amazing bag. makeanddocrew
18. Quick Crochet Beaded Wrap Necklace Pattern
Another interesting design is an attractive necklace made with a crochet thread size 10, glass E-bands, crochet hook size E-4 3,5mm, and an embroidery needle. Make sure you know how to do the shell stitch, it's the only stitch you have to learn how to do it. thecraftpatc
19. Free Crochet Black Cat Slouch Hat Pattern
Creating this design for a hat is a funny way to innovate your style. Choose just one color and start to crochet. Selecting a solid color is so much better than making it with different ones. Also, make the ears by separated and attach them to the hat after you have finished the crocheting process. At the end of the day, you will love the results. persialou
20. How to Crochet Bobble Storage Basket
Crochet baskets are always a lovely and useful decoration for your kitchen, your room or your living room. Select some powerful colors and start to make it. After having the base, add some small balls in different colors as an embellishment. Click below to see more details: babytoboomer
21. Crochet Bow Headband Pattern
This lovely headband is a perfect crochet gifts for your baby girl. The size is up to you but make sure it isn't big enough to fall down. After crocheting the whole headband, use a tapestry needle to sew the ends. Also, add some decoration in the front part to make it look more beautiful. peoplewebs
22. Crochet Colors Cowl March Scarf
There are many colorful cowls you can design but try always to change your style and create something fun and amazing. Click below and look for the materials you need, and read the instructions to crochet perfectly. oombawkadesign
23. Crochet Your Own Cozy Clusters Baby Blanket
This cozy baby blanket is a perfect gift you can give to your baby. Look for a 6 size crochet hook, scissors, and 6 bulky yarn in blush. Start to crochet using a cluster stitch. After having a big square, work around the borders of the blanket using a single crochet for two rounds. Check the steps you have to follow on the link: leeleeknits
24. Adorable Crochet Cozy For Jars Pattern
You can decorate any item at home using crochet techniques. Select some small empty jars and start to decorate it using a worsted weight yarn and a crochet hook. You can choose any design of your preference and add something new to personalize it. In this case, the color that has been chosen are white and bronze. gratefulprayer
25. Crochet Dainty Bow Arm Warmers
These arms warmers are perfect if you live in a cold city. They are so simple to do, just select some of your favorite colors and with some single crochet and chain stitch, you will do it without problems. However, read the instructions below to make it perfect. pinkwhen
26. Crochet Dotty Throw Pillow
This cute design consists of creating a crochet cushion with purple yarn. Start working by making a magic ring in the middle and then, working around until you reach your perfect size. After that, make other adorns to assemble them in the front part with different colors and different sizes. fiberflux
27. Easy Crochet Fingerless Mitts
Fingerless mitts are lovely accessories for a woman which can be a great gift for them. Select a powerful color and start to crochet using single crochet, chain stitches, and double crochet. Make sure to have the correct measure. Also, add some buttons in the low part as embellishments. However, you can click below to see the complete instructions: crochetdreamz
28. Crochet Granny Square Earrings Pattern
These cute square earrings are perfect for a birthday crochet gifts. It consists of creating a chain stitch until you make a ring. Then, start to work around it. Select a variety of color and create your own design. Finally, add some two ears wires, and two smalls and large jump rings. Click below to see the complete instructions: whistleandivy
29. Crochet Green Zebra Baby Booties
If you want to innovate your baby's style, choose a powerful color in different tones and start to crochet. Make sure to have the right size. Personalize them using buttons or any other adorns your baby would like. Click on the link below and follow the steps: crobypatterns
30. How to Crochet Olivia Top – Free Gifts Pattern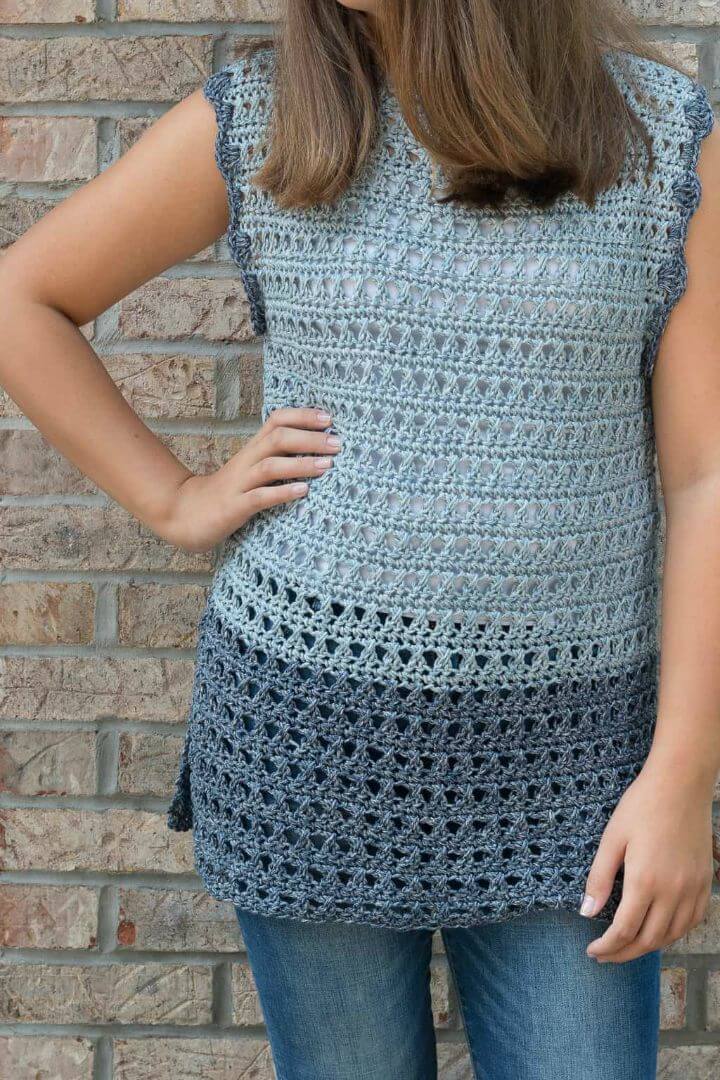 Creating a top crochet is not that difficult as you think. Select a solid color yarn such as gray to create something new. This piece uses two basic triangles and is super easy to join them together. The stitches you need to know is the mattress stitch and a slip stitch. The complete information is on the click below: rescuedpaw
31. Colorful Crochet Seed Stitch Purse Pattern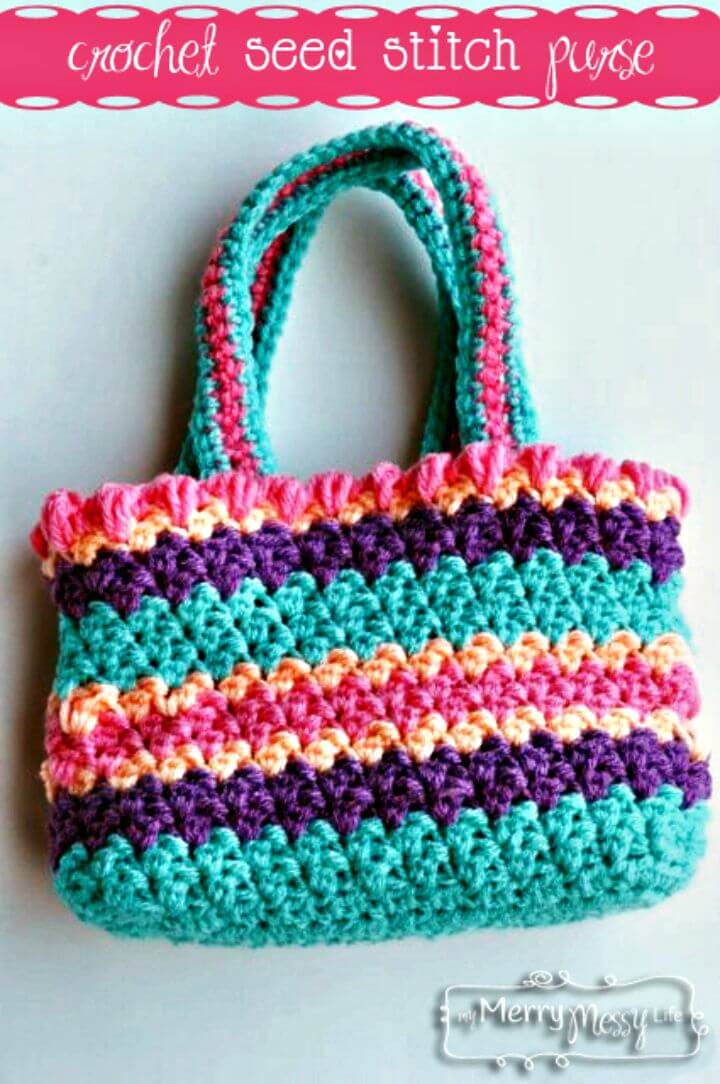 This colorful purse is a fascinating way to innovate and impress everyone with your creativity. Work in two of the loops of the spaces so that it leaves one piece of the yarn in that space making it able to hold things better. Look for tapestry needle, a 4.25mm crochet hook, and a worsted weight yarn in your favorite color. mymerrymessylife
32. Crochet Snowfall Slouchy Hat Pattern
Here you have another cute and enchanting snowfall hat made with navy blue and gray yarn. Start working in the middle making a magic ring. Keep working around it and making some small heart shapes in a different color to create a good contrast. After you finish, create a lovely border to make it look more captivating. whistleandivy
33. Wall Hanging – Free Crochet Pattern
There are many ways you can decorate your home, and this item is one of them. Select a palette color and create a different design. After you finish with this lovely wall hanging, add a little rope to hang it up on your living room's wall. Everybody will love it for sure. persialou
34. Crochet Woven Stitch Zipper Pouch
These incredible pouches are the cutest small bags you will ever see. Start crocheting using a chain stitch and keep working around. After you finish creating these little pouches, add some zippers on the top. They can be a perfect crochet gifts for anyone. Click on the link below to see the steps: hobbyiscrochet
35. How to Crochet Astoria Top
Lovely tops are also a fascinating way to improve your creativity. Begin by choosing a cute color, in this case, a coral yarn. Then, start the crochet process by making double crochets with chain stitches. Click below to learn all the instructions: garnstudio
36. Free Crochet Fall Apple Basket Pattern
Here you have another purse design. In this case, select one color in different tones and start to crochet with the darkest. Then, keep working around it using the lighter ones. Also, add a rope to make two knots and at the same time, to use it to hang it up. Click the link below to learn more: windingroad
37. Crochet Anthropologie Inspired Summer Clutch 
This pretty anthropology clutch pattern is a unique and awesome idea to make something new as an accessory. Take two cute colors such as gray and red to make it. Click on the link to see more details: tangledhappy
38. Crochet Pencil Pouch
A simple pencil clutch design is an original way to have your pens and pencils organized. Select some colors and start to make a cute design. Use a tapestry needle to sew the borders on each side. Also, add a button in the middle to close the clutch when you are done. Click below if you want to know more: persialou
39. Crochet Heart Baby Blanket
Here you have another cool crochet gifts for your baby and his comfort. Choose a palette color and start in the middle with the darkest color and work around adding lighter colors. It's a simple and cool design to decorate his bed. Check the instructions to make it perfect. crochetkim
40. How to Crochet Fall Apple Basket
Baskets are fascinating items to decorate any place at home. To make them notable, select powerful colors and an interesting design. Make them as big as possible so that it will be more useful for inserting the fruits on it. They will look stunning at your table, try it! knotions