Plant and flower pots are the perfect natural decors that a homey person uses to bring the garden vibes to his spaces! As the plant and flower pots make the perfect natural home decors so you can't celebrate the new season with the same old looking pots, they should also be updated according to the season! For winters, the cozy appeal of the pots will rock, and here is how you can do this amazingly, beautifully, and in a big fun using your crochet hook! Just reproduce these 14 Free Crochet Plant Pot Cozy Patterns that will make the perfect slipcovers for your plant, flower, and herb pots.
Hence will hide all the signs of wear and tear creating a new fresh and winter special look of your plant pots. Here these plant pot cozy patterns will be super easy to crochet. And you can get inspired by different things to crochet these plant pot covers! Create a cozy look of your pots by crocheting the fab tasseled covers for them, will be ready in no time!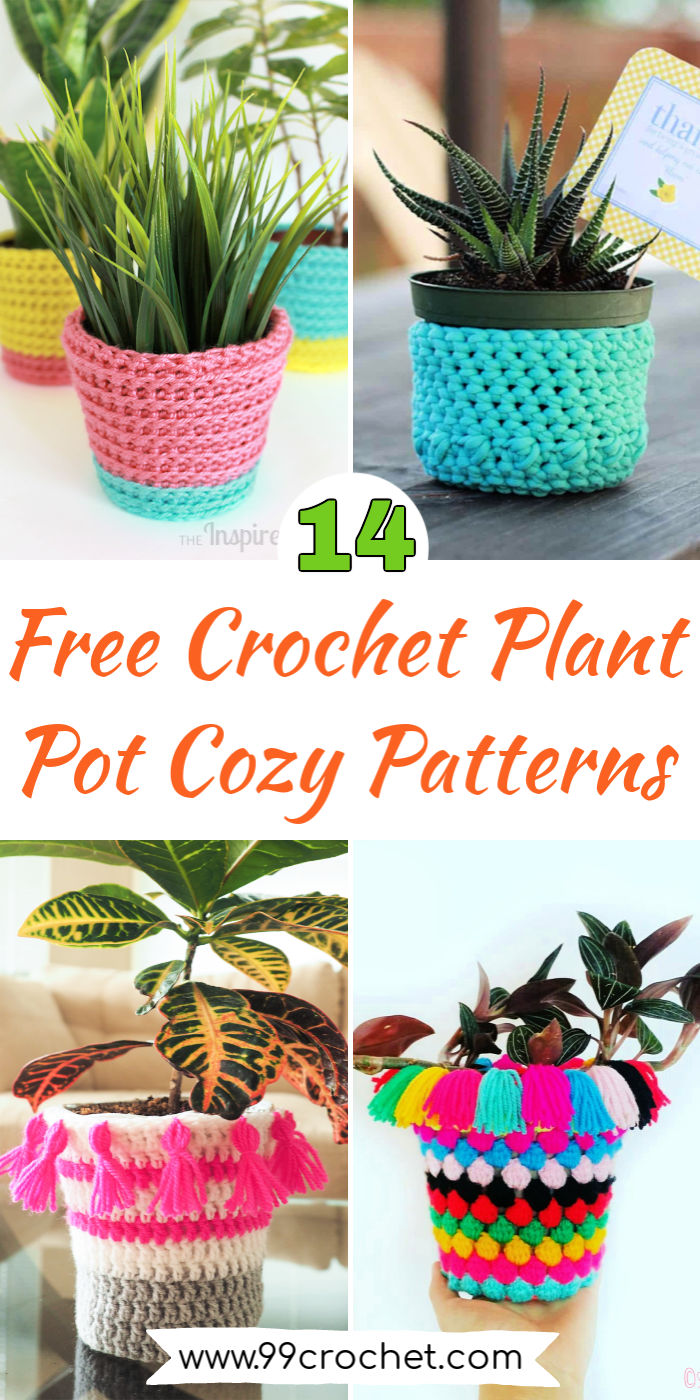 Crochet the precious bunny plant planter covers that will create a super cute and fun look of your plant pots, get inspired by the given sample! Crochet the plant pot covers with puffs and tassels so they will dazzle all the audience creating a gorgeous look of your pot, get inspired by the given sample cozy, crocheted to amaze, and rock your pots! Upgrade also your plant pots by crocheting the summer sherbet covers for them and dress your pots up in the colorful crochet cozy patterns.
Free Crochet Plant Pot Cozy Patterns:
So they will bring lots of colors to your targeted spaces along with the natural decor vibes, checkout some precious samples given below! Crochet also the hanging plant pot covers that will look much same like the macrame plant hangers do take a look at the given sample that is insanely cute and beautiful! Check out some more amazing crochet plant pot cozy patterns in the given below collection and also click on the attached links to free access to respective free crochet patterns!
1. Crochet Spring Bunny Planter Cover – Free Pattern
This lovely plant pot cover has a different design than the one you are used to using. It consists of looking for a white color yarn and start to make crochet stitches to create the base. Also, you need to make two ears that will be attached on each side of the pot. Click the link below and start to work. theinspiredwren
2. Free Crochet Plant Pot Covers Pattern
There are many cute designs. In this case, you will need to look for solid color yarns such as gray, white, and pink. Start to make the base with the gray color. Then, keep increasing the rounds until you reach the regular pot size. Use the pink yarn to create some adorns in the top part of it. dabblesandba
3. Cute Crochet Plant Pot Cozy – Free Pattern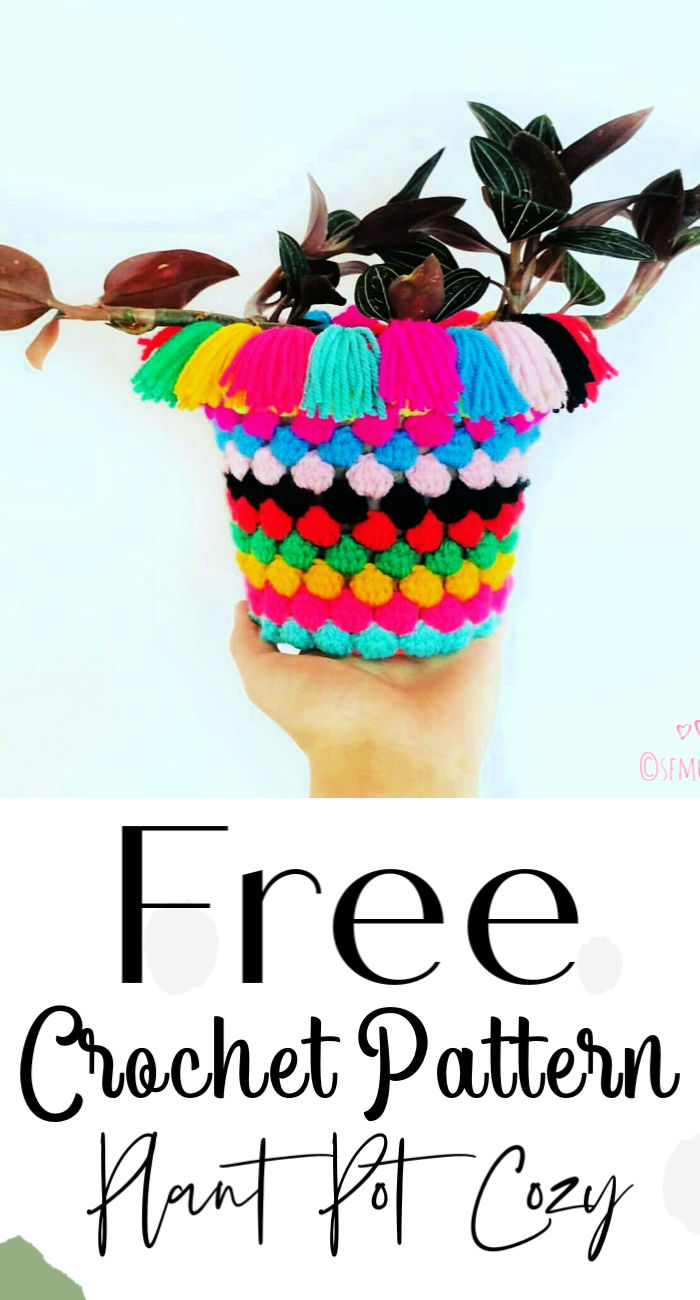 To create this captivating pattern, you will need a selection of bright yarns, a 4.5mm crochet hook, scissors, and of course, a cute plant. It's an interesting design to decorate your home. It would be perfect for summer, and I'm sure everybody will love it. Check the information on the link to start this pattern. sfmgs
4. How to Crochet Summer Sherbet Planter – Free Pattern 
This summer sherbet pattern is a colorful way to decorate your plant's pot. Select two colors that combine perfectly and begin to crochet. Look for a crochet hook and a tapestry needle to make this pattern. It's simple, quick, and easy to make. Click below and learn the stitches you have to make. theinspiredwren
5. Free Crochet Flower Pot Cover Pattern
If you like to keep your things organized, this won't be the exception. Select some color yarns, depending on how many pot cover you will make, and make a pot cover with each color. Place them in your favorite spots, and you will see how incredible they look. See the complete tutorial on the link below. dmcpilipinas
6. Free Crochet Colorful Pot Covers Pattern
This one has a different design, and you just need to make a classic pattern and leave a space in the middle to add your favorite ribbon as a decoration. Click the link and see how you can improve this pattern and personalize it. ravelry
7. Beautiful Crochet Flower Pot – Free Pattern
If you are looking for a cute, quick, and easy design, you have arrived at the right place. Start to work using single crochet and keep increasing the rounds until you reach the top of the pot plant. If you make a cover for every pot plant you have, your place will look stunning! Check and read the link to see what the steps are. crochet365
8. Free Crochet Plant Hanger Cover Pattern
Before making this type of pattern, you need to have the correct size of the pot plant. Start crocheting, making a chain and single crochet stitch to form the base. After this process is done, make two crochet ropes and attach them on each side of the pot to hang it up on the wall. redheart
9. Free Crochet Cabled Plant Pot Cover Pattern
This cover is much smaller and cuter than the mentioned before. Just select one color yarn and, with the right size, place the pot in it. It's the best idea if you want to decorate small pots at home. Click on the link below to read the complete instructions. albertandme
10. Free Crochet Flower Pot Hanging Basket Pattern
Basket's designs are also a common pattern people tend to make for being cute and easy to make. For this one, make the two ropes on each side as well to hang it up in your favorite place. It can be a great option to put it in the garage next to the door. Click below to see more details: repeatcrafterme
11. Crochet Flowerpot Cover – Free Pattern
This pattern has a flower as a design. Select two of your favorite colors, a crochet hook, and a tapestry needle. Before you start, make sure to know the crochet stitches and the right size. It will be perfect to decor your plants. Also, you can personalize it by adding some embellishments to it. crochetmagazine
12. Quick Crochet Plant Holder – Free Pattern
The plant holder is useful and cute. You use just one color yarn, but if you want to improve your imagination, add more colors and make something fun and enchanting. This type of design is better for small plants. Check the steps and start to work to create a lovely view at home. rescuedpaw
13. Free Crochet Planting Seeds Flower Pot Cozy and Card Pattern
A colorful pattern seems to be incredible for those pots in which you can plant seeds flower. These are perfect for decorating some areas of a home like a kitchen, living room table, and window. Click on the link to read the full instructions. mooglyblog
14. How to Crochet Plant Pot Cozy – Free Pattern 
This has an interesting design that consists of making a chain to begin the work. Keep increasing the crochet rounds until you reach the top of the pot. Start to work by using a double crochet stitch. Check the link below, and you will see how incredible they look. craftster