The winters are deadly cold weather, and we have to go multilayer to be safe in chilly days! Everything gets covered in the ultimate cold weather, so why not your home decor? Yes, you can also make your home decor winter special by covering them with crocheted yarn covers and cozies that will not make time to be ready! Here we have shared these 25 Free Crochet Mason jar Cozy Patterns that will rock for the Mason jar vases, luminaries, and also for the Mason jar candle votives!
Covering your home decor with the cozy yarn covers will bring extra coziness to your interiors. That is the perfect step you can take to celebrate the winter season! Here crocheting these Mason jar cozies is super easy, and all these given patterns are beginner-friendly. It will be a great way to practice new stitches and techniques, and this will also be a smart way to put the yarn scraps to some good uses! We would like to give some few instructions for the crochet cozy patterns, sleeves or covers that you are going to crochet for the Mason jar luminaries and candle votives!
Make sure you are crocheting them a little lacey so the light would be visible through for enchanting demonstrations at night! Work in the openwork crochet stitches like in the shell, arcade, and fan stitches and crochet the perfect cozy covers for your jar lights!
Free Crochet Patterns:
Crochet the thick and tight yarn cozies for the Jars that you are going to use as flawless DIY vases for home decor and also as amazing storage options in your home! Next, you can also go inspired by different animals, flowers, fruits, and anything else to crochet some visually attractive and fun making jar covers! Some great samples here are the crochet fox jar cozy, the pineapple Mason jar cover, and the bear crochet jar sleeve! Browse the entire free crochet patterns collection and see some more interesting stuff in this case, and don't forget to hit the attached links to get full free crochet mason jar cozy patterns!
1. Crochet Cozy for Jars – Free Pattern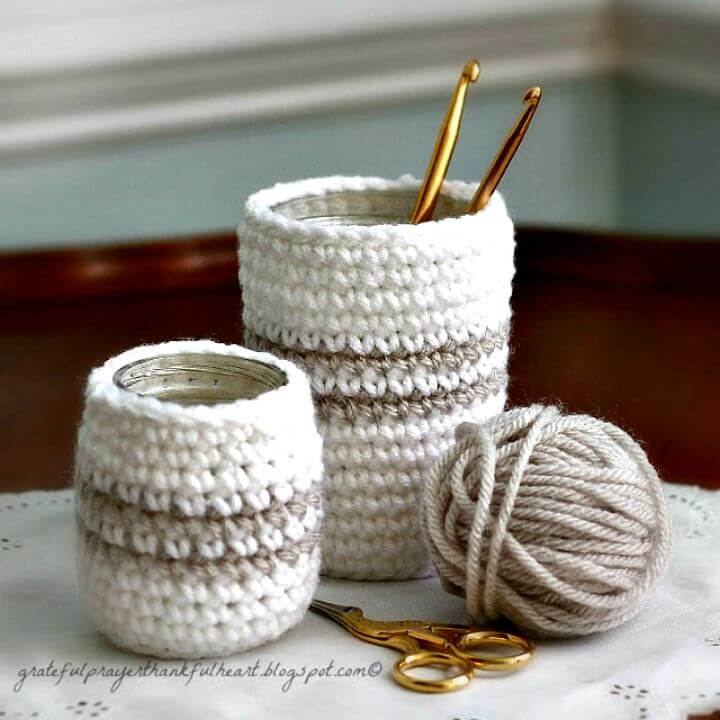 This is an incredible way to decorate small empty jars you have at home. Choose a light color yarn and start to crochet to make a lovely cover jar. The first thing to do is to make a long chain having the right size of the jar so that you can keep working around increasing the techniques until you fill the complete jar. gratefulprayer
2. Free Crochet Santa Claus Mason Jar Cosy Pattern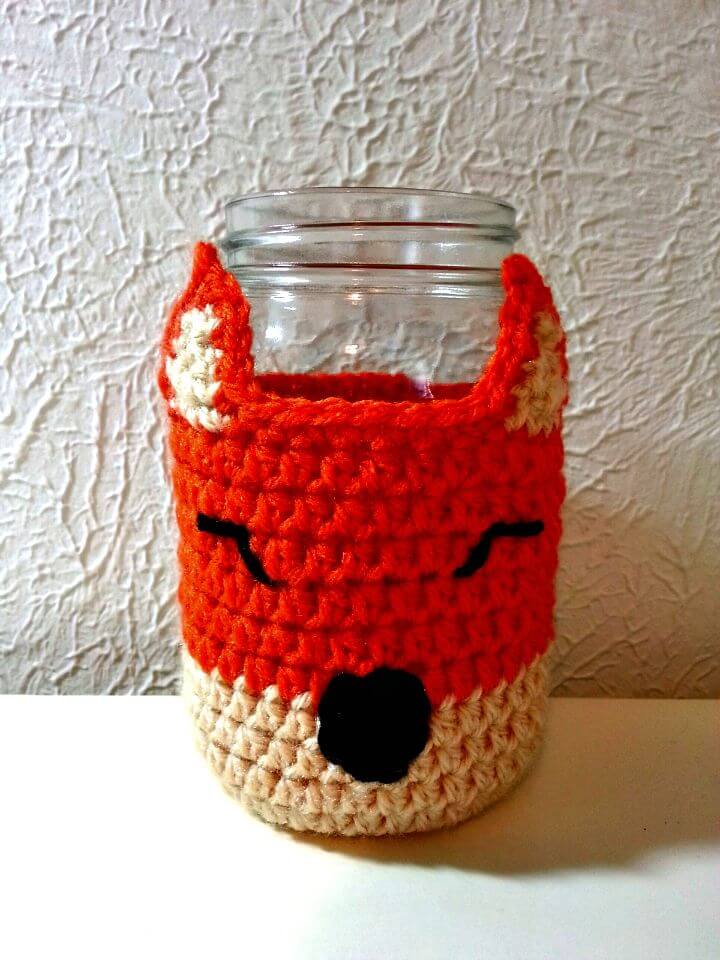 Here you have a different pattern than the ones you are used to seeing. This over here seems to be funny and interesting. Orange, white, and black colors are selected to make this design. On this occasion, it is not necessary to create the cover until the top of the jar. Click below to see more information: cuppastitches
3. Crochet Hanger Mason Jar Pineapple Cover – Free Pattern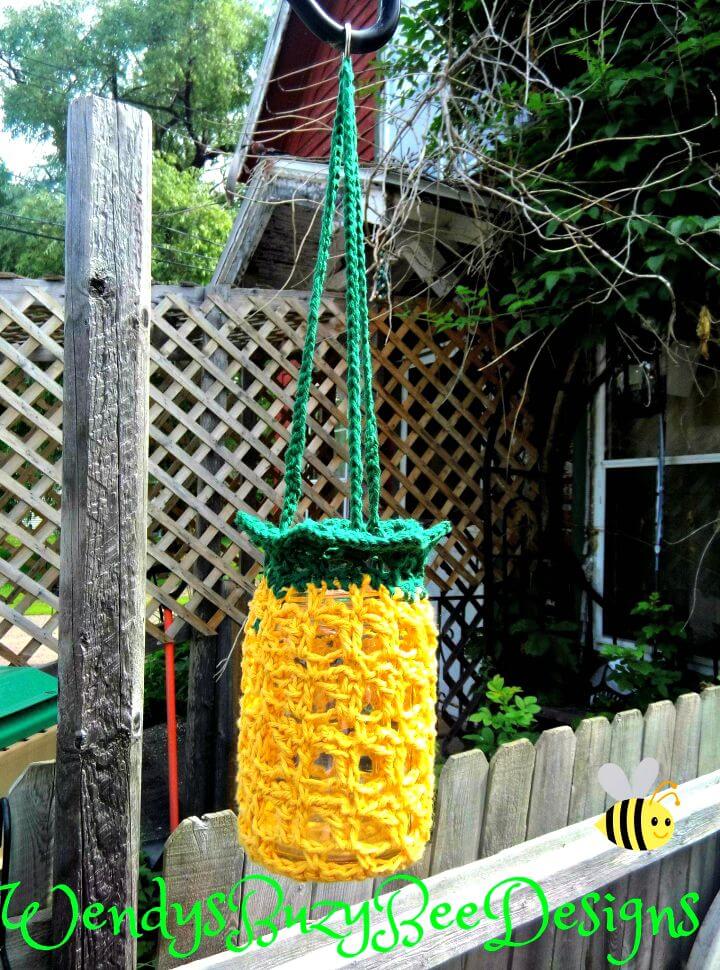 The design depends on the size of the empty jar. In this opportunity, it's a big one; that's why the pineapple design fits perfectly on it. Look for yellow and green yarns and a crochet hook. On the link below, you have the special stitches and the instructions you need to follow to create this incredible pattern. krissysoverthe
4. How to Crochet Mason Jar Cozy – Free Pattern
There are different designs you can choose from. In this case, it seems to be a romantic pattern. Look for light blue, white, and pink yarns. Start to crochet working in spirals, after having half of the work done, start to create small heart shapes to place it in the middle, then keep working until you cover the complete jar. thestitchin
5. Free Crochet Santa Claus Mason Jar Cosy Pattern
This design is perfect for the winter season; you can make your own handmade decoration using empty jars, colorful yarns, and a crochet hook. Everybody will love to have this cute pattern all around the house. Click here to see more details: popsdemilk
6. Free Crochet Mason Jar Cover Pattern
Use your favorite color or a color that combines perfectly with the theme of your house, and start to crochet making double stitches. If you want to know all the steps you need to follow, click on the link below. If it's a light color, it seems more elegant and captivating. monkeyscrochet
7. Crochet Mason Jar Cozy – Free Pattern
If you want to have a serious design in your house, this is perfect for you. Select two solid colors, but make sure they combine. Start to crochet with the darkest color, and after having half of the cover jar, use the light one. You will love the final result, I'm sure. Click below for more information: stitching together
8. Crochet Rustic Elegance Canning Jar Cozy Set – Free Pattern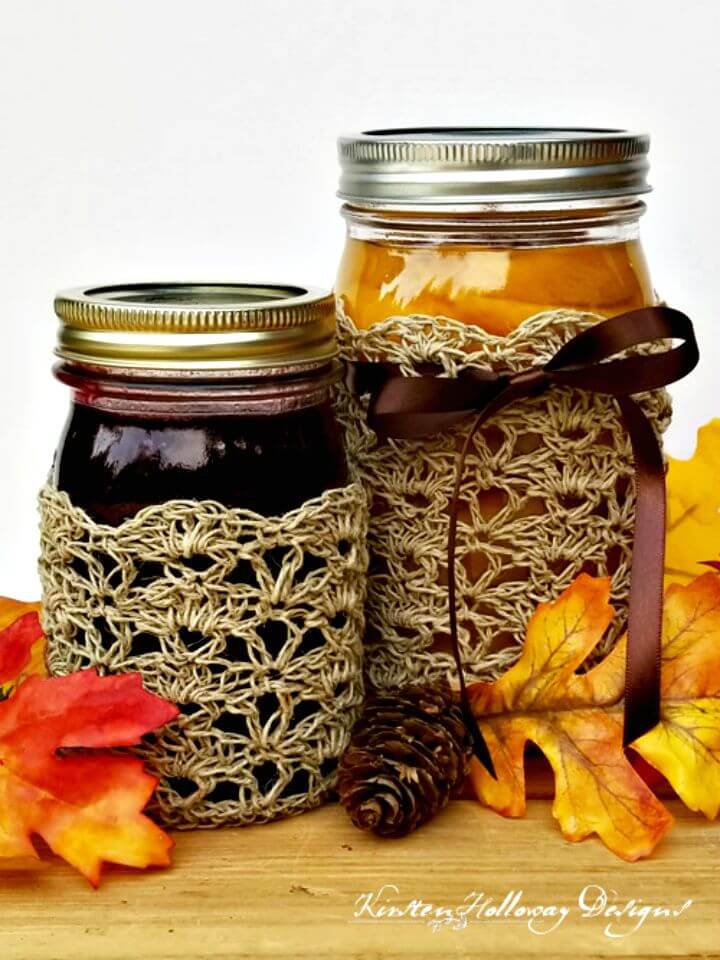 Here you have a rustic design to innovate and impress everyone with this new style. Select a light color yarn, and with a crochet hook, start to make special stitches to create this lovely pattern. After finishing the design, you can use a ribbon to make a tie and decorate the jars. Check the steps in this description below: kirstenholloway
9. Easy Crochet Mason Jar Cozy – Free Pattern
This cute pattern is simple and quick to make. It consists of grabbing a powerful color yarn and start making the base with the right side of the jar. Then, begin to leave small squares creating a lovely design. Finally, using a tiny rope to tie up the top just as a decoration. Click here to read more: knitella
10. Free Crochet Country Chic Jar Cover Pattern
Small empty jars seem more chic and cute. To create this pattern, start making a magic ring and to work around it. Then, change the design into a small square. Create more of this and then attach them together to make a cover that fits perfectly on the jar. Click here for more information. You will love how beautiful it will look. crochetspot
11. Crochet Hemp Mason Jar Cover – Free Pattern
In this case, this design is not to cover the complete jar. It's just to have a small spot to place the jar while you use it as a glass. This pattern is really simple to make. Choose just one color and start to crochet having the correct size of it. Then, with a little rope, wrap around to decorate the jar. crochetdynamite
12. Free Crochet Jar Cozies Pattern
In this opportunity, you have two designs you can easily make. One of them is more closed than the other one. Select your favorite color yarns and using single and double stitches, make this awesome pattern. Make sure to have the complete supplies before you start. Read the complete instructions here: redheart
13. How to Crochet Mason Jar Bear Cosy – Free Pattern
Here you have a lovely and fascinating bear design. It's so simple to make, and also, you can use it as a gift to your friends or family. Select a powerful color yarn and start making the base making sure to have the right size, and that fits perfectly with the jar. Then, grab two small buttons and place them on it to make the eyes. Read more here: popsdemilk
14. Colorful Crochet Mason Jar Cozy – Free Pattern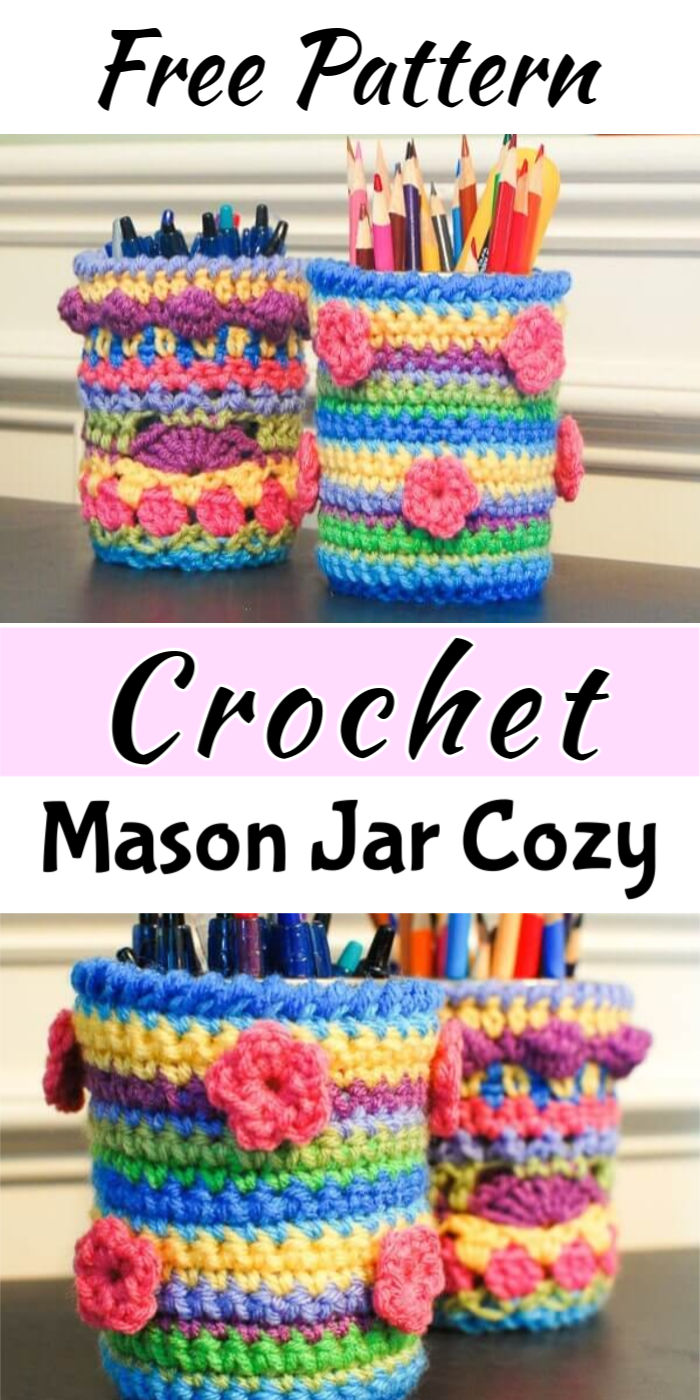 If you are a color lover, you should try this. Look for a variety of colorful yarns and start to work on it. The great part of this design is that you don't need to have a pattern, you can just let your imagination flows with the materials you have around you, and I'm sure you will love the result. petalstopicots
15. Easy Crochet Neon Jar Cozies – Free Pattern
This is an original and unique pattern. Having a neon color yarn makes the jar look more captivating and enchanting. The design consists of using special stitches, which are explained on the link below. After making the base, leave small free spaces in the middle to have a different design. Click below to see the complete steps: thinkcrafts
16. How to Crochet Patriotic Mason Jar Covers – Free Pattern
Patriotic designs are commonly used as well. To create this pattern, choose the colors of the flag of your preference and start to crochet. There are too many ways you can do this design. For example, you can make the classic pattern and attach it over some stars or any other symbol the flag has. hearthookhome
17. Free Crochet Shells and Lace Jar Cover Pattern
This shells and lace design is really original and seems to be super elegant. To create this pattern, you need to look for leftover stash yarn and matching hook, buttons, and a yarn candle. You can place this captivating jar in every place at home. Check the link to see more details about the process. mydaycreative
18. Crochet Sparkling Lace Jar Cozy – Free Pattern
This lovely sparkling lace design consists of choosing a light color yarn and make an interesting pattern to have an original and unique cover jar. Look for a 4 mm crochet hook and a yarn needle. It seems to be pretty elegant and chic. Read the instructions to create it on your own. redheart
19. Colorful Crochet Water Jar Cozy – Free Pattern
Here you have another colorful design. This kind of yarn is really uncommon, but it's absolutely beautiful. It has an incredible degraded effect, which makes it look more notable and fascinating. If you want to innovate your style and try something new, this is the right moment. Enjoy while doing it. atinyforest
20. Free Crochet Wide Mouth Canning Jar Cozy Pattern
This purple design seems to be really cute and chic. Use double stitches to create this enchanting pattern. You can make a complete cover jar or just make half of it. There are many ways to improve your creativity. Check the link to read and know more about this pattern. mooglyblog
21. How to Crochet Jar Cosy – Free Pattern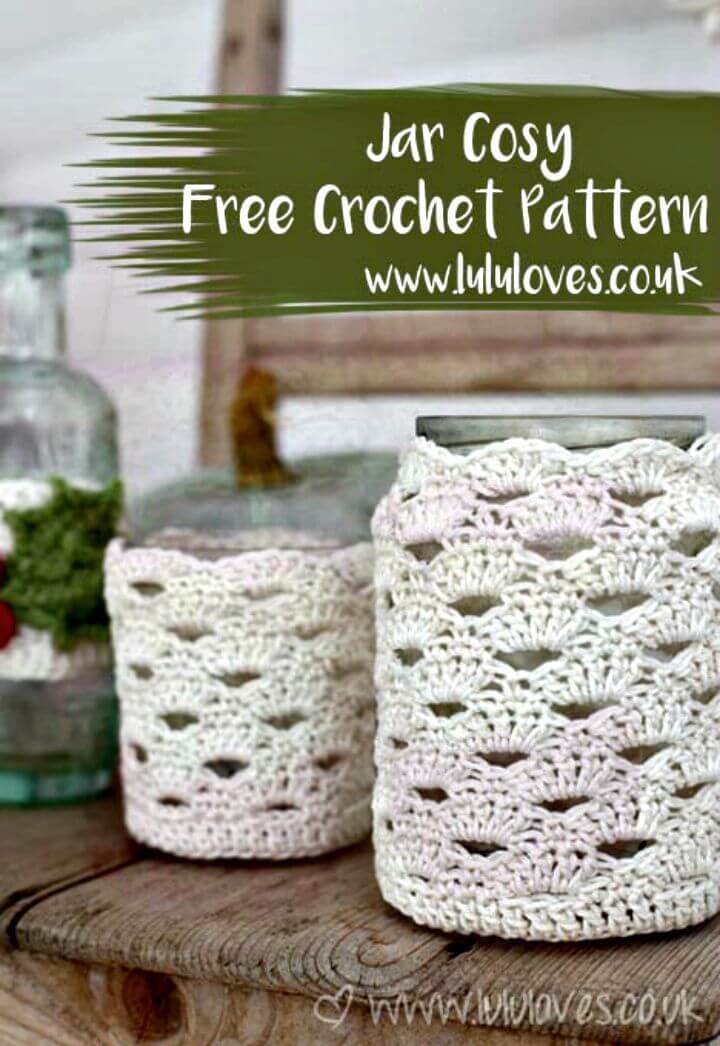 This design of cover yarn is perfect for a plant holder. It consists of using a light color yarn and of creating a special design, which is explained on the link below. Try always to innovate and improve your imagination so that you will always have original designs at home. Click here to read the complete steps: lululoves
22. Crochet Mason Jar Cozy Jacket – Free Pattern
Colorful cover jars are always a great option if you want to captivate your guests. In this case, choose a variety of colorful yarns and make a row of each color. It doesn't matter if you look for powerful or light colors; it will look stunning as well. Click here for more information: attic24 typepad
23. Free Crochet Mason Jar Covers Pattern
This cool cover jar consists of looking for two-color yarns but makes sure they combine perfectly. Make a row in each color, and you will love how interesting it seems. The secret is to create a good combination with the color you use. If you want to create it, click here: crochetdynamite
24. Simple Crochet Mason Jar Cozy Pattern
Simple patterns are chosen for beginners to improve and innovate their crochet techniques. In this opportunity, you can make the classic cover jar, but the difference is that you can add some adorns on it. Using other color yarn, you can make a cute design and assemble it on the cover jar. The steps you need to follow are below, check it. stitch
25. Easy Crochet Jar Cosy – Free Pattern
This pattern is pretty similar to the one that is explained above. You can choose the color of your preference and start making this cool pattern of having small free squares until the top. If you want this lovely jar looks elegant, add a candle in it or make a beautiful plant to decorate your living room. Click here to see more details: edwardandlilly