Mandalas are patterns that are a big staple in the art of crocheting. They are of high fame because of the reason that mandalas can be an amazing presentation of the religious signs, various cultured symbols, and also of various things that you personally like and appreciate. They are much more than just being the giant crochet circles, and there are dozens of stylishly cute crochet patterns out there based on the crochet mandalas. Want to hear more about the appreciations of the crochet mandalas? Then do browse this list of 35 Free Crochet Mandala Patterns, will definitely put you in big amazement just at a very first look and are sure to win the heart of every crocheting loving person.
There are different patterns out there that are based on the Mandalas like the crochet circle vests, crochet mandala jackets, and also the crochet mandala rugs. But before you crochet the mandala based crochet patterns, you should know first how to crochet a mandala in so many different styles.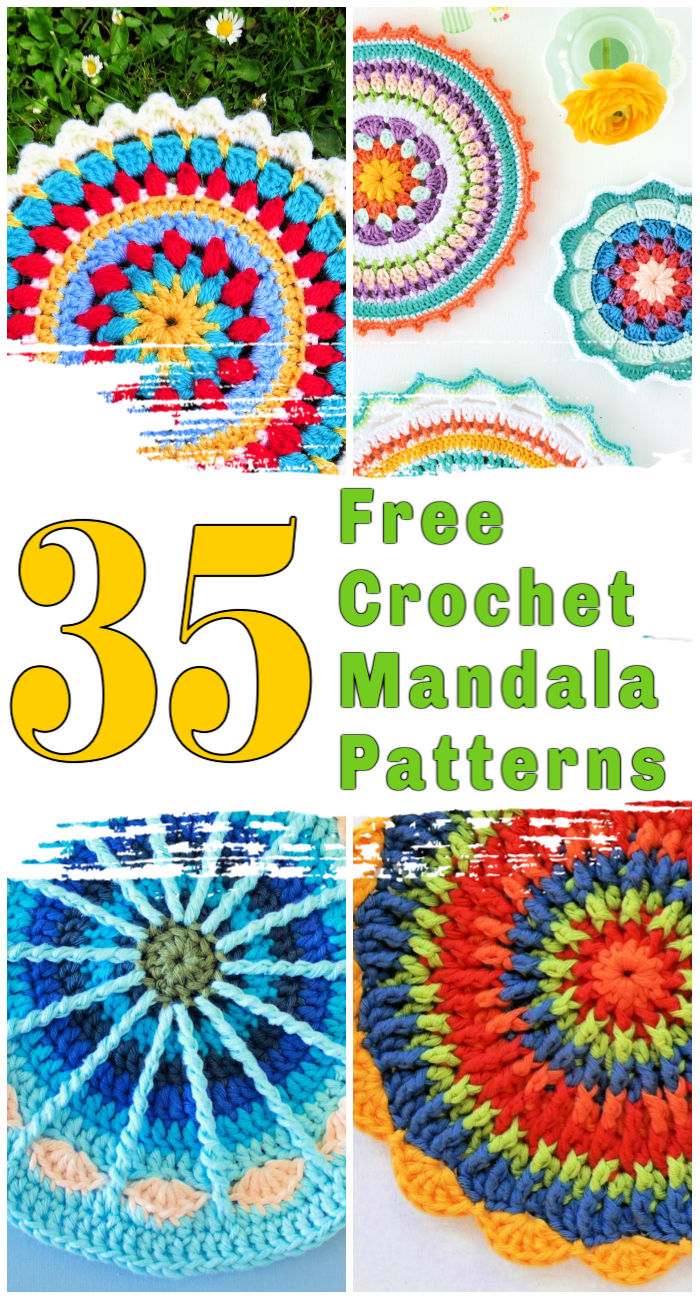 Here this list will provide you different pictorials, step-by-step instructional guides, and also the complete free crochet mandala patterns that will help you to be a master in crocheting every different type of mandala design. Just click on the attached reference links to open the picture instructions and free crochet mandala patterns.
Free Crochet Mandala Patterns:
Crochet the petals and puffs mandalas using the special crochet stitches like the crochet puff stitch and various outstanding crochet patterns based on them. Duplicate the given spoke mandala pattern, looking preciously gorgeous and would help you crochet some amazing circle crochet patterns. Crochet the thicker yarn mandalas and use them as precious potholders in your home and also crochet mini mandalas that will make the rocking coasters for your party tables.
Work in rounds, with crochet butterfly motif, bobble stitch and in crochet heart motif and crochet dearest debi mandalas that will be a big treat to view and will definitely dazzle the audience of used in some crochet patterns. Browse this entire list of free crochet mandala patterns to see some more interesting and unique ones and don't forget to hit the attached links to open complete free crochet patterns for all showcased mandala designs.
1. Free Crochet Petals and Puffs Mandala Pattern
To create this pattern you need to select some colorful yarns. Begin making a magic ring with a yellow yarn and keep working around it. The stitches are explained on the link below. After making some rows of the same color yarn, change the color to a powerful one to create this lovely design. bunnymummy
2. Free Crochet Spoke Mandala Pattern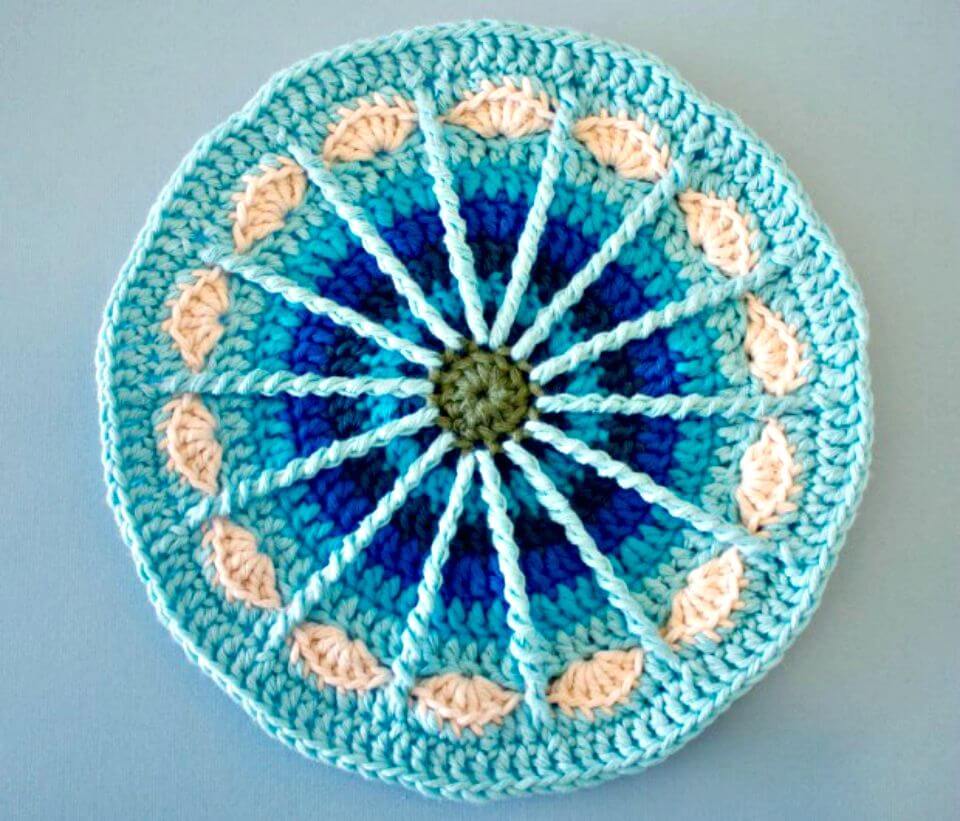 Choose a lovely palette color and begin to work on it. The classic magic ring is always the center, it's the first step to create this awesome mandala pattern. To add something new and incredible, add some curls and you will see how cool it looks. Check the link below to see more details: acreativebeing
3. How to Crochet Mandala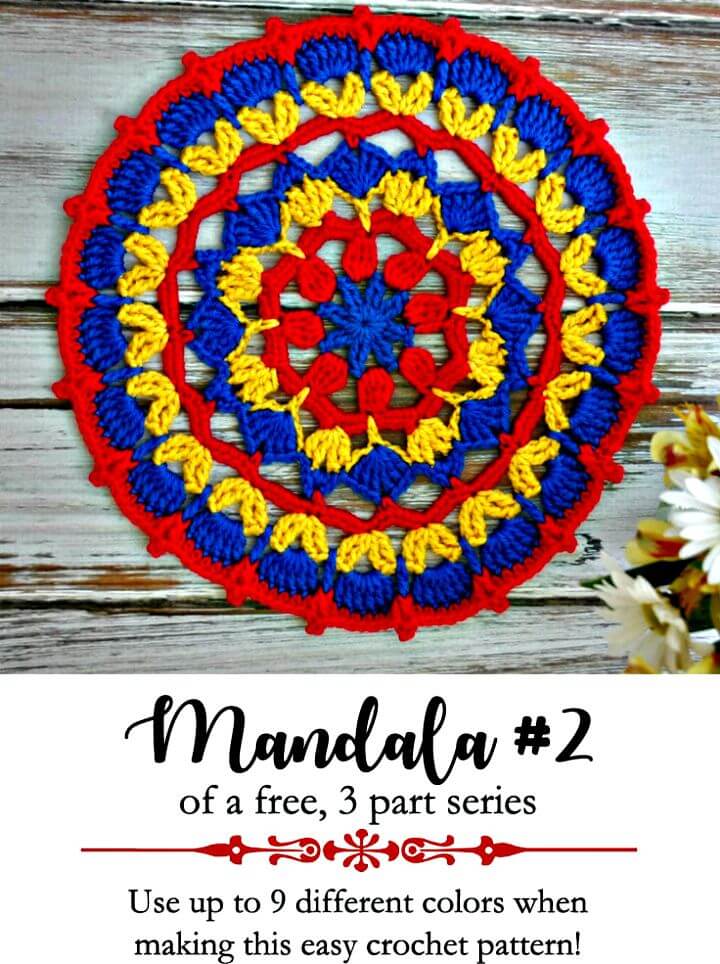 This is a colorful mandala pattern. To create it, look for these three colorful yarns and begin to work on it. Make a start in the center, then, create like a hexagon shape and after the colors are changing, create new figures every time. Check below to see the complete steps: cre8tioncrochet
4. Simple and Easy Crochet Mandala – Free Pattern
This pattern seems to be smaller than the pattern above. Use light colors to create this design. It's a great idea to make it and use it as a decoration for any place at home. Click below to see the complete pattern. redagape
5. Free Crochet Front Post Frenzy Potholder Mandala Pattern
To create this pattern, choose different yarns colors and a crochet hook. Begin to create this design using the magic ring in the middle and to work around it until you reach the size you want to. This design is a lovely way to decorate your kitchen. It will be the most colorful potholder ever. lookatwhatimade
6. How to Crochet Dearest Debi Mandala
Here you have an interesting and cute design which can be used as a potholder, a carpet or use it just as a decoration item for your home. In the design, there are many small flowers in which you have to make them for separated and then, attach them in the front part of the mandala. dearestdebi
7. Crochet Rainbow Mae Mandala – Free Pattern
Here you have a rainbow design which basically consists of looking for powerful color yarns and begin to crochet the pattern. Make some rows in the same color and keep creating the pattern until you reach the size of your preference. Click here to see the complete instructions: sfmgs
8. Free Crochet Mandala Pattern
In this case, choose a palette color choosing purple and gray tones to create this awesome pattern. You can use this design for many things. Improve your imagination to make some cool crochet techniques. Click below to see more details: annoocrochet
9. How to Crochet Starflower Mandala – Free Pattern
This awesome starflower can be a fascinating design which can be used as a carpet in the entry of the house, or in your baby's room. The colors you will use here are light tones because it will make it look more captivating. Check the complete steps here: zootyowlcards
10. Easy Crochet Mandala – Free Pattern
This is an interesting design you can use as a decoration in your kitchen. Select white yarn and a crochet hook to begin with this pattern. While you are crocheting, insert some green and pink as colorful yarns to decorate the pattern. Click here for more information: gocrochetcrazy
11. Free Crochet Autumn Fiesta Carnivale Mandala Pattern
Here you have a carnival crochet mandala which can be a useful pattern and can be a decoration to your living room or your kitchen. Begin creating a flower shape in the middle and keep working around making some rows on each color. The instructions are on the link below: sfmgs
12. Colourful Crochet Mandala Pattern
Here you have another design. In this case, the pattern is really simple and easy to do. Click below to see what supplies you need and the stitches you will use and start crocheting. molliemakes
13. Free Crochet Crystal Mandala Pattern
This crystal mandala pattern consists of making a flower in the center. Then, make a complete circle in a different color. After that, begin to create a different design every time you change the color. After the pattern is done, attach this item in a ring to create this awesome pattern. Click below to see the complete steps: celticknotcrochet
14. How to Crochet Dahlia Mandala
This interesting Dahlia mandala is a colorful pattern which can be used for many things. First, select a palette color and start to work using these yarns and a crochet hook. Click below to see more details: zootyowlcards
15. Free Crochet Daisy Centre Mandala Pattern
This pattern seems to be pretty similar to the last one but in this case, you will organize the colors and make the pattern using one color in different tones from the darkest to the lightest, creating this incredible tone effect everybody loves. Choose the right supplies and begin to crochet: zootyowlcards
16. Quick Crochet Flower Power Mandala Pattern
This flower mandala pattern consists of making a circle in one color yarn, and then, keep increasing the design using other colors and other designs as well. Check the complete pattern below on the link. redagape
17. Free Crochet King Protea Mandala Pattern
Here you have an interesting design in which consists of choosing different and powerful colors such as pink, green, yellow, and white. Also, look for a crochet hook and a tapestry needle if it's necessary. Click below to see more details: lookatwhati
18. Crochet Lotus Mandala Flower – Free Pattern
This pattern seems to be very elegant and fancy. It consists of choosing a pink palette color. Begin making the classic magic ring in the middle. The stitches you will use here are explained on the link below. crochetmillan
19. Free Crochet Magic Spike Mandala Pattern
There are many mandala designs but this interesting pattern is created to can use it for any occasion and in any place. This pattern has a notable color which is the yellow one. It's colorful and captivating. Create it and improve your techniques. mooglyblog
20. Free Crochet Mandala Hoops Wall Hangings Pattern
These types of designs are made as decorations items. After creating this pattern, hang them up on the wall. You will see how incredible they will look on the walls. Click below to see the complete steps you need to follow. mamainastitch
21. Crochet Candala Flower – Free Pattern
Here you have another flower pattern. In this case, the colors you will use seem to be serious and old. However, the colors will depend on you. To create the pattern you will need a crochet hook and a tapestry needle and after having these supplies, begin to crochet. sfmgs
22. Adorable Crochet Mandala Pattern
This is an interesting design which is easy and quick to do. Begin creating a circle with the yellow yarn, in this color you have to make a few rows before changing the color. Try always to select light tones so that it wouldn't look disorganized. The complete instructions are on the link below: lizziebella
23. Free Crochet Mandala Pot Coaster Pattern
If you want to innovate the style of your home or the theme of your kitchen, begin creating new designs using different colors to renovate the look. In this case, the pattern seems to be very interesting and difficult to make, but it is not. Click below to see the complete steps: atty com
24. Free Crochet Mandala Rug Pattern
If you want to create a rug, make sure it has the same color as the room, the living room, or the place you pretend to put it. In this case, select a yellow yarn and begin to make a crochet circle with many rows. Then, add white and blue color in the border to give it an interesting style. lookatwhati
25. Crochet Mandala Style Trivet Cover – Free Pattern
For this trivet pattern, select blue, brown, and gray yarn and a crochet hook to begin to work on it. Begin creating the circle in the middle using a blue yarn, then, make a tiny border using a navy blue yarn. After that, use the gray color to create an interesting design in it. Finally, keep crocheting until you reach the size you want. stitchesandsupper
26. How to Make Mandala Wheel – Free Crochet Pattern
In this opportunity, you will know how to create a mandala wheel using different colors on each row. These items can be used as a decoration for the walls, rugs, coasters, etc. Click below and create your own design. attic24 typepad
27. Free Crochet Mandala with Tulips Pattern
Here you have a different pattern which has to be created using three color yarns. Begin making a circle with four rows. Then, begin changing the color and the design at the same time. Check your link below to see more: crochetforyou
28. Easy to Crochet North Sea Mandala Pattern
This North Sea mandala pattern can be used as coasters to decorate your kitchen without problems. Talking about sea style, try to choose light color tones and if it's blue, is better. The size will depend on you but try not to make it so big. Click below to see more details: lillabjorncrochet
29. Free Crochet Revisiting The Granny Mandala Pattern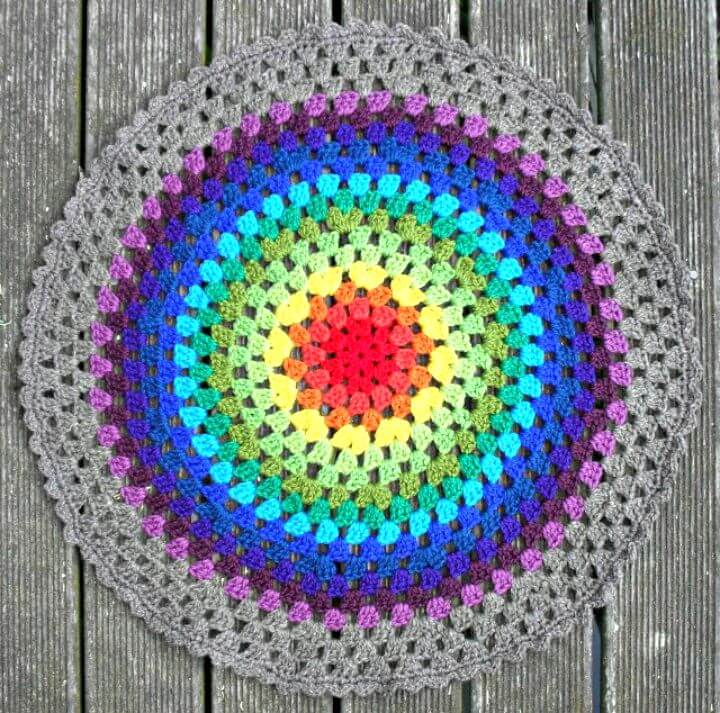 Here you have an interesting and colorful design everybody will love to have. Begin making the magic ring with pink tones, then, change to orange and yellow color and keep changing the color tones until you think you have finished. Check the stitches you need to use on the link below. crochethealin
30. Crochet Shocking Mandala Rug – Free Pattern
This rug is easy to make. You just need to find two colors that combine perfectly and that's it. In this case, green and blue are chosen to create this awesome pattern. This rub can be placed in your room, in the bathroom, in the living room, etc. It doesn't matter where it will be, it will look stunning. moogly
31. Free Crochet Sophie's Garden Mandala Pattern
This pattern is really common to see nowadays. After making the mandala pattern, select the same color to start creating a square around it. This design can be as big as you want. It is an incredibly colorful pattern which can be perfect for your kids to play with it in the garden. lookatwhati
32. How to Crochet Sophie's Mandala
This pattern is the same as the mentioned before but without the square. In this case, you will use single, double, and slip stitches to create this design. However, create a lovely combination to use it in any place. lookatwhati
33. Free Crochet Spring Mandala Pattern
This interesting design is perfect for the spring season. Select green, yellow, and pink yarns and a crochet hook to create this lovely pattern. This design can be perfectly used for the entry door. Click below to read the steps and innovate your home putting this type of designs in it. airalidesign
34. Free Crochet Spring Sun Mandala Vest Pattern
If you want to make something new and cool, here you have a different mandala pattern which is perfect for all the women. It's about a vest with a mandala design in the back part. Choose a solid color to create it so that you can use it with any of your outfits. Renovate your style by creating and using this accessory. yarnutopia
35. Crochet Stunning Little Mandala – Free Pattern
This stunning little mandala consists of creating a star design using pink and blue color tones. Begin creating the classic circle in the middle, then, keep increasing the crochet technique until you think you have reached the right size and start creating a star design in the border. It will be totally original and unique. dailycrochet