Just like the crochet granny square, another most loved crochet motif is the circle crochet motif. There are tons of different patterns that are based on the circle crochet motif that will boost your fashion, home decors, and you can also create other exciting stuff by crocheting in a circle. What you can achieve with the crochet circle motif, has been explained well in these 25 Free Crochet Circle Patterns that have only been shared and showcased to inspire your crochet creativity. These crochet circle patterns would help to make a very gorgeous new addition to your winter wardrobe. They will help you make new home furniture, and next, they will also help to crochet some fab and super unique looking accessories that you have never thought before. After taking a short tour of this collection, you will be giving a big thanks to the crochet circle motif for sure.
Satisfy your lust for bohemian fashion by crocheting a circle crochet boho purse that will come with fabulous straps also, peek into design details of the given sample, is not it super adorable? Crochet the large chunky circle motifs and start using them as adorable coasters on your party tables, will soak up the beverage spills very well. Crochet, the extraordinary beach fashion, inspired crochet bags to boost your summer fashion, have a look at the given river bag that comes with braided yarn straps. Bring great visual details in your baby's playroom by adding circle crochet rugs.
How to crochet a circle?
And also crochet the lacey circle jackets that will turn you into a celebrity, do take a look at the given sample. Crochet in circles with a repeated heart motif and get fabulous love blankets and afghans that will make great gifts. Crochet gorgeous looking circle vests will work up super quick and will make you wear a great style this winter and also in less chilly days. Check out a lot of more crochet circle patterns in the given below list and grab the full free project patterns by clicking once on the attached links.
1. Free Crochet Street Fair Boho Circle Purse Pattern
This beautiful crochet purse with bohemian flair is a great accessory for all the boho girl out there. This pattern is quick to make because it's made from the two identical circles, which are crocheted together to form a little pouch. To make this beautiful bag, you will need a camel yarn, tapestry needle, J crochet hook, and a button (optional). makeanddocrew
2. Easy Crochet Meadowlark Coasters Pattern
These beautiful crochet meadowlark coasters are super easy and quick to make, and this project won't take much of your time. These are an ideal addition to any home decor and are super useful. To make these, you will only need 3.5mm (E/4) crochet hook 25yds DK (8ply) yarn in any colors that you like and a tapestry needle. hopefulhoney
3. How to Crochet Rover Circle Bag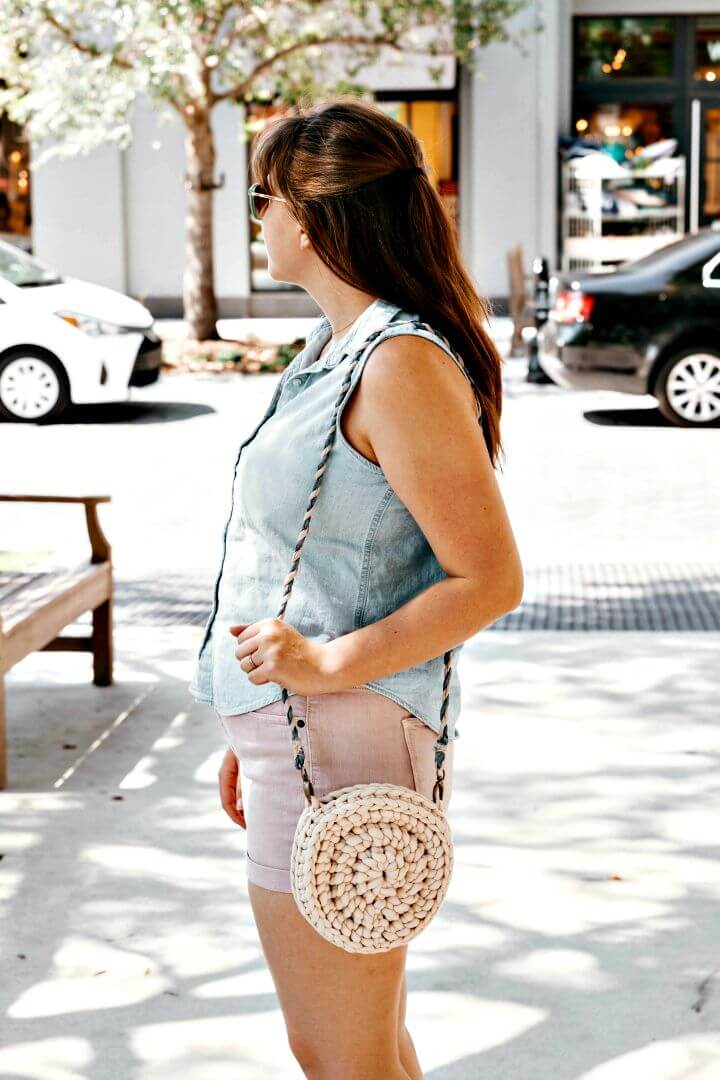 This bag makes a great addition to any outfit, especially to beach and festival outfits. The size of this bag is enough for the essentials like phone, keys, and a cool pink lip gloss (smiley emoji). To make this one, you will need yarn in any color desired, 12.00mm crochet hook, chosen strap (fabric, belt, crocheted chain, etc.), and metal clasps. sewrella
4. Free Crochet Flat Circle Pattern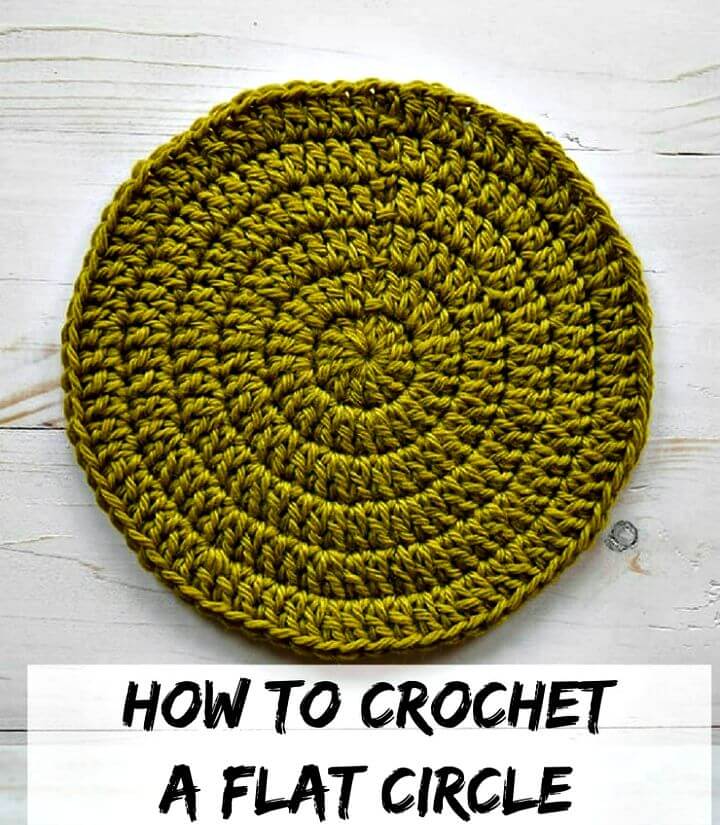 If you are a beginner crocheter, this pattern will help you to learn how to make a crochet circle that lays flat. This is a straightforward pattern, and once you understand it, you can make anything that comes to your mind, from coasters to cool bags. If you are interested in learning this technique, visit the link below: mallooknits
5. Free Crochet Spring Blooms Circle Coaster Pattern
These beautiful crochet coasters are super easy and quick to make, and they are great for using up all that yarn remains from the previous projects that you probably still have. To make these beautiful Spring Bloom coasters, you will need scrap yarn, 4.25 mm crochet hook, needle to weave in ends, and scissors. theunraveled
6. Adorable Crochet Circle Blanket Pattern
This beautiful crochet circle blanket is a piece of art (heart eyes emoji) and features a whimsical owl perched on a tree branch. To make exactly the same blanket like the one in the picture above, you will need yarn in soft white, Aruba blue, grey heather, honeydew, coffee, cornmeal, pink and spring green, 5mm hook, and a yarn needle. redheart
7. Free Crochet Circle Jacket Pattern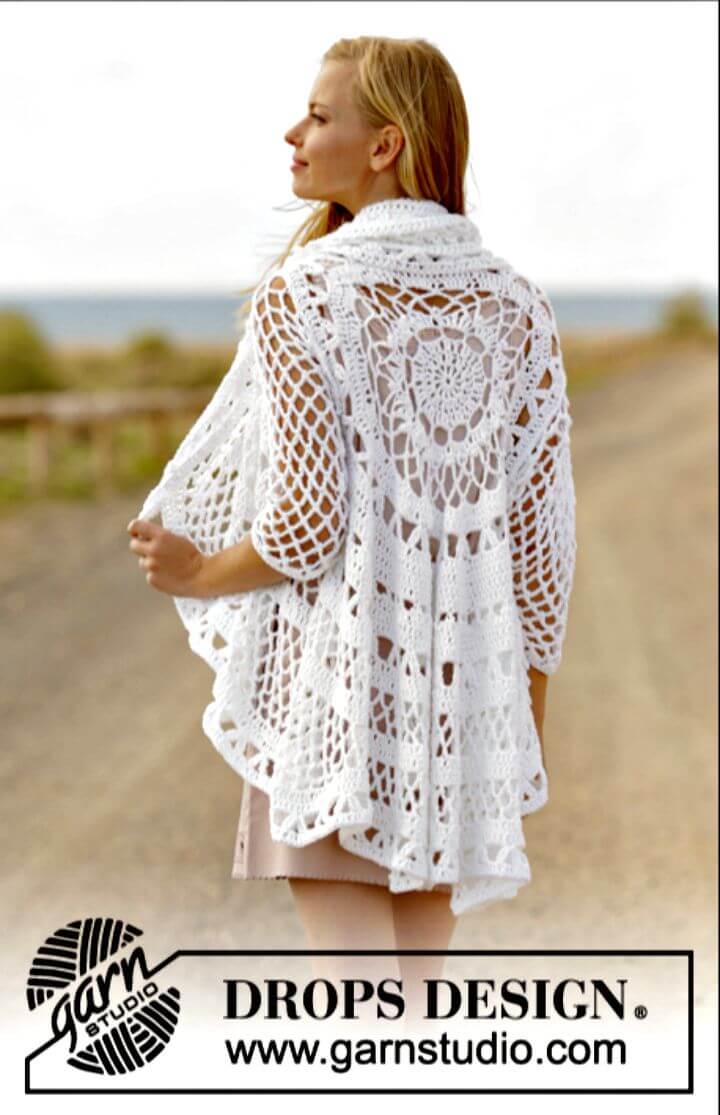 This beautiful and romantic crochet jacket is a perfect addition to any summer outfit. It looks like it came straight out of the fairytale. To make this beautiful lacy jacket you will need yarn in white color (or any other color that you like), and a crochet hook size 4.5 mm/US 7 – or size needed to get 16 double crochet. garnstudio
8. Crochet Circle Of Love Afghan Blanket – Free Pattern
This Circle of Love Afghan tells a love story in the stitches and makes a perfect gift for Valentine's day or any other day when you want to show your love to someone. This blanket is super soft, cozy, fun, and easy to make, and this project won't take much of your time. For the full tutorial visit the link below: mooglyblog
9. Awesome Crochet Circle Vest – Free Pattern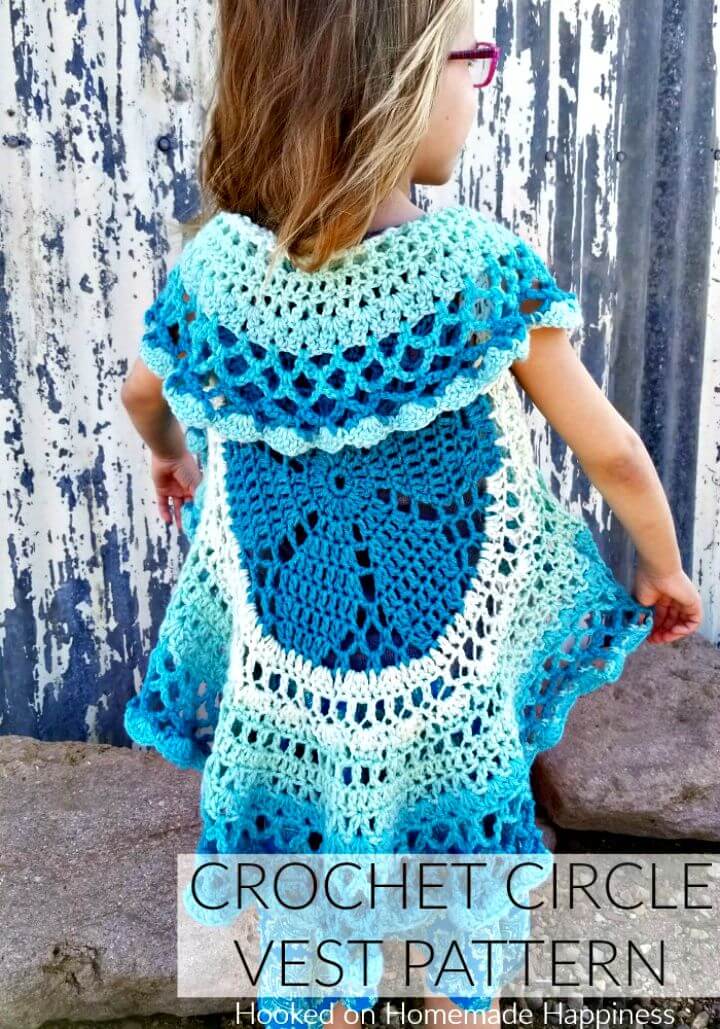 This adorable kids vest starts with this pretty flower center, and the edges are beautiful and flowy. Because of this flowy design, this vest will fit a range of sizes. This is a beginner, cooperative project that can be done in no time. To make this circle vest, you will need yarn, 5.5mm crochet hook, yarn needle, and scissors. hookedonhome
10. Colorful Crochet Circular Coasters – Free Pattern
These colorful circular coasters make a great addition to any home decor. This cool pattern includes instructions for a basic round with four different and easy to stitch edgings. This project is beginner-friendly, super easy, and quick to make. Materials needed for these beauties: H crochet hook, small amounts of cotton yarn, and a tapestry needle for weaving in ends fiberflux
11. Free Crochet Floor Pillow Pouf Ottoman Pattern
This ottoman or floor pillow is truly amazing, and it`s made of old t-shirts, 7 to be exact. This one is approximately 16 inches across and 10 inches tall, and other than t-shirts, you will need size P crochet hook, yarn needle with a hole large enough to fit t-shirt yarn through, stuffing, and stitch marker to make this beautiful ottoman. gleefulthings
12. Easy Crochet Granny Circle Placemats Pattern
These granny circle placemats are bright, casual, and just beautiful. There are so many possible designs for these cool placemats. Make them in just one color, in two or more different colors. To make these besides the yarn in the desired color, you will also need a size E crochet hook and a gauge. purlsoho
13. Free Crochet Jute Circle Purse Pattern
This cool jute bag is so beautiful, rustic, and unique, and it makes a great addition to any summer outfit. Since this pattern calls for such thick jute, it makes for a very easy and quick to make a weekend project. To make this one, you will need 5mm thick jute, 15mm crochet hook, button, purse handles, needle, and thread. megmadewithlove
14. Crochet King Protea Mandala – Free Pattern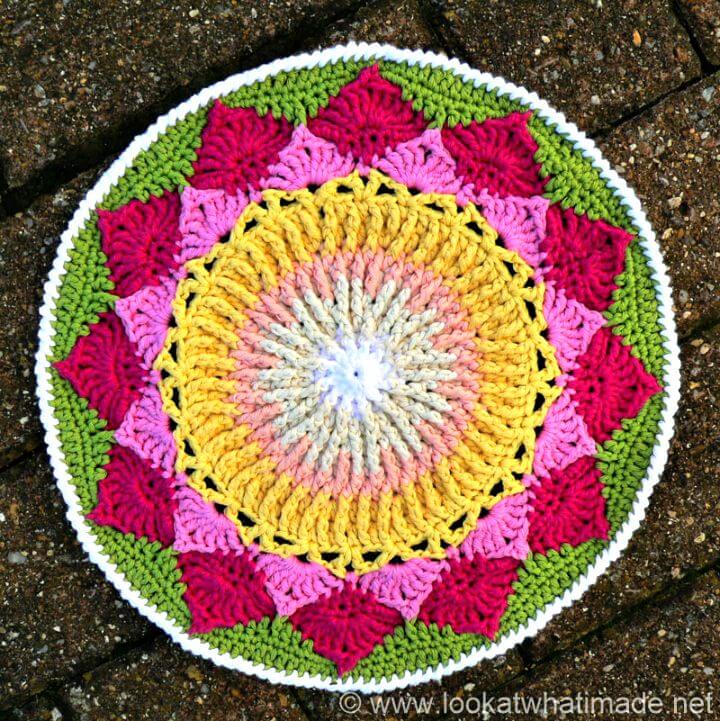 This beautiful King Protea Mandala is the perfect addition to any home decor. This is super easy, fun, and quick to make a pattern that won't take much of your time. To make exactly the same mandala like the one in the picture above, you will need 4mm crochet hook, worsted weight yarn or double knit yarn, and a yarn needle. lookatwhatimade
15. Quick Crochet Lacy Hoop Circle Earrings Pattern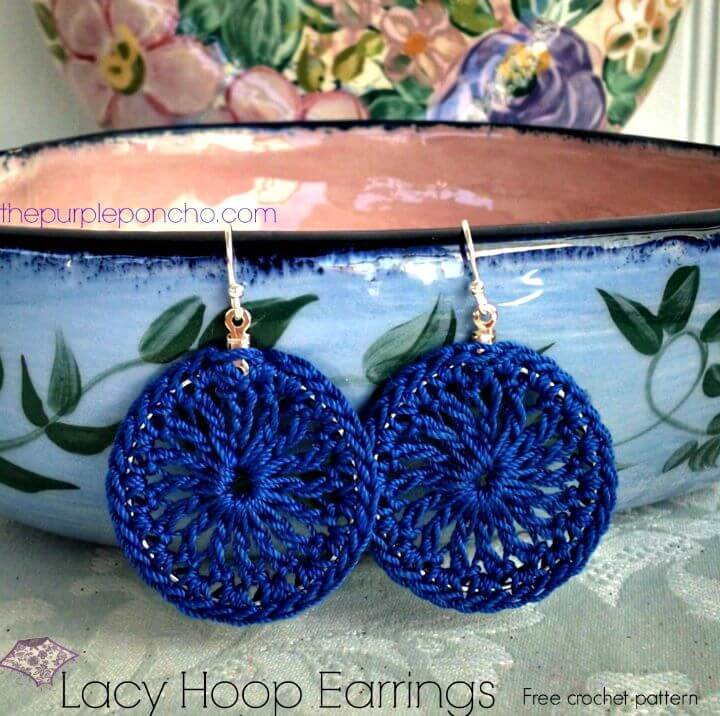 If you forget your friend's birthday (it happens to all of us) and you have only a few hours left till the party and no gift-ready, than this project is perfect for you. This are easy crochet circle patterns, and the result is just perfect. Make these beauties in your friend's favorite color and surprise her with a homemade gift. thepurpleponcho
16. Free Crochet Mandala with Tulips Pattern
This adorable and colorful mandala is super easy to make, and this project won't take much of your time. Also, this pattern is beginner-friendly. These little shell stitches look like tulips, so if this is your favorite flower that this is the perfect project for you. To make this mandala, you will need yarn, crochet hook, and a tapestry needle. crochetfor
17. How to Crochet Moonlight Mist Circle Jacket
Moonlight mist crochet jacket is just adorable, as you can see in the picture above (smiley emoji). It got everything, it's romantic, in a solid color and it's lacy. To make this beauty with a pretty name jacket, you will need yarn in light blue (or any other color you prefer), crochet hook 6.00 mm, and two buttons. garnstudio
18. Crochet Revisiting The Granny Mandala – Free Pattern
Get your 4mm hook and your 8ply wool ready, and let's get started with this awesome mandala pattern. This cool and colorful mandala is pretty easy to make, and it won't take much of your time, and it makes a great addition to a kitchen or living room decor. To see how you can make this one visit the link below: crochethealing
19. How to Crochet Sonoma Circle Bag
Here we have a great pattern for a beautifully designed circle bag. This is an easy, breezy bag for all your summer essentials as you head to the beach, coffee with your girlfriends, or for just a stroll. To make this one, you will need three balls of yarn in any color, K crochet hook, leather purse handles, tapestry needle, and scissors. 1dogwoof
20. Free Crochet Sophie's Mandala Pattern
This is an awesome looking mandala and a great designed one. This is not so hard to make, but I can't say if this pattern is beginner-friendly, but you should give it a try no matter what. To make this incredibly beautiful mandala, you will need a 4mm hook, worsted weight yarn or double knit yarn, and a yarn needle lookatwhatimade
21. Free Crochet Sugar Wheel Baby Blanket Pattern
This adorable sugar wheel baby blanket is made with three color tone yarn, and it is super easy and quick to make, so this project won't take much of your time. To make this one, you will need Aran yarn, 6.50 mm crochet hook, and a gauge. To see how to make this one visit the link below: ravelry
22. Crochet Trio Of Circle Potholders – Free Pattern
Make one, two, or the whole set of these beautiful potholders as a last-minute gift for someone you care. These are perfect gifts for a housewarming party, or your foodie friends, also these will brighten up any kitchen. TO make these beautiful potholders, you will need yarn, 5 mm crochet hook, yarn needle, and a locking stitch marker. undergroundcrafter
23. Free Crochet Velvet Circle Pillow Pattern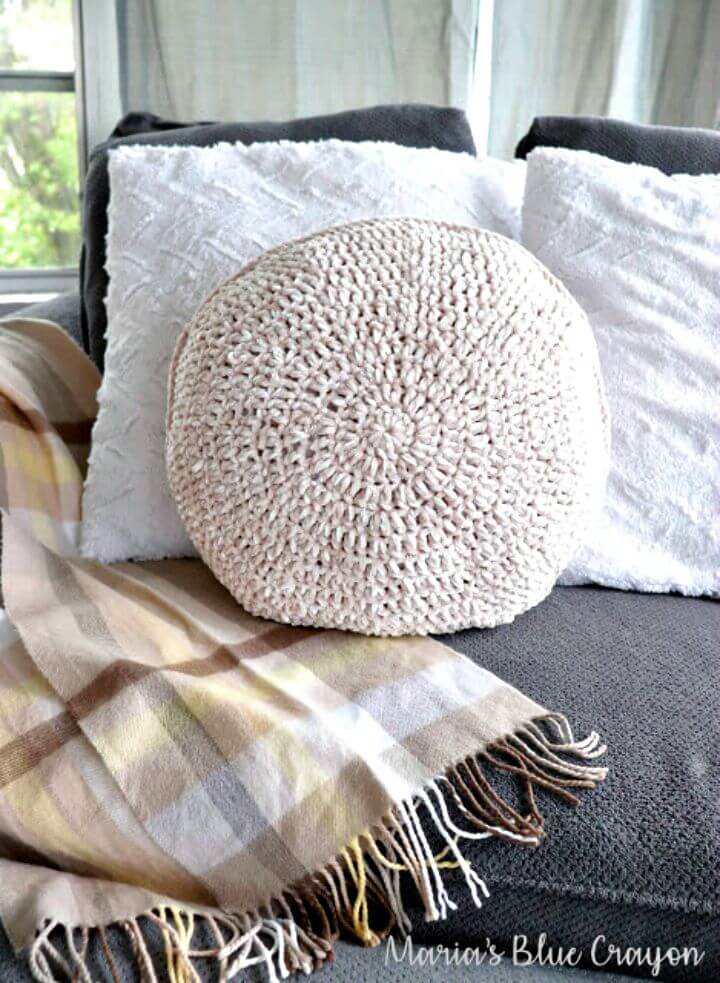 This velvet yarn pillow is perfect for snuggling in a cold winter night while watching your favorite tv show. This is a beginner-friendly project, and you should give it a try, it won't take much of your time, and the result is just so perfectly adorable. You will find the full tutorial in the link below: mariasbluecrayon
24. Free Crochet Wobbly Circles Blanket Pattern
This wobbly circles blanket is an easy weekend project, and its made entirely of the 100% cotton yarn. Besides the yarn (in any color you like), you will also need a size H crochet hook and a tapestry needle to make this soft and beautiful blanket. This blanket makes an awesome homemade gift for your next baby shower. twinstitches
25. Crochet Capri Circle Bag – Free Pattern
This beautiful circle bag makes an awesome gift to yourself (smiley emoji). It is super easy and quick to make and won't take much of your time. This bag makes a great addition to any spring/summer outfit. The finished size of this bag is 38×38 cm. To make this beauty, you will need yarn, a J crochet hook, and a tapestry needle. twoofwands