Crochet socks are quite the instant and kind of a constant foot reflexology treat that you can give to yourself! We have collected these lovely and darn pretty 15 free crochet socks patterns that can totally make your winters all trendy and warmer at the same time. Besides wearing these crochet socks in your shoes, you can easily wear them for the chilly nights you decide to spend at home! Which, by the way, means that with these crochet socks, you don't even have to wear the clunky slippers anymore at home.
We have gathered some of the most amazing designs to make your winters worthwhile! Although crocheting might seem a bit tricky at first! Especially if you are a beginner, but the key lies in carefully and thoroughly going through our detailed tutorials. And you have no idea how perfectly you can nail these!
All it's going to take for you to make these darling crochet socks pattern is attention to detail and a bit of care! From comfy crochet socks to wear at home to trendy crochet lace socks, we have got it all. Even the lovely and pretty star crochet socks pattern for your little ones. Oh, and you are so much in treat to explore our lovely crochet slippers. One thing is for certain, after exploring through these free crochet socks patterns, you will no longer be wondering about the DIY gifts for your loved ones. Because what's better than a pair of perfectly warm, hand-made, and cozy crochet socks? Nothing beats that. So, grab on your crocheting kit, choose your color patterns, and design ideas, and let's get to some aesthetically pleasing and warm crocheting!
1. Basic Crochet Socks Pattern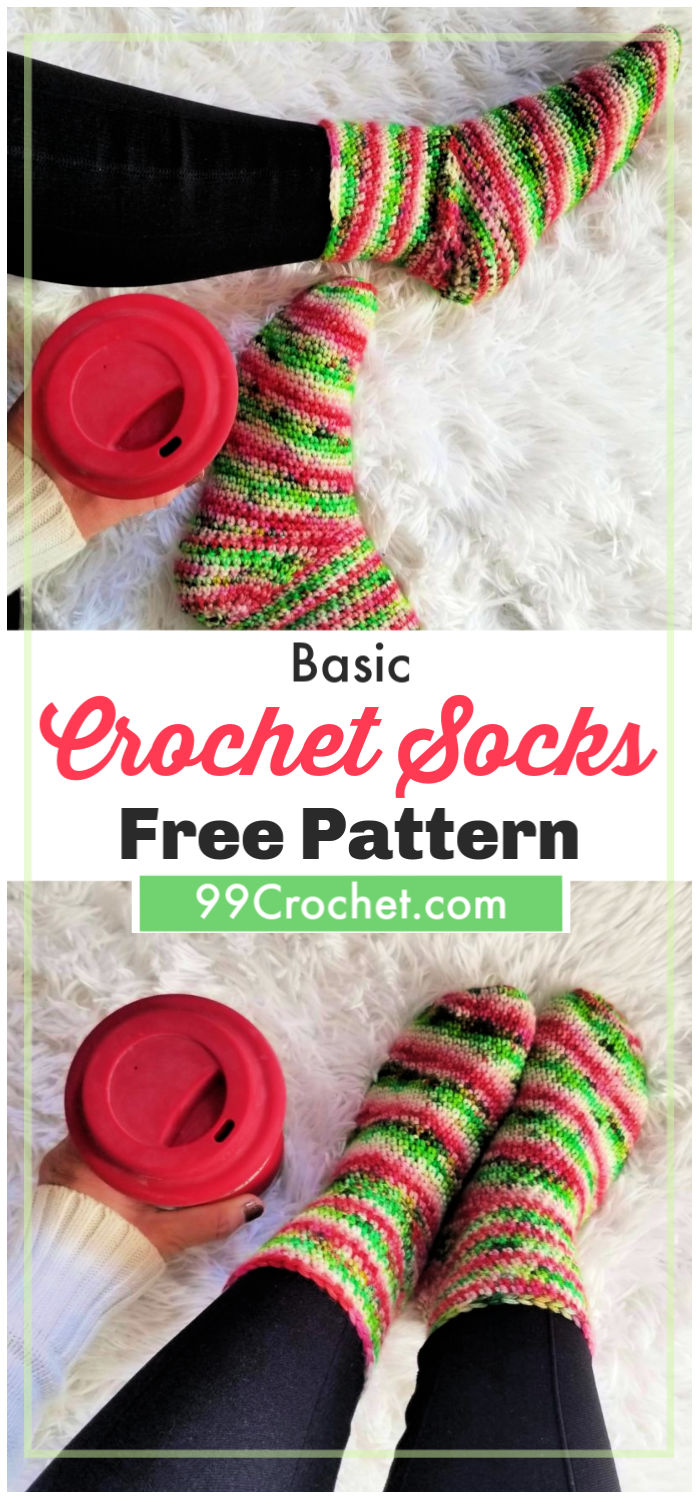 What are winters without some crocheting on the go? Add some colorful vibes to your winters with these basic and Free crochet socks patterns. These are made using multi-colors and wonders of worsted weight yarn and is totally beginner-friendly! hookedonhome
2. Free Crochet Socks Pattern
With holidays upon us, winter, and thanksgiving, it's complimentary to greet friends and family with gifts! How about some pretty comfy and vibrant crochet socks that won't even make them wear clunky slippers inside the house. yarnspirations
3. Patons Toe Up Socks Free Crochet Pattern
Check out these 4-ply wool bend yarn socks by Yarnspirations. With winters approaching, you can never really have too many socks. The pattern is quite simple and easy, and with this pattern in your hand, you can easily crochet socks for the entire family. yarnspirations
4. Free Crochet Patons 'step Dance' Socks Pattern
We are loving the vibrant and lively vibes of these Patons Kroy socks! For keeping you warm in the approaching cold, these are the best warming soft tools you can keep your feet in, these winters. yarnspirations
5. Red Heart Colorful Crochet Socks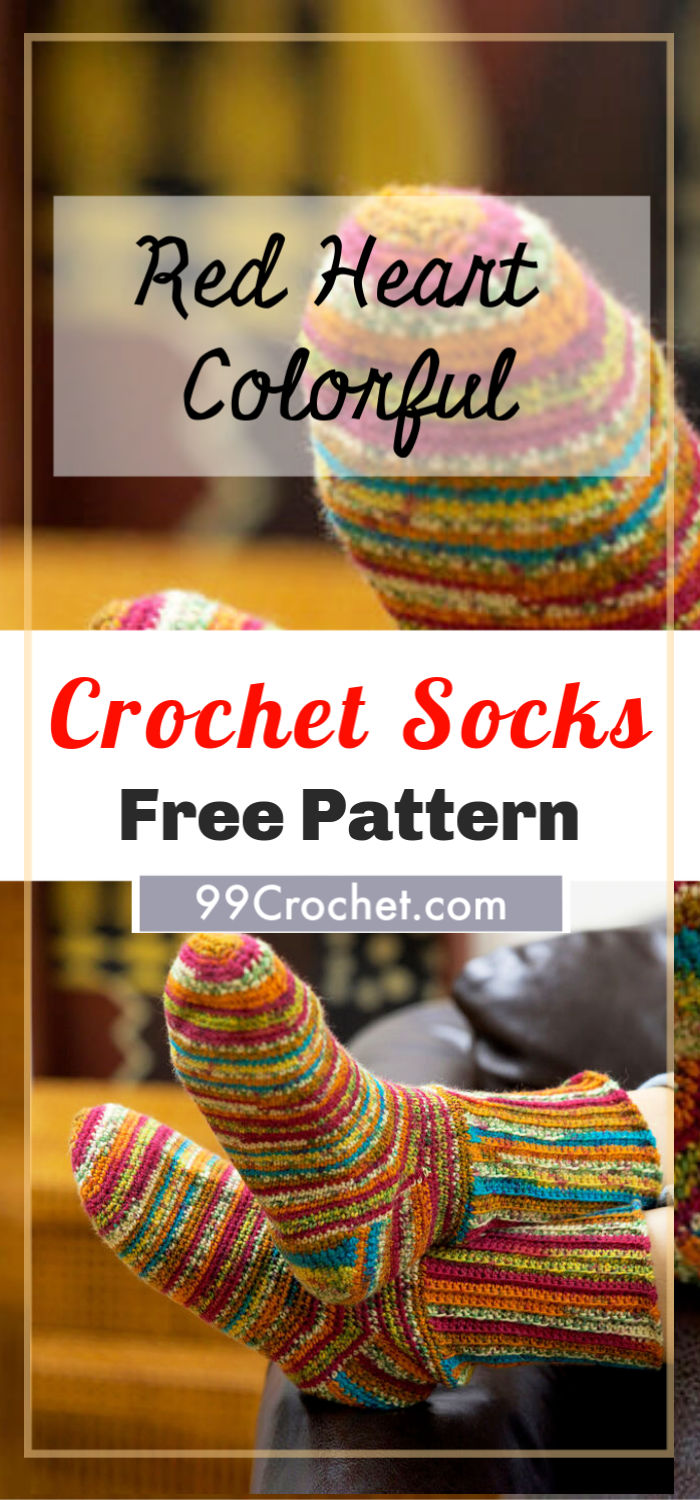 Show your colorful self this winter with these cheerful and vibrant crochet socks in Red heart and sole. The unique pattern and design of these crochet socks are quite a heart stealer. Slide into these comfies at home and leave your shoes far behind. yarnspirations
6. Free Crochet Twist and Shout Socks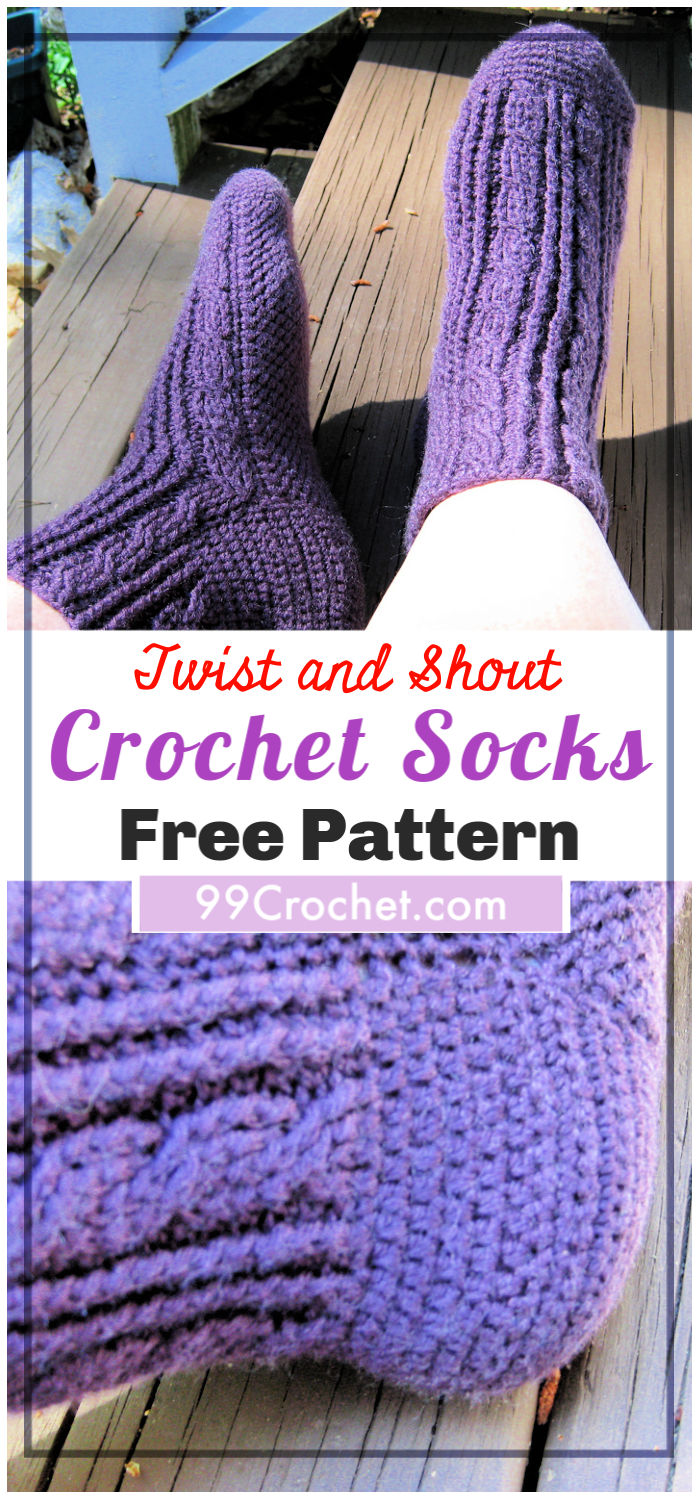 This twist and shout socks with the flat sole are quite the complete package! They can make the perfect gift for any of your loved ones. The tutorial suggests using knit picks gloss fingering yarn for crocheting this beauty! Hit the tutorial for details. ravelry
7. Free Crochet Bernat Basic Socks
Back to the basics! Just imagine if you have such whimsical and lively basic crochet socks these winters! As gifts for your loved ones or even your own loved self, how happy things could actually turn? Given all the colorful vibes coming your way. yarnspirations
8. Free Red Heart Crochet Heart & Sole Socks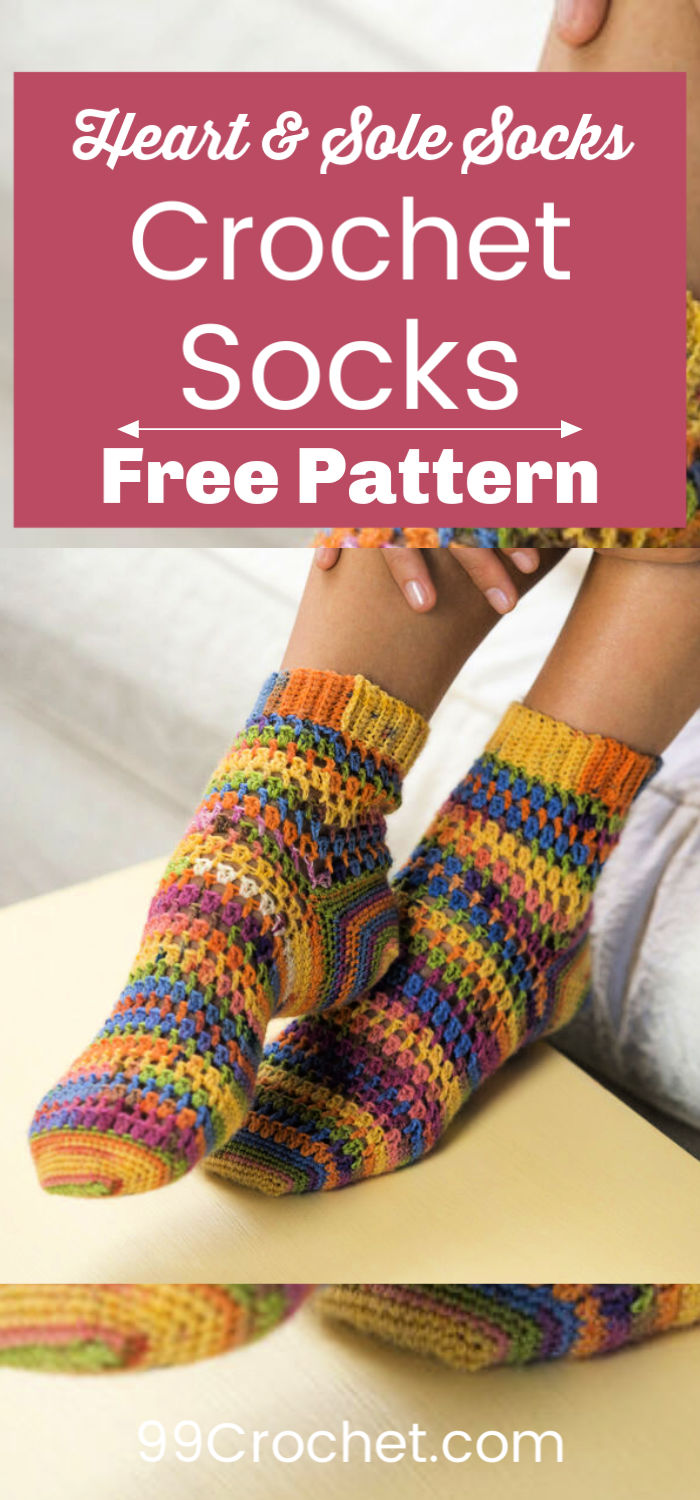 These Red heart crochet heart and sole socks are too good to be true! Perfect companions to keep yourself warm in the chilly days that are upon us now! It is a combination of solid and stripes. yarnspirations
9. Basic Slipper Boots for Women – Free Crochet Pattern
These self-crocheted basic slipper boots can make you quite the trendiest girl out there, even in cold hard winters! The tutorial features the free crochet socks pattern made using Aran weight yarn and hdc stitch! Hit the link for more details. mybluprint
10. Crochet Peek-a-boo Lace Socks Free Pattern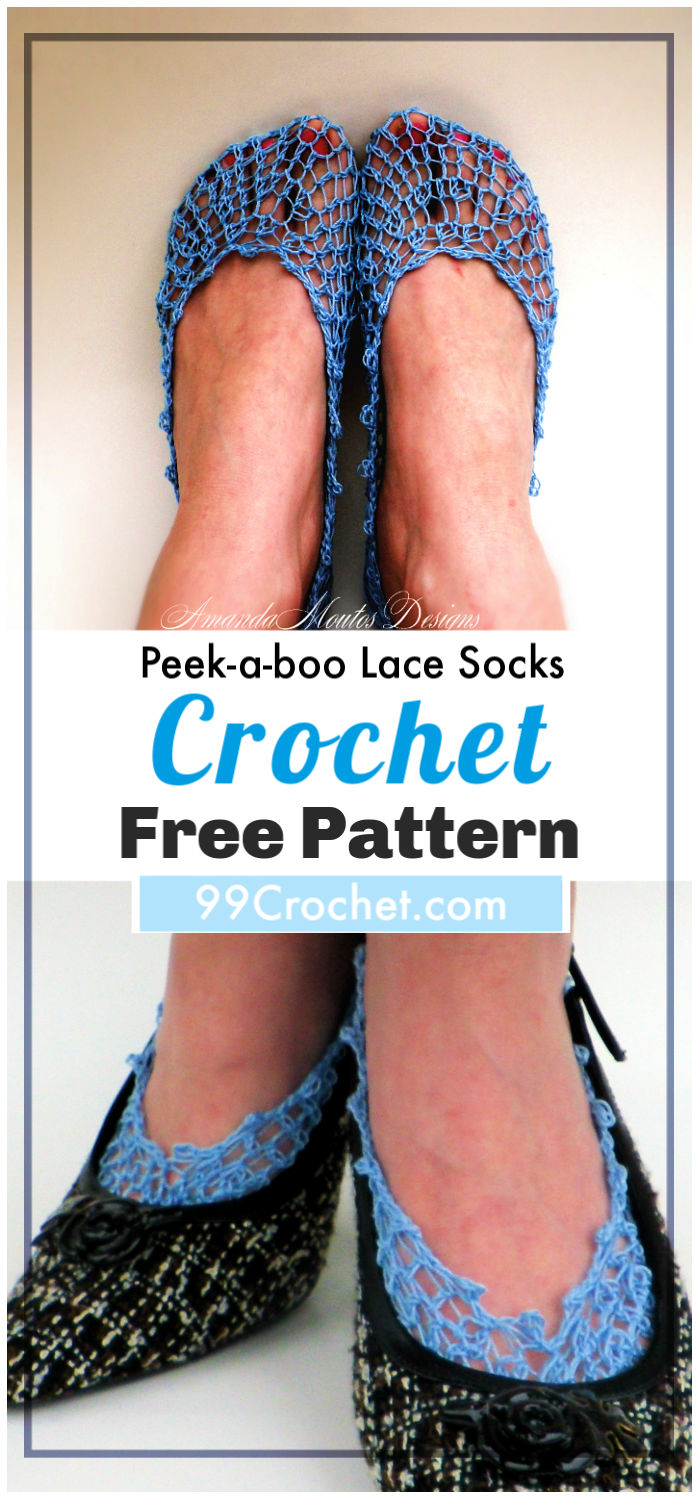 Who says you can't keep yourself without checking in to be trendy, first? These peek a boo lace socks are quite the style statement that you can add to your winter wardrobe. You will be needing a J hook and size 10 crochet thread for nailing this one! ravelry
11. Color Pop Socks – Free Crochet Pattern
What's better than color raining or popping to make your day more elated and hopeful? We can't help but agree that a colorful pair of socks does make the day better and happier! These color pop socks are made using a combination of two lovely colors! melodys makings
12. Sweet Feet – Free Crochet Pattern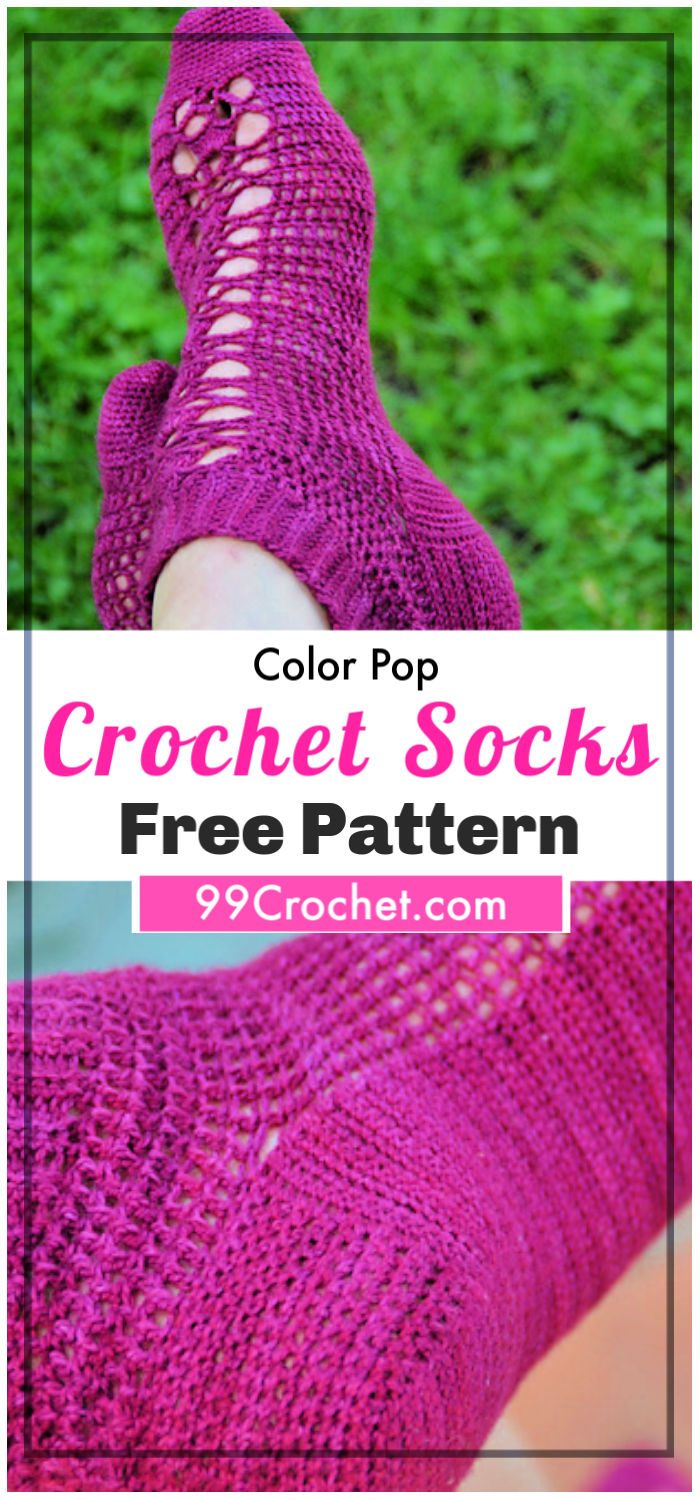 Sweet pair of crochet socks for your sweet feet these sweet winters! Too many sweets? Nah, with these lace crochet socks, you can make quite the trendiest person of the winters that people can know you by! Hit the tutorial for free crochet socks pattern! ravelry
13. Crochet Slippers
Oh, we just cannot stop drooling after these darling easy crochet slippers! While you can find many of these in the market but have you seen the prices on those things? Make these slouchy and stylish crochet slippers with quite the simple construction and details. makeanddocrew
14. Free Crochet Mustache Slipper Socks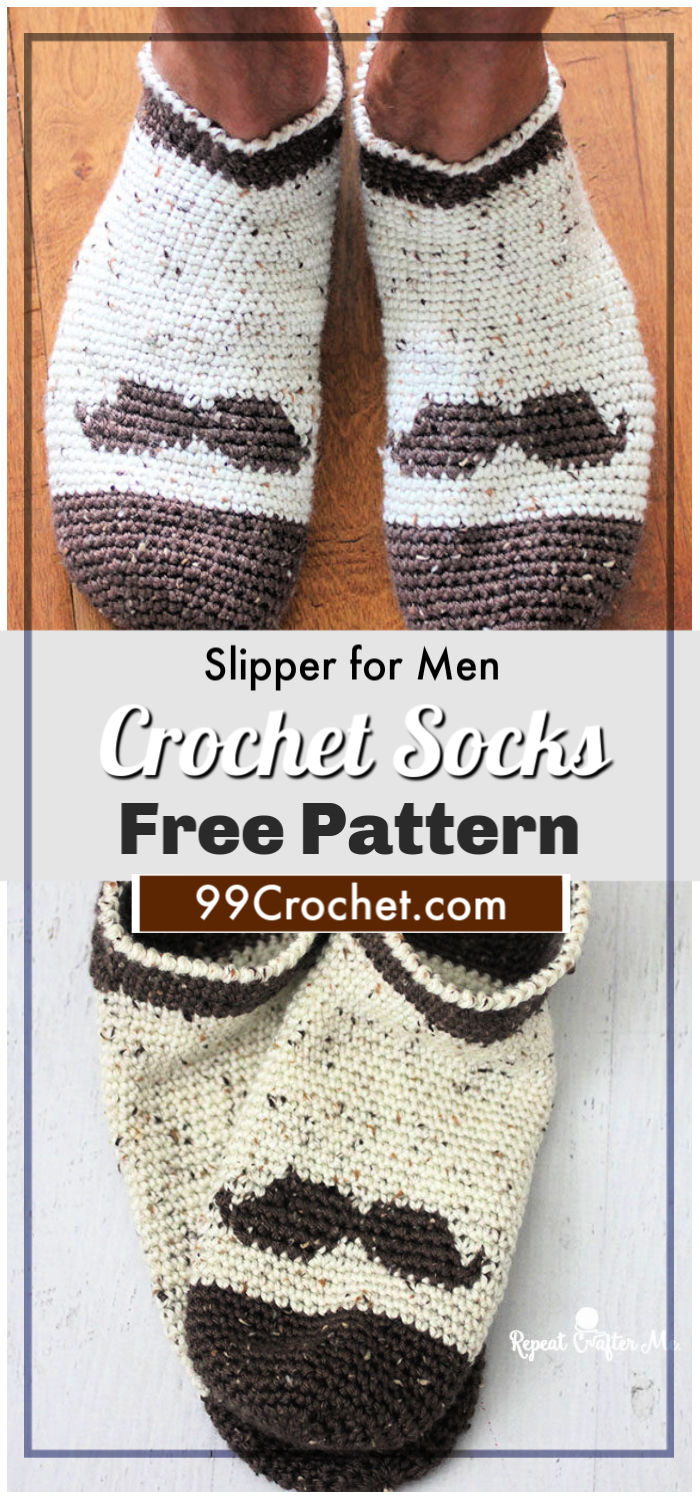 These crochet mustache patterns for him are surely going to make the comfiest and loveliest, thoughtful gift this year! What you need is size H crochet hook, mustache graph, tapestry needle, and Caron simply soft tweeds in off white and Taupe.
15. Crochet Starlight Toddler Slippers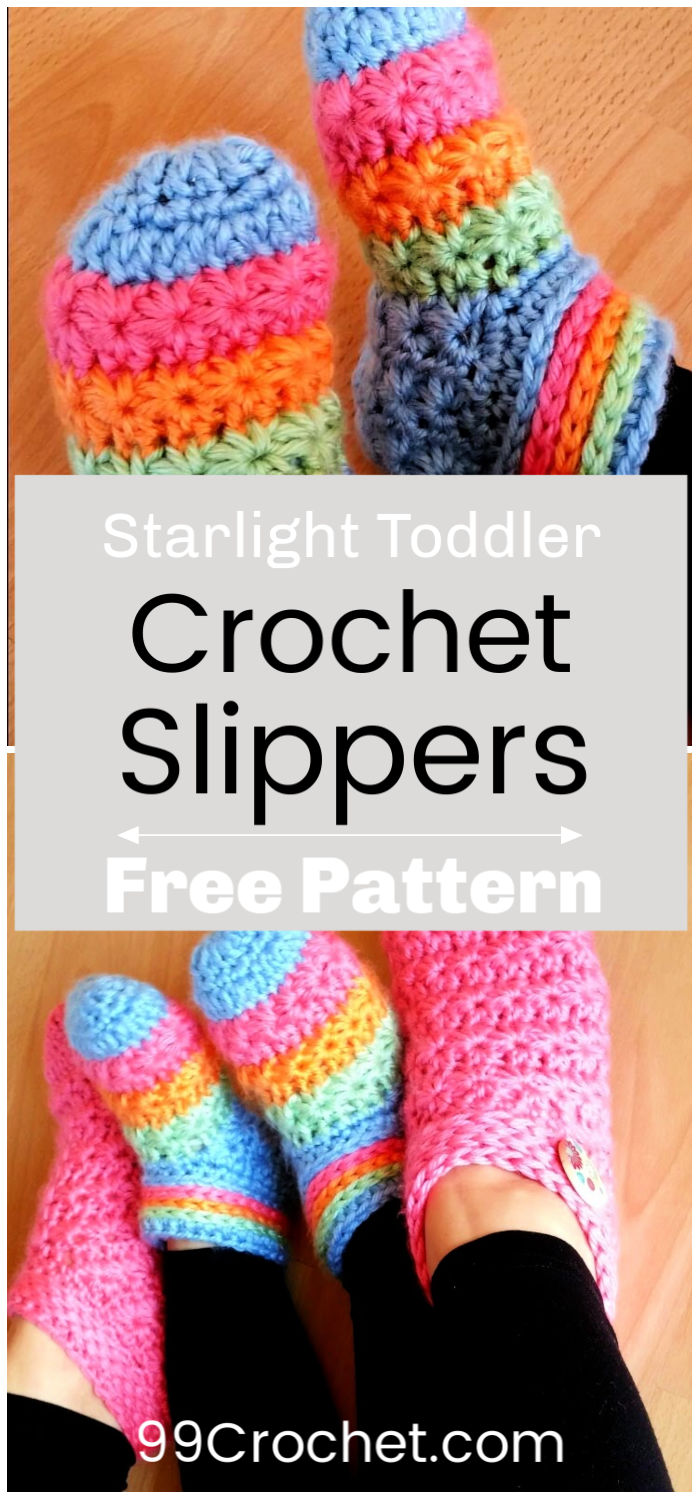 Your little ones have got to be comfy and warm! These starlight toddler slippers are all ready to take care of that. Get your free crochet socks patterns from the tutorial! You can make these by using a variation of star stitches! myhobbyiscrochet
So, are you all set to beat the best gifts race this season? No more rushing to the market and holding your head for the best gift. With these 15 free crochet socks pattern, you are quite in luck! Happy crocheting, folks.