There is a huge list of Disney fans, all the Disney characters are loved dearly by all the kids and even by the adults. And you can pay bigger attributes to your favorite Disney characters and princesses by crocheting these 10 free Crochet Disney Patterns that are amazingly cute and smart and would also make the perfect ever stuffed toys for the kids! Here the Disney princess amigurumi would make a best-ever gift for your little, and it would also make a perfect doll for your little girl's dollhouse! Not only the crochet Disney amigurumi, but you will also find here some amazing crochet winter warmers and accessories crocheted in Disney theme! Furthermore, all these patterns would make epic handmade gifts and present to Disney fans that your kids and even the neighbors and here you will learn the smart ways to incorporate the Disney touch to your daily life and fashion!
Crochet the precious yarn Mickey Mouse inspired booties that your toddlers would not take off all day long, and this will be the super fun way to make your kids wear the durable winter protection! Turn your small girl into a Disney princess by crocheting the princess Anna hat for her. It will be super easy to crochet and also crochet the frozen rapunzel Disney princess hat at home that will make a great gift for your newborn and will also make the very first photoshoot of him memorable! Crochet the princess Elsa hat that will come with braided straps and also maximize the cuteness of your baby by making him wear the daisy duck crochet hat. Which will be another super beautiful crochet Disney pattern, take a look at the given below sample hat that is cute like your baby!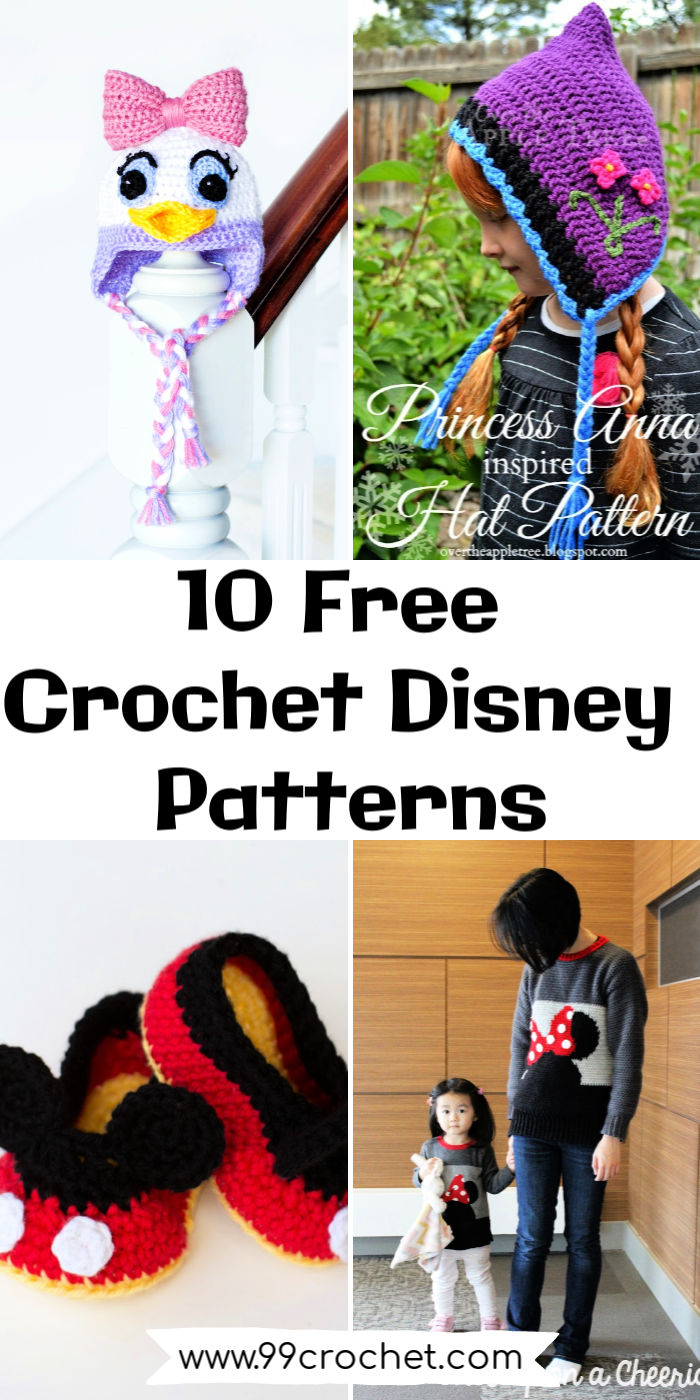 Free Crochet Patterns:
Make your kids wear the winter head protection in a cute style by crocheting the daisy snowcat crochet hat for them. And also bring the touch of Disney world to your home by crocheting Disney inspired accessories and home decors, a great example here the given Mickey Mouse pillow! Rock your winter fashion by crocheting Disney inspired sweaters, will make the perfect winter warmers and put a great smile on your little girl's face by giving her the snow-white crochet amigurumi will be super easy to crochet! Check out more Disney inspired patterns by browsing the entire list and do hit the attached links to grab full free project patterns!
1. Free Crochet Mickey Mouse Inspired Baby Booties Pattern
The best way to make your kids happy is to give them something with a funny figure. Disney pattern is chosen for this occasion. To create them, you have to select four colors, which are red, black, yellow, and white. Make the ears and the eyes to make the complete mickey mouse. hopefulhoney
2. How to Crochet Princess Anna Hat
For girls, making a princess hat is one of the best ideas for her. Grab some colorful yarns such as purple, blue, black, and green. Get inspired by your girl's favorite princess and give her a beautiful and stunning hat. She will look incredible, and she will feel like a princess. overtheappletree
3. Crochet Frozen, Rapunzel, Disney Princess Hat – Free Pattern
This lovely crochet hat over here is a lovely design for your baby girl. The Rapunzel princess inspires this design. Try to make it and let your baby girl look like a real princess. Choose the color of your preference and create the best crochet Disney hat. katiescrochet
4. Crochet Anna and Elsa Hats – Free Pattern
Every girl loves the Frozen princess. This time, you will learn how to make this incredible hat for your baby girl. Look for the cotton yarn that you will use, such as brown and purple, to start crocheting. You will have a stunning girl with a beautiful Anna's hat. ambersimmons
5. Easy Crochet Daisy Duck Inspired Baby Hat Pattern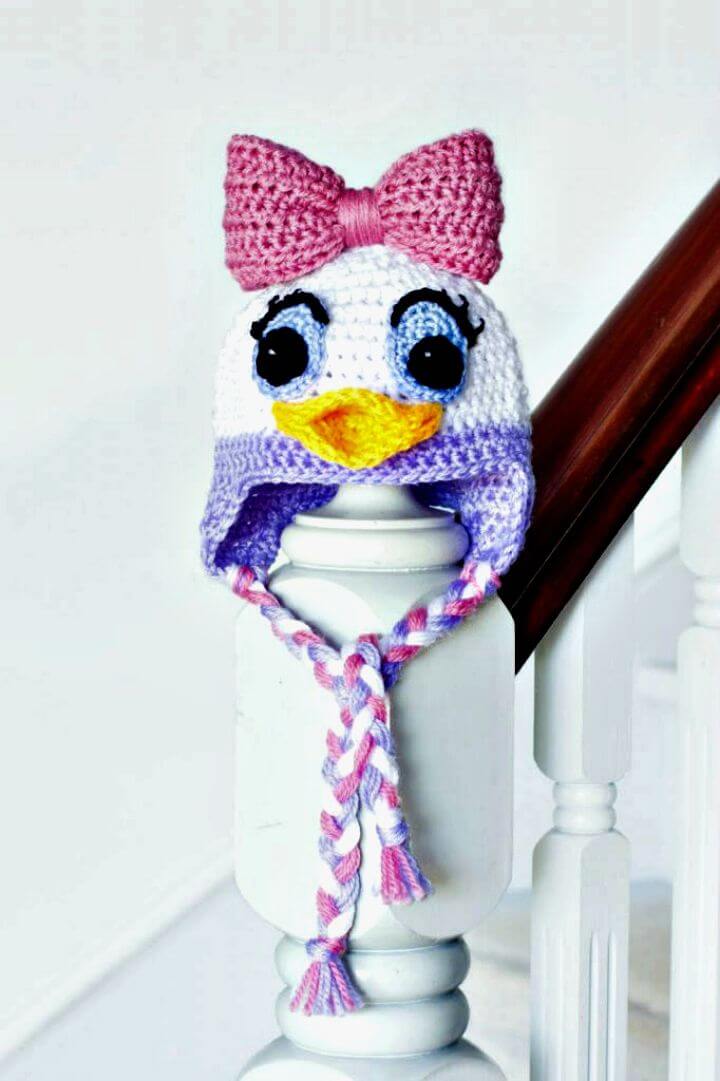 There are many figures that your girl would love to have in her outfit, so why don't you give her what she wants? It's an interesting opportunity to explore your creativity. If you want to make a hat like this one, select colors such as yellow, pink, black, white, and purple. hopefulhoney
6. Adorable Daisy Snow Queen Hat – Free Crochet Pattern
This lovely hat over here is an incredible idea to make your baby girl look like a queen. In this case, take a white cotton yarn, a needle yarn, and a crochet hook. Select the best design you have seen and start to crochet. Then, with green yarn, make a small design in the front part to use it as a decoration. I'm sure your baby girl will love it. repeatcrafterme
7. Free Crochet Disney Inspired Throw Pillow Pattern
This design is so simple to do. You just need red and black yarn to make it. Start creating a long crochet chain, after having some rows, start with the black yarn. After having the pillow done, grab the black yarn and make some edges around. Also, you can add two buttons in the middle as an embellishment. stacysstitches
8. Free Crochet Minnie Mouse Sweater Pattern
Is there something cuter than dressing your daughter like you? If you have created enough and you know how to make crochet designs, this is a great option to create something new. In this case, making a Minnie mouse sweater. You both will look stunning, and also, they will be made by you, which adds something unique to the sweaters. Do it! onceuponacheerio
9. Awesome Crochet Snow White Amigurumi Doll Pattern
Sometimes it is so much better to create your designs and personalize them. Make a lovely doll pattern to your daughter and have fun while doing it. Make sure to have the right materials and innovate your creativity by adding something different from the other dolls. Select powerful colors to create the doll's dress. ravelry
10. Crochet Disney Inspired Mickey Mouse Ears Hat – Free Pattern
If you want your kids to have an incredible hat, this can be a great option. For this one, you just need red and black cotton yarn. To make the ears, you start crocheting in circles making six rows, then attach them to the hat. I'm sure your kid will look incredible with its style and outfit. savvynana