We all get inspired by different things, shapes, figures, and patterns and that's why we are all having different choices! So, if you like the curls and swirls then you will definitely like these crochet curl patterns that will feature the curls and will definitely amaze the onlookers! These free crochet patterns would be an ideal way to incorporate fetching curls to your home decor and here you will also get some fab crochet patterns that will come with curls as a prominent and enticing part!
From precious baby curly outfits, the fetching curl winter crochet hats to gorgeous cute crochet curly plush toys, you will find here the crochet patterns that come with curls as the most highlighted part and would make the best ever crochet patterns! Intending to look at some readymade samples first? Then browse this mini collection of 10 Free Crochet Curls Patterns that are engaging and super beautiful and everyone will just love crochet them for his winter wardrobe and also for his beloved ones!
Bring the yarn curls to your home or to kids playrooms by crocheting the jellyfish crochet amigurumi that will come with curly tentacles, see an interesting sample given below! Crochet the precious unicorn beanies with curly rainbow yarn hairs, will also be another super cute crochet curly patterns for your baby's winter wardrobe and also crochet super warm crochet Delaney hats at home that will also come with a curl accent or embellishment on the top, get inspired of the given sample, will definitely amaze your senses!
Free Crochet Patterns:
Cover the head of your baby with the octopus cue curly crochet hat and also crochet fantastic curly yarn flowers that will make outstanding embellishments for your other crochet patterns, see an interesting a cute sample given below! fantastic Crochet beanies with curly pigtails and also crochet precious baby girl dresses with enticing curly bow embellishments! Click on the attached reference links to get full free crochet curl patterns and tutorials!
1. Free Crochet Jellyfish Pattern
When you start to create this kind of figure, think about the color yarns you have to choose. To create this pattern, you just need to start making a magic ring and work around it to create the head of the jellyfish. Then, using other color yarns, you have to create the tentacles using a curly-cue sampler. Click the link below to see more details. 1dogwoof
2. How to Crochet Curly Unicorn Beanie
Here you have an interesting beanie design which consists of making a lovely unicorn pattern. Begin making a circle in the middle and keep crocheting all the way around. Then, use another yarn color to make the ears, the curls, and the horn. All of them have to be made by separated. Check the steps here on the link. allcrafts
3. Free Crochet Delaney Hat Pattern
This is a lovely design you can make for your baby girl. Select her favorite colors which probably are going to be pink tones and begin with this work. There are many designs or embellishments you can add to adorn it. In this case, curls are the one that is selected. The complete instructions are on the link below, click it: danyelpink
4. Crochet Octopus Curly Cue – Free Pattern
This is an octopus design which seems to be very interesting. Look for purple yarn and begin with the classic hat pattern. In the end, add some tentacles which will be assembled on the top of the hat. Check the link below to see more details: hobbyiscrochet
5. Free Crochet Fantastic Curly Flower Pattern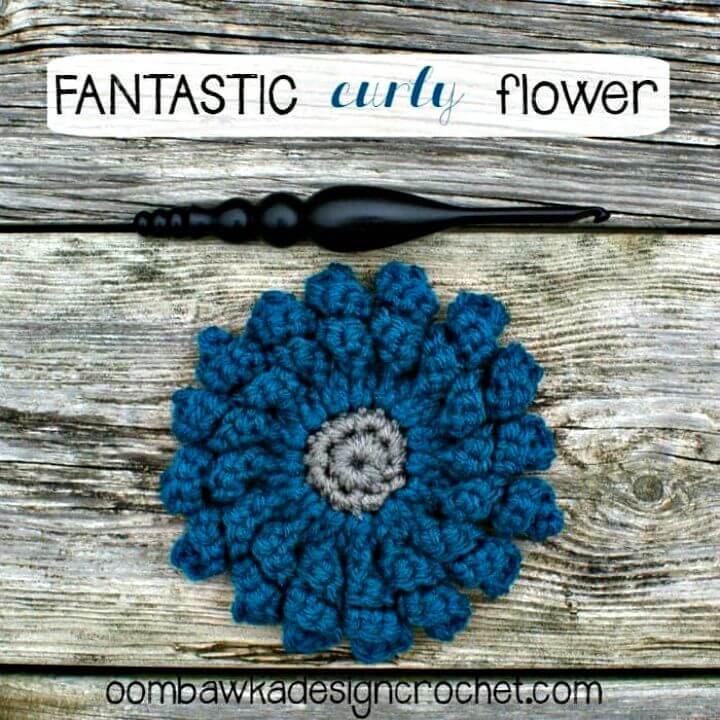 This fantastic flower pattern seems to be really easy and simple to make. Look for a gray and blue yarn, a crochet hook, and a tapestry needle. The difference this flower pattern has it's that the petals will be a curly chain that will be crocheted in spirals. The steps are described here on the link, click it. bawkadesign
6. Crochet Sugar N Spice Dress with Curly Bow- Free Pattern
In this case, you will learn how to make a fascinating sugar dress using pink and brown color yarn. To create it, you will use some special stitches which are explained on the link below. Also, add some embellishments to decorate this awesome piece. Create a bow making two curly stripes from it. Click here to see more details. housewifelife
7. Free Crochet Blue Curly Pigtail Beanie Hat Pattern
In this opportunity, you have a pigtail beanie which seems to be really easy to create. Look for a powerful color yarn such as blue, and start creating the base by using a classic pattern hat. Then, use the same color yarn to create some curls by separated. Click here to see the instructions to create it. crafterchick
8. Make Your Own Curly Cue – Free Crochet Pattern
There are many ways to make these curly clue patterns. First, look for a crochet hook, scissors, darning needle, and a red heart super saver. To create the shape you just need to finger block the curl and that's it. But read the complete instructions here on the link. bhookedcrochet
9. Free Crochet Curly Cue Sampler Pattern
This curly clue sampler is necessary to create for the first time any pattern with curls decoration. However, there are many ways to improve creativity and make it on your own. In this case, if you want to learn how to make it without problems. Click below and read all the steps you have to follow. 1dogwoof
10. Crochet Curly Pearl Ponytail Holder – Free Pattern
If you want to improve and innovate your baby girl's style, creating this lovely ponytail holder you will have reached the goal. Look for different color yarns and with a curly clue, sampler begin the work. Make as many as you want and decorate all her accessories. If you want to know more details about it, click here: joann
11. Free Crochet Curly Tailed Cat Pattern
Here you have a funny and curly-tailed cat. Begin looking for the supplies you will need. Start crocheting using some different stitches which will be described on the link below. Check the steps and begin with this interesting work. craftfoxes